photokina Special Coverage; Inkjet Papers
A number of companies showed new inkjet papers, and we may be seeing the beginning of some debate about the best coatings for the best quality images. Photographic papers have been using a baryta base since the 19th century. This coating creates a bright white paper with a smooth surface, and is now used for inkjet papers as well. The folks at Innova disagree, claiming that titanium dioxide rather than what they call "barite" creates a perfectly flat, ink receptive surface. They say that traditional photographers should stick with barite papers and digital inkjet folks should go for titanium dioxide, offered in their FibaPrint line, a nice looking bunch of papers indeed. They have a "high white" smooth in gloss and matte, as well as a warm tone and semimatte.

One of the most interesting papers at the show was the Ilford Galerie FB Digital, a baryta paper created for use with digital laser printers. This paper is made to be exposed via digital laser printers and then developed as a traditional black and white paper. The folks at Ilford told us that there are a number of labs around the world set up with the printers and processors to handle this paper for fine art and display photographers. This, they say, allows photographers to get genuine silver prints from digital image files. But don't think you can rush out and buy this paper for your own setup, unless of course you have a laser printer like a Lightjet or Lambda in your darkroom.
Epson And Panasonic In 16:9 Format Foray
While this report might more properly fit under the digicams section, or even the printer section, a quick mention of a joint Epson/Panasonic promo is in order here. According to the companies, as the 16:9 ratio has become the international standard for HDTV, a new "photo culture" is emerging, raising the demand for true 16:9 format cameras, printers, and photo paper. That might be debatable, but what isn't is the fact that now that Panasonic has introduced its LUMIX DMC-LX2 digital camera with a 16:9 CCD sensor and LCD screen, Epson has brought out Premium Glossy Photo Paper 16:9. It is compatible with a range of Epson printers, including the new Epson PictureMate PM 240 and PictureMate PM 280. As an introductory offer Epson and Panasonic are joining together to provide a trial sample of the new Premium Glossy Photo Paper 16:9 with every purchase of the Panasonic LUMIX DMC-LX2 10.2-megapixel camera.

HP Expands Media Choices
With the introduction of their new wide format printers HP also brought out a host of new media. They showed 11 new surfaces, making the HP-branded choices almost 30 in all. They introduced a number of new canvas surfaces, appealing to the portrait, wedding, and fine art reproduction trade, including Satin Photo and Collector Satin Canvas. For the fine art photographer looking for a more "traditional" surface there's the association with Hahnemühle that has created HP's Hahnemühle Smooth Fine Art and Textured Fine Art papers. Naturally, profiles for all these are built into the HP driver.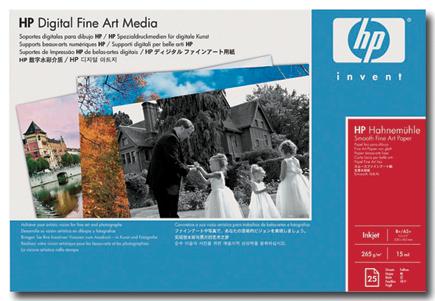 HP's Hahnemühle Smooth Fine Art Papers
Permajet's Fiber-Based Gloss
Some of the nicest papers we saw came from Permajet, who as of this writing has no US distributor. They claim that their newest papers, the Fibre Base Gloss and Fibre Base Gloss Warmtone, are the result of their search for inkjet papers that would be the equivalent of traditional fiber-based materials used in the darkroom. Their papers are instant dry and come available in roll and fine art cut sheet sizes. Their Warmtone particularly caught our eye.
Hahnemühle Inkjet Fine Art Paper
Hahnemühle Partners And New Products
The folks at Hahnemühle have brought out new papers, and formed new alliances with printer makers catering to photographers. The partnerships are with HP and Canon, who both feature Hahnemühle papers as the leaders in their fine art lines. The latest paper from Hahnemühle is their FineArt Pearl. It is triple coated and lignin free, with a surface that is said to be very similar to a traditional silver double-weight paper. They also say that using this paper will yield blacks to "all time levels" when used in conjunction with Hahnemühle protective spray. In addition, the company has announced that they are bringing back the Lumijet line with four new FineArt inkjet papers that they say are manufactured using "pure spring water."

Manufacturers/Distributors
FEATURED VIDEO