Photographing Canyon Splendors Page 2
The photo opportunities in this region are numerous, but it's best to restrict your photo gear to what you can easily carry on a day hike. I took my Canon EOS-3 with 20mm and 28--105mm lenses (if you want to photograph distant points of interest, you may want to take a longer telephoto lens). My husband, Dennis--who planned to do a little photography--brought our Canon T90 and a 28--105mm zoom. I brought 10 rolls of Kodak Ektachrome E100VS film, a circular polarizing filter, cable release, and a lens shade. I also brought my lightweight Bogen 3001 tripod with a quick-release ball head, which I could carry via a shoulder strap. With the exception of the camera and tripod, everything fit easily into our daypack.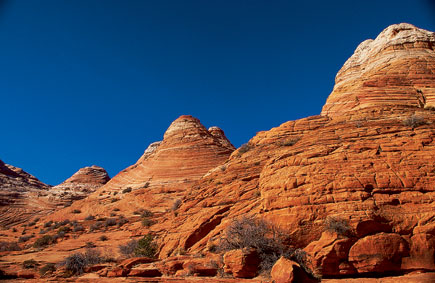 Along the way-- a view from our trek in Coyote Buttes North.
Let the Adventure Begin
On the day before our hike to Coyote Buttes North, dull, gray skies followed us all the way from Los Angeles to Kanab, where we spent our first night. This diluted my spirits a bit.

We rose before sunrise the next morning (I was advised that it was best to photograph The Wave in morning light), and thankfully, the skies were clear with only a few clouds on the horizon. However, the winter air was crisp (28°), so my husband and I bundled up in layers that we expected to peel off as the day wore on. We loaded our gear into our pickup truck, and set off for our long-anticipated adventure.

It was about a 40-mile drive east on US 89 to the turnoff for the dirt road that led to the trailhead--about midway between Kanab and Page. We turned off onto the unmarked dirt road, known as House Rock Valley Road. The sunrise was spectacular as we made our way among dramatic buttes and red rock scenery. After about eight miles on this road, we reached the Wire Pass trailhead, where we signed in at the registration area and began our hike. The trail began by following a broad, open wash, which merged with a sandy trail that once served as a dirt road. This trail climbed to a low ridge, crossed a wash, and seemed to dead-end at a red-rock butte.

After climbing this butte, we followed the advice of a helpful ranger at the BLM office, who had instructed us to parallel the ridgetop without losing elevation, or by going down the other side. This proved to be very important, as we needed to locate and pass some prominent twin rocky "cones" high on the ridge. By now, we were in the midst of multi-colored rock formations, hence the name Coyote Buttes. We started taking pictures of this wild landscape in the early-morning light, and along the way, we crossed the border into Arizona.
A detail of Indian petroglyphs near an area known to locals as "The Notch."
It was also important to be at a fairly high elevation to find some distant buttes almost due south, which had a prominent black crack running vertically from the top to the base of the mountain. This was perhaps the most important landmark, as The Wave was located on the slopes just below this crack.

Soon, we found the natural entrance to The Wave (it was obvious by the multitude of footprints in the sand below), and arrived at our destination around 9:00 a.m. Surprisingly, at this hour--and perhaps because of the time of year--the sun hadn't yet reached the inside of the "bowl" where The Wave was located. It was a fairly small geographic area, but nonetheless spectacular. We waited patiently for the light, and once I set up my camera gear, I was amazed at the endless photographic possibilities.

The rock really appeared to flow in waves, and I found many compositions and textures through the lens. The way that the changing light struck the striations in The Wave's surfaces was dramatic. In shady gullies, the more-muted colors also resulted in some interesting images. The blue skies provided a striking contrast to the varying warm colors of The Wave, which ranged from yellow to a deep salmon. I enjoyed using my wide-angle lens to exaggerate the flowing lines coming toward me, but also switched to my zoom lens set on a moderate telephoto setting to isolate some interesting abstracts. I like to photograph people for scale in a landscape, and to add an interesting element to the composition (my husband is always a handy model for this). For most of my Wave photography, I used a small aperture (f/8--f/11) for a great depth of field.

I had seen images taken after rain left a reflective pool of water at the base near the entrance to The Wave, but this was not the case on the day of our visit. A relatively dry winter (so much for El Niño) only yielded a small pool of water high above these rock formations. I photographed this, as well as several other points of interest outside of our primary destination. There is much to explore within Coyote Buttes North, so you won't want to limit your photography to The Wave alone.

A Solitary Wilderness
Because of the restricted entry to this area, we encountered only six other people during our hike. One couple that we met that day, Brad and Becca, had been to some Indian petroglyphs nearby, and agreed to take us there. After we left The Wave, we headed south for about three more miles on House Rock Valley Road to a spot that Brad called "The Notch." Here, we hiked east about a third of a mile to the petroglyphs, which were on three rock faces and surprisingly well-preserved. They couldn't be seen from the road, and if it weren't for our new friends who were very familiar with the area, we would never have found them. These petroglyphs concluded our adventure and a truly productive day of photography.

Coyote Buttes North and The Wave proved to be among the most spectacular places I've ever photographed in the Southwest. For those who go to the trouble of exploring this beautiful, solitary wilderness, I'm sure you'll agree that it's a photographer's paradise.


LATEST VIDEO