Photographer Of The Year Profile
I was honored to be selected by my peers at the Digital Image Cafe as photographer of the year. I would like to extend a big thank you for your support and encouragement. I would also like to thank DIC for the creating the best photography/contest site on the internet allowing us to showcase our work and help each other learn and grow as artists!
I am 45 years old and retired in the summer of 2000 from a 20 plus year career as a System Engineer in order to spend more time with my son and pursue my passion for photography. I am a lifelong resident of Michigan and currently live in Gaylord. I love Northern Michigan and spending time photographing the abundant nature and scenic opportunities to be found there.
I have been casually shooting 35mm since 1987, but didn't seriously get into photography until I got my first digital camera in 1998. The instant feedback and ability to control all aspects of image editing were very appealing.
I like to photograph a wide variety of subjects and feel that almost anything can make a good image if presented in an interesting way. I am drawn most to the graphical elements found all around us. I strive to incorporate and highlight those elements with images containing strong lines and bold colors
I shoot with a Nikon D1X digital SLR and a variety of Nikkor Lens. I use Corel Photo-Paint 12 for my main image editing software.
I get so attached to all of my images that I found it difficult to pick out a few of my favorites. A complete portfolio of my work can be seen at http://www.hkmphotos.com.
Title: Winter Whites
Long, snowy winters are a fact of life in Northern Michigan and except for dealing with the cold I really enjoy shooting winter landscapes. The starkness of winter, when snow covers many of the details in the landscape, forces the photographer to concentrate on light, shape and composition.
Nikkor 35-70mm F2.8 lens, Aperture Priority, F20 at 1/250 sec, EV-0.7
Title: Big Window, Little Window
One of my favorite subjects is architectural details. The great colors and interesting details of this building combined for an eye-catching image.
Nikkor 35-70mm F2.8 lens, Aperture Priority, F9 at 1/320 sec, EV-0.3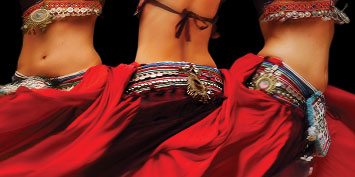 Title: Belly Dance
I combined and blended three different photos of this dancer using Corel Photo-paint to create an image with soft flowing lines and movement. I took several images in quick succession during a performance at a local Renaissance festival.
Nikkor 80-200mm F2.8 ED lens, Shutter Priority, 1/200sec at F8, EV-0.7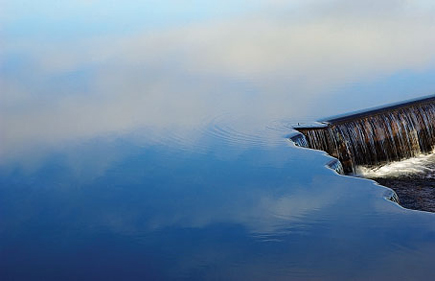 Title: The Calm Before The Storm
I like to take images that contain only a few simple elements that combine to create a visual impact. I composed the image to lead the eye over the smooth water which reflected the lifting fog, to the break in the calm created by the drop-off.
Nikkor 35-70mm F2.8 lens, Aperture Priority, F10 at 1/100 sec
Title: Been Through Many Seasons
In the last couple of years I have found and photographed a growing collection of classic trucks that have been left to spend the rest of their lives communing with nature. I find them to be very interesting subjects as time and nature slowly leave their mark on these "throw away" classics.
Nikkor 80-200mm F2.8 ED lens, Aperture Priority, F16 at 1/3 sec, EV-0.3
Title: Dandelion Blues
Macro photography really forces me to pay attention to all the small and wondrous details to be found in nature. Everyone should take the time to enjoy the little details in life! Shooting this dandelion in deep shade with White Balance set to cloudy gave the image the blue tint which I found appealing.
60mm Micro Nikkor, Aperture Priority, F5.6 at 1/125 sec, Manual Focus.