Photo Gear
Covering The Photo Beat
Binoculars, Memory Mates, and More
Binoculars With Dual Rubber Covering
Two models of a new Ultra Lite collection of binoculars from Swift Optics are said to be the first and only ones having two different types of rubber covering for improved durability, shock absorption, and comfort. The outer edges have harder rubber for protection against bangs and bumps, but softer rubber is used in the grip area for superior comfort and reduced user fatigue. In addition, the softer rubber provides better grip in all-weather conditions, wet or dry. The dual-density coatings help keep them quiet when rubbing against clothing. Other features include: premium optics; full multi-coating; long eye-relief for comfortable viewing with or without eyeglasses; close focusing; click-stop right diopter adjustment; and a durable waterproof two-tone color combination. They have a limited lifetime warranty and include a wide woven strap and pouch-type case. Model 929 is 8x, 42mm and model 930 is 10x, 42mm. Both have an MSRP of $500. Contact: Swift Optics, 1190 North 4th St., San Jose, CA 95112; (800) 523-4544; fax: (408) 292-7967; www.swiftoptics.com.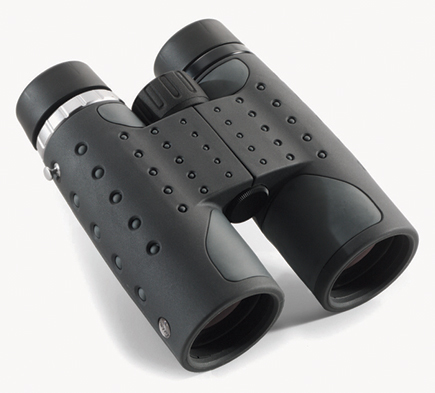 Jeep Audio/Visual Bags
Two brand-new lines of Jeep bags are offered: the Metropolis Collection and the Elements Collection. The Metropolis Collection, which is offered in two-tone black, blue, or ocher, is made of 420D nylon with double polyurethane coating for water-resistance. The Jeep Metropolis DigiPouch SLR Case, with reinforced bottoms, adjustable and removable anti-slip shoulder strap, has a top zipper for access to the 4.2x3.2x5.9" interior compartment with adjustable components and multiple storage compartments inside and out. The MSRP is $35. The Jeep Metropolis DigiPouch 3 accommodates cameras measuring 2.75x1.5x4.2" and has an MSRP of $15. The Elements Collection includes four versions of each bag having different construction materials. Earth has Teflon-coated 14 oz cotton canvas; Fire uses 600/300D water-resistant polyester material; Wind features 300D polyester water-resistant nylon; and Sea has 420/210D water-resistant nylon. There are two models of Jeep Elements bags: Backpack L and Backpack S with two storage baskets having adjustable dividers plus a variety of internal and external pockets. The MSRP is $25. Contact: Technuity, Inc., 6024 West 79th St., Indianapolis, IN 46278; (800) 887-2557; fax: (317) 871-5729; www.technuity.com or www.jeepbags.com.
New Bags From Think Tank
The brand-new line of bags from Think Tank Photo include the Pro Modulus Speed Set, a 12-piece modular set of component bags that rotate around a waist belt or can be locked in one place for security. This allows photographers to configure the bag location exactly as needed for any specific job. They were designed specifically for digital SLR camera systems and the components can be worn on the provided belt or used with a shoulder strap. The MSRP is $299. The Airport Addicted is a rugged backpack that permits the user to carry the maximum amount of gear on the plane in a legally-sized carryon bag. It will easily hold big lenses such as a 400mm f/2.8 or 300mm f/2.8, cameras, and other accessories, plus a laptop. The MSRP is $425. In addition, there are a series of Speed Demon bags for sports photographers, which can also be used with the waist belt system. All bags use YKK Duracoil Zippers inside and out and they have a "No PVC" design policy. Contact: Think Tank Photo, 2360A2 Box 307 Mendocino Ave., Santa Rosa, CA 95403; (866) 558-4465; www.thinktankphoto.com.
TAP Sports Memory Mates
Five new Sports Memory Mates have been introduced by TAP (Taprell Loomis). Each has a dramatic black background containing a color illustration of either a "flaming" hockey puck, football, baseball, basketball, or softball. Player and team photos inside are enhanced with gold foil and embossing. All five are side loading. Contact: Taprell Loomis, 2160 Superior Ave., Cleveland, OH 44114; (800) 827-5679; fax: (800) 276-2572; www.tap-usa.com.
To submit information for Photo Gear please contact Robert E. Mayer by e-mail at: rmayer@kconline.com or regular mail at: Shutterbug Magazine, 1419 Chaffee Dr., Suite #1, Titusville, FL 32780.