Photo Backpacks And Sling Bags: Camera Carriers For Sightseeing And Adventure Travel
Before buying a photo backpack or sling bag for that photo safari or vacation, consider how you're getting there, how you'll get around once you arrive, and what you plan to photograph. Will you be flying commercial or hopping a puddle jumper? Do you anticipate being on foot most of the time or traveling largely by car, jeep, or bus? Do you expect to encounter rugged terrain and steep trails? Will you need fast optics and long zooms for wildlife, a macro for close-ups, a wide zoom for landscapes, and perhaps a speedlight and ring flash?
Assuming you're in the store and that you found a bag you like, try it on for size to ensure a good fit—even empty. If necessary, bring measurements of the D-SLR and lenses with you; it might even help to have cutouts that you can stick in the slots. When you get it home, and well in advance of your trip, verify that the bag's a good fit for your gear. Finally, strap it on and see how the pack feels fully loaded. It helps to begin with all the straps loosened a bit; then tighten them as necessary (but not too tight) with the full burden of the pack on your back. When all is said and done, the bag should work with you, not against you.
How To Carry Those Extras In Your Backpack
Many photo daypacks provide a top section designed so you can stow your personal gear. Problem is, it's a big, empty space, so you tend to toss things in willy-nilly. Some kind of organizer would be helpful, and that's where these newly introduced products from Think Tank Photo come in handy. If you travel light, you'll appreciate the two zippered nylon Travel Pouches (complete with handles). The large size ($25 street) is especially roomy and helps keep shirts and other garments folded neatly, whereas the small one ($19.50) will hold socks and toiletries. A mesh window affords an easy view for airport inspections and lets clothes breathe. Beyond that, it would help to keep passport and airline tickets, baggage claim checks, membership cards, and such in one place, which is precisely what the billfold-style leather Passport Holder ($25) will do. Photographers going on an organized photo safari might appreciate the Credential Holder ($20), which has a neck strap and clear ID card window, plus pockets for pens, business cards, a smartphone, and more. And, if, like me, you hate carrying spare batteries in plastic cases and would prefer something more compact, you should find the AA Battery Holder ($9.50) convenient. Just slip it unobtrusively into a vest pocket. It holds two sets of four AA batteries. These last two items are nylon and self-sealing.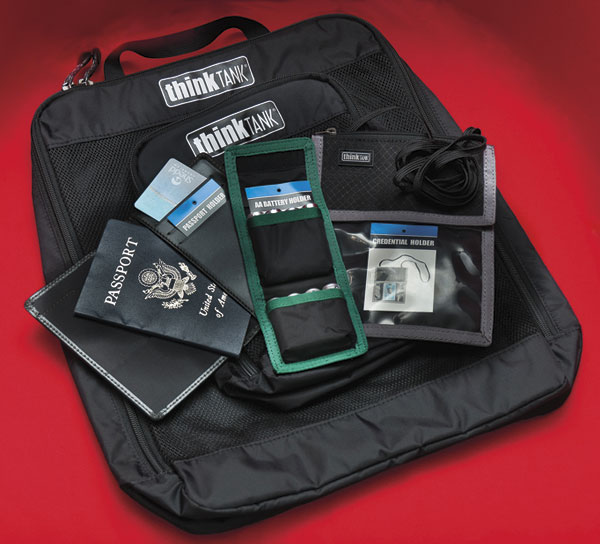 The Stuff Bags Are Made Of
The exterior shell is the first line of defense against the elements. The most durable material is nylon (Cordura, ballistic, ripstop), followed by polyester. Some manufacturers may use recycled materials. Canvas (also known as cotton duck) is a sentimental and stylish favorite. Leather accents add a touch of elegance, though isn't always practical.
All soft-sided luggage is coated to render the bag water-repellent or water-resistant. Bags may feature rain flaps over zippers or weather-resistant zippers as further protection. The next stage in protecting bag and contents is a rainfly, which acts as a tarp surrounding much of the bag.
Getting at your gear quickly is important. First, it means zippers that move smoothly. Sling bags introduced the concept of the quick-access portal on the side of a pack. Backpack designers have also adopted this approach in some bags, although it's not very practical with a heavy bag.
Today's camera backpacks and sling bags largely use some form of closed-cell foam as padding. It's a shock-absorbing material that is highly resistant to water, while providing considerable insulation. EVA foam and air bladders are additional means of protection. Manufacturers may also use open-cell foam against vibration.
The inner lining is usually some form of nylon, with hook-and-loop material sewn into the camera section (more helps you better customize this section to your needs). Or touch fastener-compatible material may entirely replace the smooth lining to accommodate a wider range of photo gear. Light-toned interiors make it easy to see the gear inside (and anything that may have crawled into the bag).
Ensuring A Comfy Ride
To provide ready access and comfortably seat a D-SLR with lens attached, backpacks and sling bags often come with at least one padded "camera cradle." Make sure it fits the lens you use most often. Padded dividers that run the length/height of a bag or that are used to cradle the camera/lens combo should have some stiffener inside for added resilience and support. All foam dividers should snuggle up to your gear and ensure a jostle-free ride.
Make sure the harness system in a backpack is ergonomic, as if tailored to your body to keep shoulder and back strain to a minimum. Shoulder straps should be contoured and padded (not overly padded) and should not cut into your body if designed and worn correctly. Compression straps on the shoulders of these straps are important on strenuous hikes, especially with lots of gear, and provide a snugger, surer fit against your back. Elsewhere on the bag, compression straps may serve to keep the bag's shape, prevent gear from shifting internally, and keep prying hands out.
A waist belt and sternum (chest) strap are essential on a backpack that's used for hiking over uneven terrain, securing the bag so it doesn't shift and throw you off balance. When designed correctly (wide, with padded hip wings) and used properly, the waist belt makes the pack feel almost as if it's floating on your back, giving your shoulders a break. However, depending on body build, chest straps can be uncomfortable. It helps if you can reposition them up or down; I prefer that a chest strap have some elasticity (although this may reduce longevity)—all for a more comfortable fit.
On a sling bag, a waist belt or chest strap also keeps the bag secure against your body. Make sure the sling strap (contoured, padded) remains on your shoulder, not pressed up against your neck.
More important with backpacks than sling bags, mesh-covered back padding provides a means for air to circulate—hence airflow designs (although some bags use airflow channels in fairly rigid foam instead). For better lumbar support, some backpacks come with an internal or external frame—which is more important with larger packs and heavy loads.
You Can Never Have Enough Pockets
I like pockets inside and out—lots of them, and I like outside pockets to be spacious. I'm not too keen on using padded exterior pockets for sensitive gear, since I prefer keeping everything within the protective interior of the bag. Most bags now also come with memory card pockets, although I prefer a card wallet, which I can access freely. Mesh water bottle pockets on the side are a common feature on backpacks. But for grueling hikes consider a hydration daypack equipped to carry an optional hydration bladder/reservoir.
Now we come to laptops. For better balance, I prefer stowing a laptop against my back rather than on the front of the pack. But seriously, are you planning to schlep that laptop while hiking up the side of a mountain? Sometimes it's more prudent to use this sleeve or compartment to stow bounce cards, collapsible reflectors, test targets, and maybe some reading materials.
If needed, a tripod should fit on one side or, for better balance, on the back, over the center of the bag, supported in a sling. Select tripod slings may use one of the available outside pockets. Or the tripod is secured solely with straps on the side or bottom. Keep the tripod to 5 lbs or less (with head) and you should be fine.
Adorama Joe Farace "Classic" Reporter Backpack (www.adorama.com/$49 street)
Category: backpack
Features: nylon exterior; airflow back panel; tripod straps; exterior pockets; water bottle pocket; rainfly; trolley strap
Camera section: occupies entire interior; padded and customizable; front-access panel; camera cradle holds D-SLR with attached 300mm f/4 or 100-400mm zoom; plus numerous lenses/flashes
Laptop size: 15" (rear sleeve)
Exterior dimensions & weight: 16.5x12x9.5"; 4.2 lbs
Pros: international carryon friendly; good visibility interior; very spacious; padded front pocket; comfy harness system with chest strap; a quality bag at a great price
Cons: lacks waist belt
Recommended for: sightseeing (if on foot)/wildlife photography (when traveling by vehicle)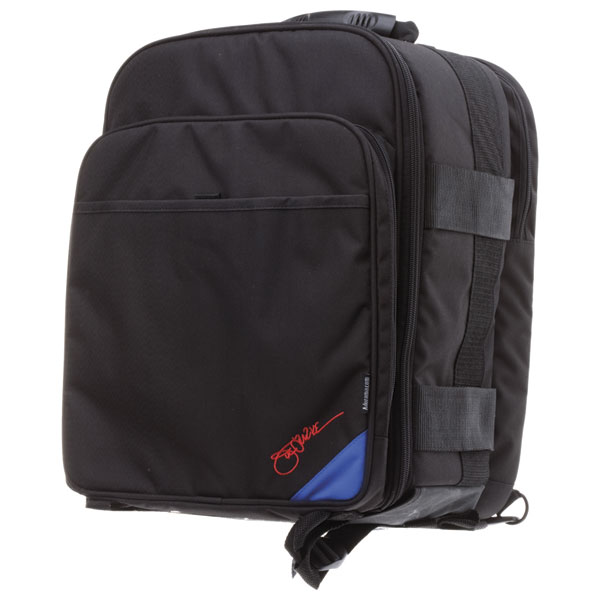 Billingham 307 (www.rtsphoto.com/$435 street; backpack harness: $69)
Category: shoulder bag with optional padded backpack harness
Features: synthetic canvas (nylon) exterior with leather accents; external pockets; top flap with fasteners
Camera section: padded, pre-configured modules; rigid, padded base; zippered access beneath flap; depending on configuration, can hold a D-SLR with an 18-200mm zoom attached, two to three more lenses (including a 70-300mm), flash
Laptop size: not applicable
Exterior dimensions & weight: 14.1x7.1x10.2; 4.4 lbs (excl. harness)
Pros: international carryon friendly; classy look; wears fairly well as a backpack although better as a traditional shoulder bag
Cons: fast optics and/or large lens shades may not fit in existing modules
Recommended for: sightseeing (a practical choice for day touring and casual outdoor activities, or even a light hike; otherwise a good all-around bag)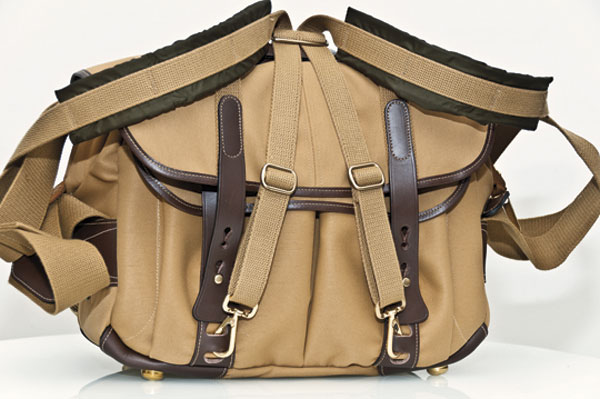 Boblbee Peoples Delite Executive (www.hpmarketingcorp.com/$229 street, excl. photo insert: $49)
Category: daypack (requires optional camera insert—functions as conventional backpack otherwise)
Features: rigid ABS plastic outer shell plus nylon; access via top panel; airflow back panel; multiple attachment points for extra gear; tripod straps; one outer pocket above lid, cell phone pouch
Camera section: padded and customizable insert that is wearable as a shoulder bag; capacity varies with insert (small insert recommended); best suited to compact D-SLR system
Laptop size: 13" (rear internal sleeve—laptop fits when small camera insert used)
Exterior dimensions & weight: 19x11x6"; 3.7 lbs (excl. camera insert)
Pros: international carryon friendly; ergonomic harness system with waist belt (unpadded) and chest strap; ruggedly built especially for downhill and cross-country skiing
Cons: difficulty seeing into bottom of bag, where small items may get trapped
Recommended for: wilderness adventure (well balanced and possibly the best pack for steep climbs)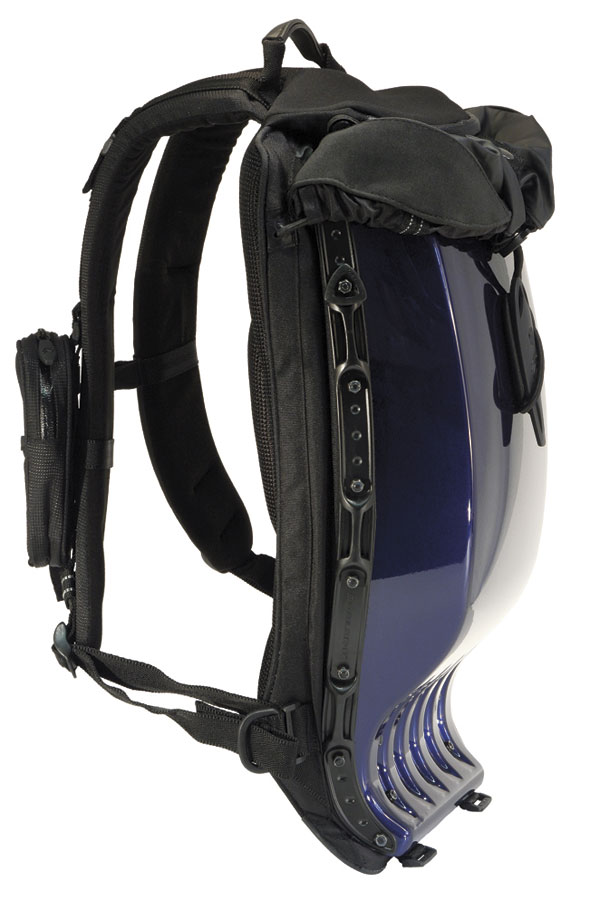 Case Logic SLRC-206 (www.caselogic.com/$89 street)
Category: rucksack
Features: nylon exterior; airflow back panel; tripod straps; padded outer pockets
Camera section: occupies entire interior; padded and customizable, with proprietary hammock (cradle) suspension system for D-SLR with up to a 70-200mm f/4 zoom attached; several more lenses plus flash; front panel (opens partway to access camera at top)
Laptop size: fits 16" PC laptop/17" MacBook Pro (rear sleeve)
Exterior dimensions & weight: 17x12.5x8"; 2 lbs, 11 oz
Pros: international carryon friendly; comfy shoulder harness; water-resistant EVA base provides firm footing (it's nice when a pack doesn't tip over); high-visibility interior; clever camera hammock (but remove lens shade to facilitate retrieval)
Cons: few and shallow pockets; lacks waist belt, chest strap, and water bottle pocket
Recommended for: sightseeing (lack of necessary refinements dictates against vigorous hikes)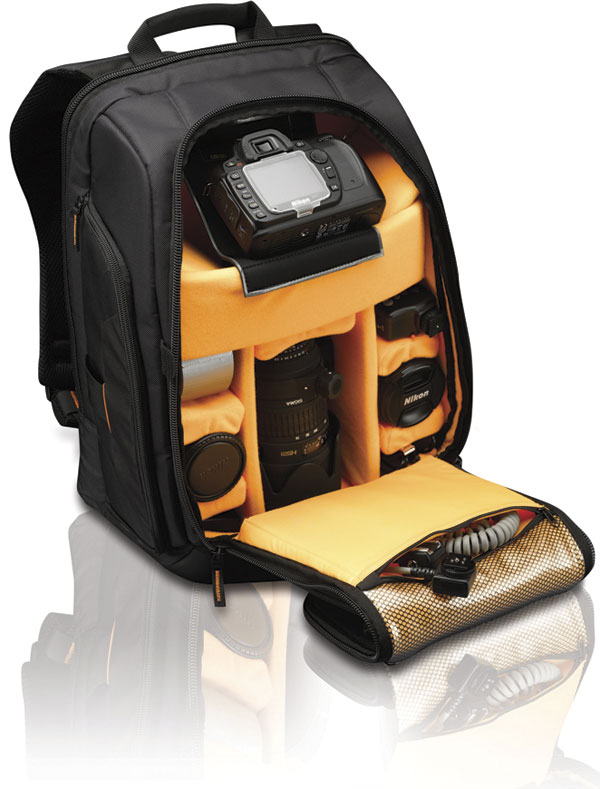 Clik Elite Venture 30 (www.clikelite.com/$245 street)
Category: hydration daypack (dual-tier)
Features: nylon exterior; airflow back panel; tripod sling; generous upper section (easily holds a change of clothes and light jacket or slicker); outer pockets include two water bottle pockets; hydration-ready; rain flaps; rainfly; side compression straps
Camera section: padded and customizable; camera cradle for D-SLR with an 18-200mm zoom; two more lenses (including a 70-300mm), plus flash
Laptop size: not applicable
Exterior dimensions & weight: 21.8x10.2x7.2"; 3.4 lbs
Pros: international carryon friendly; ergonomic harness system with shoulder compression straps, padded waist belt and chest strap; ruggedly constructed
Cons: would have preferred denser padding and conventional dividers (in place of the modular dividers) in the camera section
Recommended for: nature trek/wilderness adventure (add more padding and you're ready for any outdoor adventure)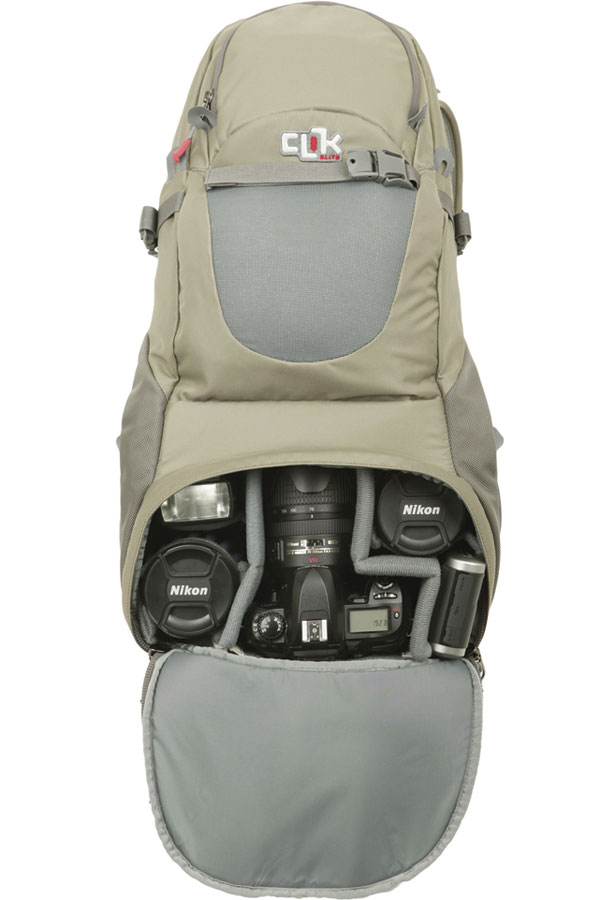 Dolica DK-20 Kit (DK20WT1003KIT) (www.dolica.com/$99 street)
Category: convertible sling/daypack (dual-tier)
Features: polyester construction; airflow back panel; tripod sling; padded top section; rainfly; side compression straps; 67" lightweight aluminum monopod (with retractable spike) included in kit
Camera section: padded and customizable with quick-access panels plus main front panel; camera cradle for D-SLR with a 70-200mm f/4 zoom attached; up to three more lenses plus flash
Laptop size: not applicable
Exterior dimensions & weight: 18.5x11.8x9.8"; 2.8 lbs
Pros: international carryon friendly; comfy harness system with chest strap and waist belt (narrow, unpadded); structurally sound
Cons: lacks outer pockets, including one for water bottle; not very comfortable as sling bag; monopod would benefit from an accessory tilt head
Recommended for: sightseeing (lack of necessary refinements dictates against vigorous hikes)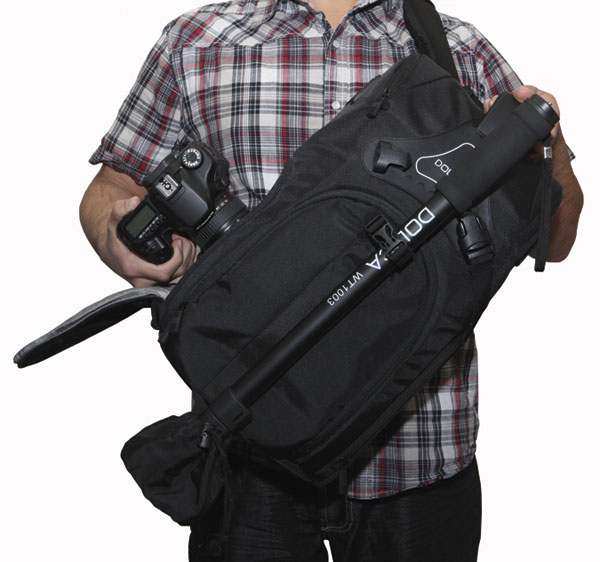 Kata Bug-205 PL (www.manfrotto distribution.us/$289 street)
Category: backpack
Features: nylon exterior; airflow back panel; tripod sling; outer pockets include water bottle pocket; rainfly; trolley strap; camera strap included
Camera section: occupies entire interior; padded and customizable; front access to all gear plus quick-access panel to D-SLR with lens attached (to 300mm f/2.8); plus up to two to four lenses and two flashes
Laptop size: 17" (rear sleeve)
Exterior dimensions & weight: 20.9x13.8x10.2"; 5.2 lbs
Pros: domestic carryon friendly (could be a tight squeeze); ergonomic harness system with shoulder compression straps, chest strap, and waist belt (narrow, unpadded) plus internal frame for stability; high-visibility interior; solidly constructed
Cons: scarcity of dividers; really wish it had a better waist belt
Recommended for: nature trek/wildlife photography (safaris by car/jeep/bus; waist belt may limit you to hikes on serene nature trails although the bag itself can tough out any adventure)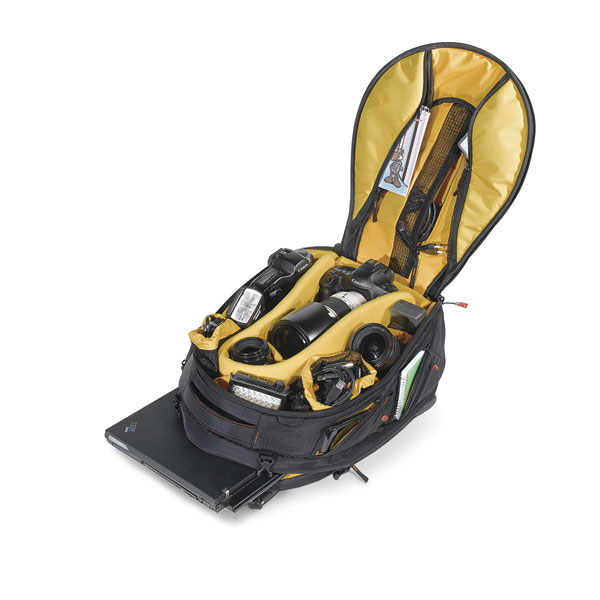 Lowepro SlingShot 202 AW (www.lowepro.com/$99 street)
Category: sling bag (dual-tier)
Features: polyester and nylon exterior; padded back panel; tripod sling; small padded upper section; small padded outer pocket; rainfly
Camera section: padded and customizable; quick-access panel to camera cradle plus full access when flap zipped open all the way (with compression straps); holds a D-SLR with an 18-200mm zoom plus one or two lenses and a flash (nothing too big)
Laptop size: not applicable
Exterior dimensions & weight: 17.7x9.8x10"; 1.9 lbs
Pros: international carryon friendly; downright comfy, but use the chest strap; generous sized D-SLR cradle (perhaps too spacious for some cameras); well constructed
Cons: bag can only be worn over the right shoulder
Recommended for: sightseeing (this featherweight wears well for long periods)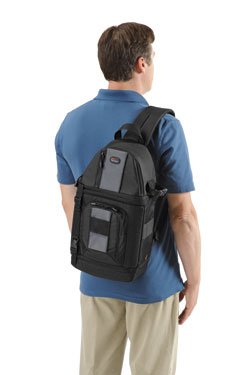 Manfrotto Pro VII Backpack (www.manfrottodistribution.us/$479 street)
Category: backpack
Features: nylon exterior with leather accents; airflow back panel; tripod strap system; two padded side pockets; weather-resistant zippers; rain flap; rainfly
Camera section: occupies entire interior; padded and customizable; quick access at top of bag to cradled D-SLR with attached 70-200mm f/2.8 or larger lens; plus numerous additional lenses/flashes
Laptop size: 17" (rear sleeve)
Exterior dimensions & weight: 18.7x14.2x10.8; 6.8 lbs
Pros: domestic carryon friendly (could be a tight squeeze); ergonomic backpack harness, with padded waist belt and chest strap; stylish; lots of nice touches; solidly constructed
Cons: scarcity of dividers; excessive use of hook-and-loop material; lacks compression straps
Recommended for: wilderness adventure/wildlife photography (safaris by car/jeep/bus and strenuous hikes; however, noisy hook-and-loop material may frighten wildlife so open carefully)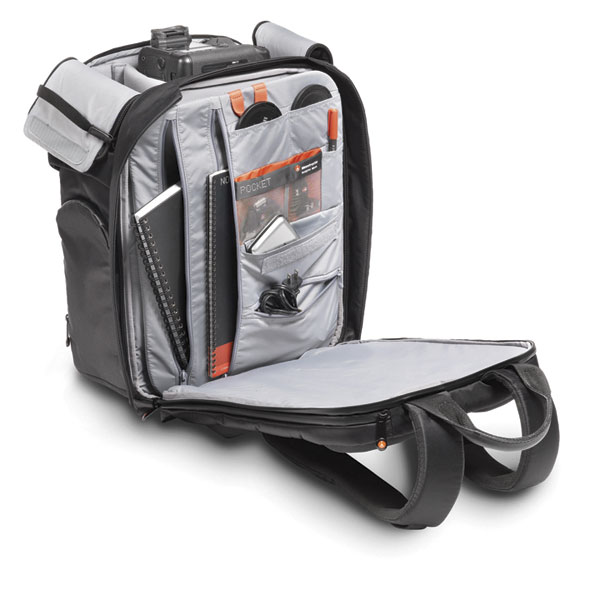 Mountainsmith Borealis AT (www.mountainsmith.com/$188 street)
Category: daypack (dual-tier clamshell)
Features: recycled polyester (from PET) plus nylon-reinforced exterior; sizeable upper section (easily holds a change of clothes and light jacket or slicker); outer pockets; airflow back panel; tripod sling; side compression straps convert to carry snowboard/skis/snowshoes; numerous pockets; rain flaps; rainfly
Camera section: padded and customizable (removable insert); camera cradle holds a D-SLR with standard zoom; three more lenses plus flash
Laptop size: 17" (rear of bag)
Exterior dimensions & weight: 21x13x10"; 5 lbs, 1 oz
Pros: domestic carryon friendly (could be a tight squeeze); ergonomic backpack harness, with shoulder compression straps, chest strap, and padded waist belt plus external frame for stability; high-visibility interior; well constructed
Cons: not suited to long or bulky lenses
Recommended for: nature trek (well suited to a wide range of outdoor activities)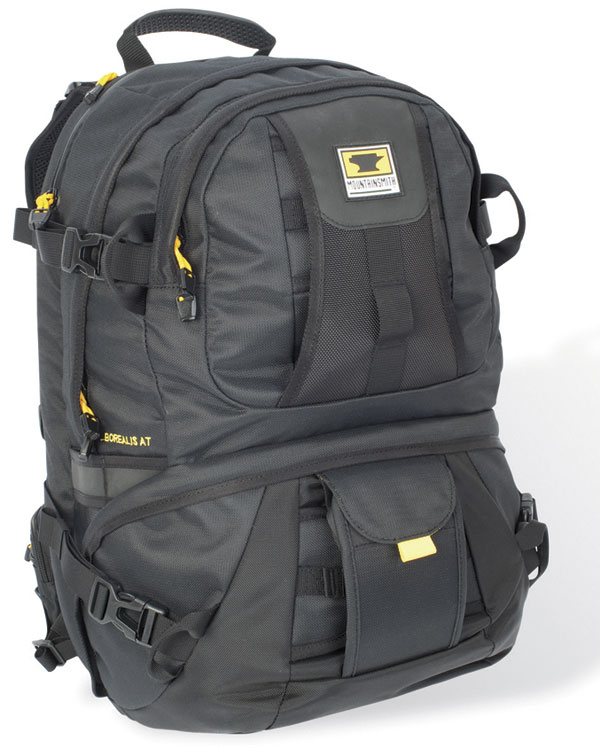 National Geographic NG A5270 Africa Series Medium Rucksack (www.manfrottodistribution.us/$149 street)
Category: rucksack (dual-tier)
Features: canvas exterior with leather accents; padded, breathable back panel; tripod sling; generous top section (for light jacket or rain slicker); outer pockets (side pockets usable for tripod/water bottle); trolley strap; leather accents
Camera section: padded and customizable; snugly holds a D-SLR with a 70-200mm f/4 zoom attached plus two smaller lenses and flash
Laptop size: 15.4" (rear sleeve)
Exterior dimensions & weight: 17.3x12.2x7.1"; 2.6 lbs
Pros: international carryon friendly; slim design; stylish; comfy shoulder harness with chest strap; colorful, high-visibility interior; well constructed
Cons: side pockets not fully protected against the elements; rainfly optional (recommended)
Recommended for: nature trek/wilderness adventure (surprisingly comfy when filled to capacity, minus laptop, but lack of waist belt could pose a problem on more grueling hikes)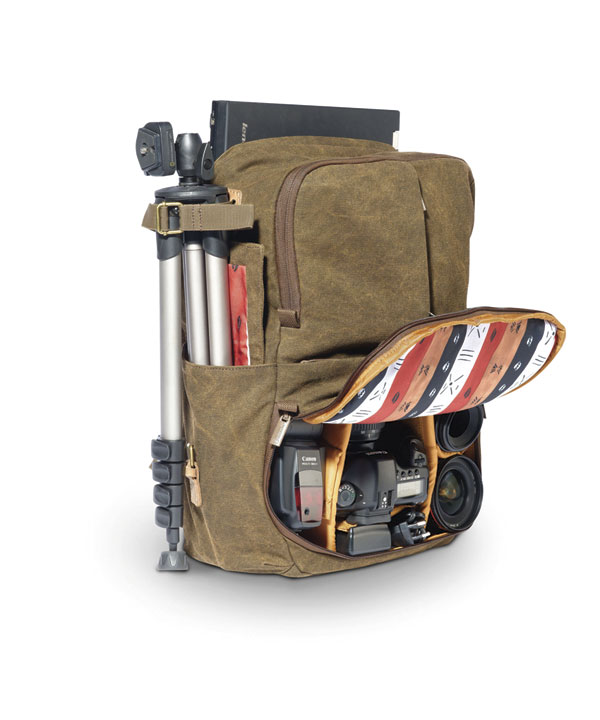 Sunpak AirBak Focus Tech (www.tocad.com/$59 street)
Category: daypack (dual-tier)
Features: nylon exterior; airflow back panel plus proprietary (user-refillable/replaceable) airbag cushioning for
back/bottom; tripod straps; generous top section for a light jacket or slicker; two water bottle pockets; rain flap on
upper section
Camera section: padded and customizable; camera cradle for a D-SLR with a 70-300mm zoom; front access panel; two additional lenses plus flash
Laptop size: 15" (rear sleeve)
Exterior dimensions & weight: 19x12.5x7.5; 2 lbs, 2 oz
Pros: international carryon friendly; ergonomic harness system with chest strap and waist belt (narrow, unpadded); well constructed; great price
Cons: lacks rainfly against severe weather conditions
Recommended for: nature trek/wilderness adventure (well suited to hiking over any terrain, but stay away from sharp, jagged rocks)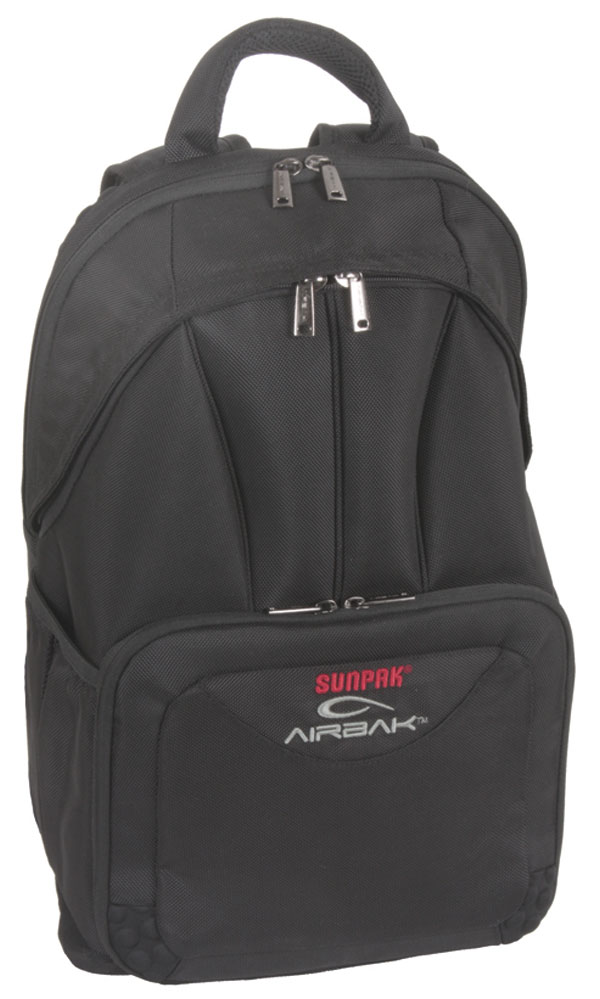 Tamrac Evolution 6, Model 5786 (www.tamrac.com/$119 street)
Category: convertible sling/daypack (dual-tier)
Features: polyester and nylon exterior; padded back panel; tripod sling; small padded upper section; small outer pockets; rainfly
Camera section: padded and customizable; front panel to entire section plus quick-access panels (right and left) to cradled D-SLR with an 18-200mm zoom attached and one or two additional lenses/flash (nothing too big)
Laptop size: not applicable
Exterior dimensions & weight: 163⁄4x10x71⁄2"; 3 lbs, 10 oz
Pros: international carryon friendly; converts for right or left shoulder sling portage (with one shoulder strap) or as backpack (with both straps); a solid little bag
Cons: not the most comfortable as a sling bag
Recommended for: sightseeing (a convenient and practical way to travel with a small camera system)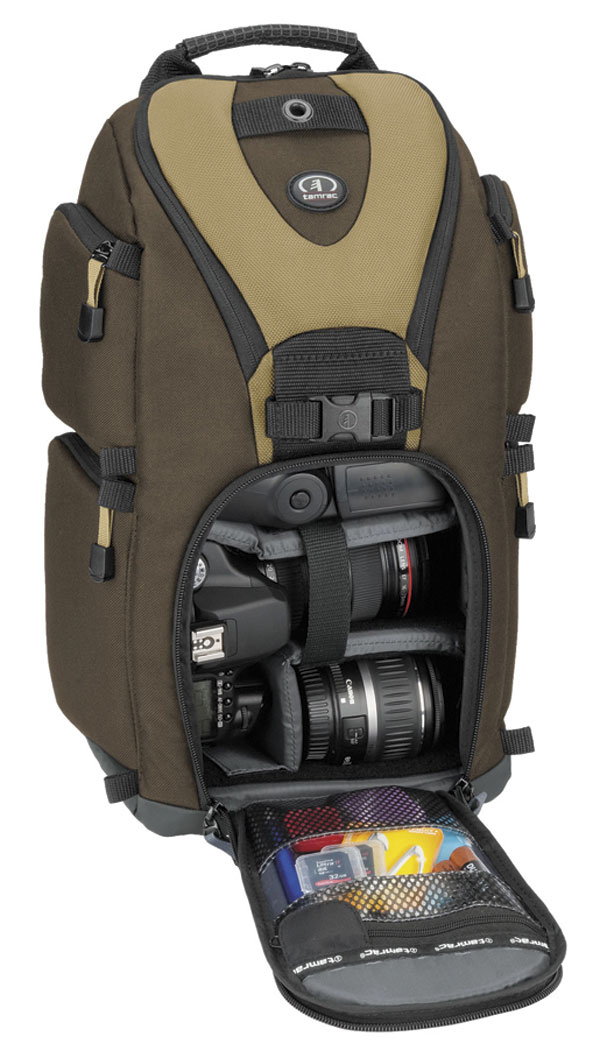 Tenba Discovery Daypack (www.tenba.com/$129 street)
Category: hydration daypack (dual-tier)
Features: nylon exterior with waterproof base panel; roomy top section (for light jacket or rain slicker and lunch); side compression straps; two water bottle pockets; hydration-ready; airflow back panel; rainfly
Camera section: padded and customizable; removable insert attaches to and pulls out with front panel; camera cradle holds a D-SLR with a 70-300mm zoom; several more lenses and flash
Laptop size: not applicable
Exterior dimensions & weight: 18x12x9.5"; 2.4 lbs
Pros: international carryon friendly; ergonomic harness system with padded waist belt and chest strap; well constructed
Cons: lacks a tripod sling
Recommended for: nature trek/wilderness adventure (well suited to hiking over any terrain)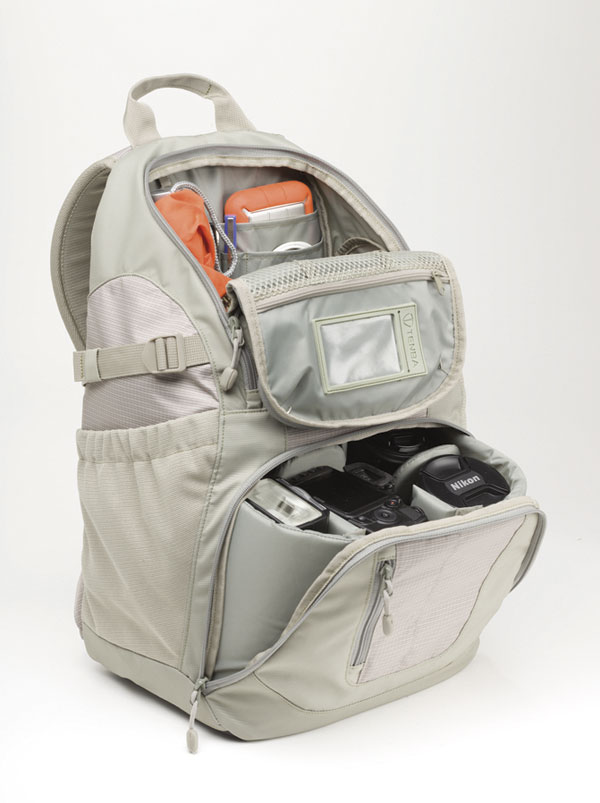 Think Tank Photo Sling-O-Matic 30 (www.thinktankphoto.com/$189 street)
Category: sling bag
Features: nylon exterior; padded back panel; large side pocket for lightweight/compact tripod; large front and side pockets; rainfly
Camera section: occupies entire interior; padded and customizable; quick-access panel to cradled camera; holds a D-SLR with a 70-200mm f/4 lens, plus several more lenses and flash
Laptop size: 15.4" (sleeve)
Exterior dimensions & weight: 17.3x12x7.5"; 2.9 lbs
Pros: international carryon friendly; very easily switches between right and left shoulder with comfy shoulder strap and waist belt (or usable as chest strap); great for bulky gear; solid bag
Cons: lack of front panel and excessive depth make it difficult to quickly and easily access/return gear buried below the top level; stocky
Recommended for: sightseeing/nature trek (best suited to safaris by vehicle, short hikes, and open country)
Vanguard Skyborne 51 (www.vanguardworld.com/$289 street)
Category: daypack (dual-tier)
Features: polyester exterior; airflow back panel; tripod sling; padded upper section with rear access panel; spacious exterior pocket holds laptop pouch (included); water bottle pocket; rain flaps; rainfly; cell phone pouch; trolley strap
Camera section: padded and customizable; easily holds a D-SLR with a 70-200mm f/4 zoom; two or three lenses, flash; quick side access to camera cradle plus back access panel to entire camera section
Laptop size: 15" (rides in front)
Exterior dimensions & weight: 22x145⁄8x15"; 6.1 lbs
Pros: high-visibility interior; ergonomic harness system with shoulder compression straps, padded waist belt, and chest strap; rear access (away from prying hands); solid construction
Cons: not suitable as airline carryon; scarcity of dividers; long dividers should be firmer
Recommended for: sightseeing/nature trek (the bag's stocky girth makes it better suited to vehicular travel, but you should be fine hiking for long periods in open country)
LATEST VIDEO