"The Pano Rocks!": Why Shooting Panoramic Photos Can Be So Fulfilling and So Much Fun
The exclamatory headline was in an e-mail sent to me by Dr. Alan Sloyer when I asked him to forward the high-res file for this image, which he took in Amsterdam, the Netherlands, on a family vacation in 2017.
Dr. Sloyer's enthusiasm for this panorama—and in fact the idea of panoramas—stems in general from the subject matter he chooses and specifically from the quality he's capable of capturing.
He sees on his monitor what I see on mine: incredible clarity and detail. (You can see a larger version of Dr. Sloyer's Amsterdam panorama here.)
How incredible?
Well, I can see a bag of potting soil on the deck of the first boat on the right-hand side of the canal on the right side of the image. I know it's potting soil because I can read "potgrond" on the side of the bag.
And I can see that the sign on the bridge forbids amplified music, apparently from open boats.
And if I wanted to rent a boat in Amsterdam I'd know of the rental company Mokumboot because I just read the name off the side of the boat in the center of the photo.
That incredible.
Oh, there's one more incredible thing: though he shoots mainly with a DSLR, Dr. Sloyer took this panoramic photo with his iPhone 7.
At first I thought, Okay, he didn't have his DSLR with him, and he saw this cool scene, and the best camera is the one…well, you know. But I was wrong. He had his DSLR, but the best camera for this situation was the one capable of quickly and accurately capturing a scene that obviously demanded a panorama.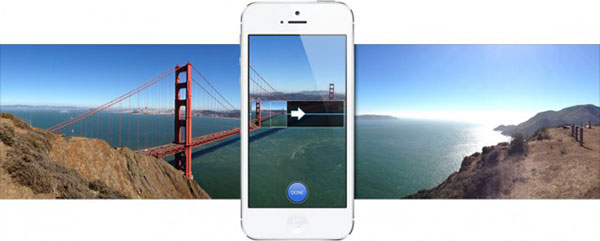 "When I'm traveling I always carry my DSLR," Dr. Sloyer says, "but I always have my phone, and if I want to take a panorama, most often it's just easier to not have to stitch it later. I find that with three seconds of panning from one side to the other, I get incredible images. I find the quality is as good or better than the DSLR, as you can see."
Which is not to say he won't choose his DSLR for a panoramic photo "if it's an exceptional place," but on this day he was moving through the city with his family and didn't want to hold them up. "Three seconds, and I captured this," he says.
And the other unexpected reason this pano rocks?
It's not a landscape.
"Pure nature panoramas are usually disappointing to me," Dr. Sloyer says. "I never want to print them. I've done more with cities and their details. There's so much there. You need the eye to see it in the first place, and there's a certain way to take it. This one worked out great because of the three canals, the amount of depth in the scene, and the number of things to look at."
Sometimes—like this time—he doesn't realize "all the stuff that's going on" until he takes the picture and then looks at it carefully. Which is the reason I asked Dr. Sloyer for this picture in the first place—because of how much life is happening here.
Most of the panoramic pictures I see are landscapes—like the Grand Canyon, or Bryce Canyon, or name your favorite canyon. They're beautiful, but they are not photographs I'll come back to again and again to explore and appreciate and even be surprised at how much there is to discover within the frame.
This Amsterdam panorama and all the information it holds, that's something different, something I think is far more interesting. Here's how people live. Here are their streets, their homes, their houseboats. Here's how they dress, what they carry, what they buy, and eat and drink. Here are their cars and their culture. It's fascinating and it's beautiful, and this panorama takes me there. It will take Dr. Sloyer back there every time he views it.
It will transport others as well. "If I take what I think is an exceptional or representative photo while I'm traveling, sometimes I'll send it to a few friends or family members while I'm away," he says. "But it's just something casual sent in a text message. When I get home I get serious with a slide show on my website." The slide show goes out to a list of friends, family members, associates, and at least one photo writer. The images featured are comprised of about 80 percent DSLR photographs, 20 percent from his phone.
The sharing of images is part of the travel experience for Dr. Sloyer, who, with his family, takes two or three major trips each year. "I've always loved travel," he says, "and to me, that's where I learn. Just walking on the street, maybe just going to get something—a newspaper, a croissant—you learn so much. You have to get it—you have to figure out the language, the currency, the people. Everything's different, and everything's an education."
Dr. Alan Sloyer's website, sloyer.com, features slide shows and stills of his most recent travels.
Tech Talk: The panoramic photo was taken with an iPhone 7 and its 3.99mm lens at 1/1000 second, f/1.8, and ISO 40.
FEATURED VIDEO