Panasonic Lumix DMC-G7 Mirrorless Camera Review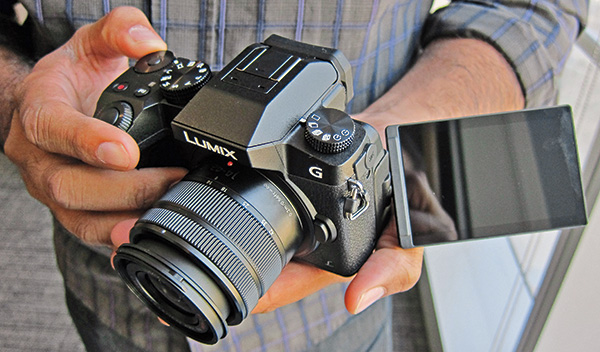 There are few things that can get a man's heart pumping like a new camera and a legendary car race to test it out at. Or at least that's how I felt when I got a chance to take the Panasonic Lumix DMC-G7 for a spin at the Indianapolis 500 in May.
On face value, the Panasonic G7 might not seem like an ideal camera to capture racecars zooming around a massive oval track at over 200 miles per hour. But after spending the long Memorial Day weekend with the G7 while shooting the Indy 500 race (and the events surrounding it), I found that this little mirrorless model has a lot going for it as a sports/action camera.
The Panasonic G7 uses a 16-megapixel Digital Live MOS sensor in the Micro Four Thirds format and can shoot 4K video. The G7 is also the latest Panasonic camera with 4K Photo, a feature that allows you to extract 4K-sized (approximately 8MP) still images from the 4K video.
The G7 went on sale in June in three configurations. There's a black version and a pewter/gun metal version that come with a 14-42mm kit lens; both sell for $799. There's also a black version with a 14-140mm kit lens that goes for $1,099.
At the Indy 500, I shot with a black version of the camera, using both the Lumix G Vario 14-42mm f/3.5-5.6 II ASPH. MEGA O.I.S. kit lens to shoot scene setters before the race, and the Lumix G Vario 100-300mm f/4.0-5.6 MEGA O.I.S. lens ($599) when the cars got rolling on the speedway. Here's what I thought.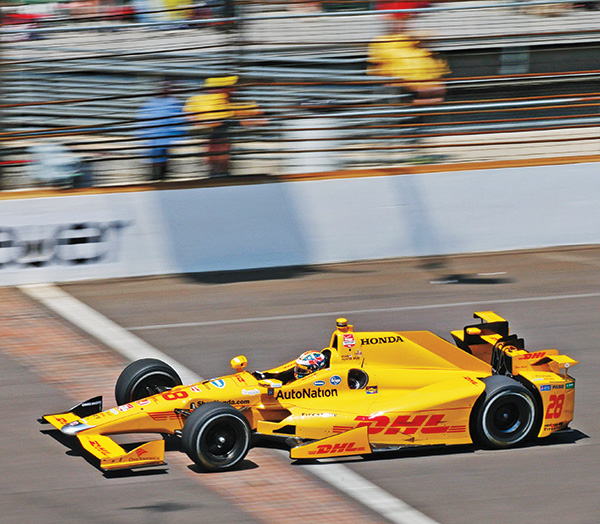 Build
The Panasonic G7 is a portable, relatively compact camera, weighing in at just under a pound (body only with SD card and lithium-ion rechargeable battery installed) in a sleek though not highly distinctive design. It looks a bit different from its predecessor, with an angled, retro-style camera body. (The G6 featured more rounded contours.) There's a new drive mode dial on the G7 for the 4K video features, along with front and rear dials for the G7's other imaging functions.
The G7's handgrip is larger and more ergonomically designed from the previous model but, for anyone with large hands (such as yours truly), it will still feel a bit dainty. My bottom two fingers hung off the end of the grip and I'd recommend using the included shoulder strap or attaching a wrist strap for better security.
There's also a three-inch, flip-out rotating rear display with 1,040K-dot high resolution that offers approximately 100 percent field of view. The new screen boosts the maximum luminance by more than 50 percent compared with its predecessor, giving the G7's display better visibility even when shooting outdoors in sunny conditions. I found the display to be a fantastic resource that helped me frame shots while shooting over crowds in the bright sun during the race.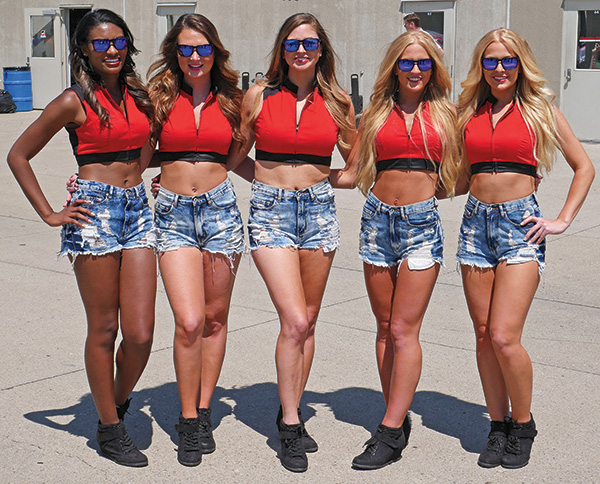 Performance
The Panasonic Lumix G7 is surprisingly fast for a mid-tier mirrorless camera. The G7 is powered by the same revamped Venus Engine processor that's in the GH4 model, and features a "quick response" Contrast AF (Autofocus) system with DFD (Depth From Defocus) technology, which is also in the GH4. According to Panasonic, DFD calculates the distance to the subject you are capturing by "evaluating two images with different sharpness levels while consulting the data of optical characteristics of the current lens at that moment."
That's a confusing description but the result is the Panasonic G7 is even a faster focuser than the GH4 with an AF lock speed of approximately 0.07 seconds. I found the G7's focusing was as quick as many professional DSLRs from Canon and Nikon I've tried with virtually no shutter lag. The G7's burst speed is also significantly faster compared to its predecessor, with the ability to shoot at 8 frames per second, and 6 fps with continuous autofocus. There's a Low Light AF mode that allows you to lock in focus with an AF assist lamp in extreme low-light situations down to -4 EV, which is as dark as moonlight. (This came in handy while shooting photos of the cars in their dark garages before the race.)
One of the best yet trickiest ways to shoot racecars is by setting a slightly slower shutter speed and then panning and shooting as the cars zip by. When done right, this will produce an image with the car's frame tack sharp but the wheels and background blurry to suggest motion. Getting good pans at Indy was tricky, especially since we were shooting relatively far away from the track, up on one of the terraces of the Panasonic Pagoda. But the Panasonic G7's revamped algorithm for AF Tracking, which lets the camera lock in on the subject more securely, was a big help. After much trial and error, I was able to get a few good motion shots of the 600-horsepower cars roaring by.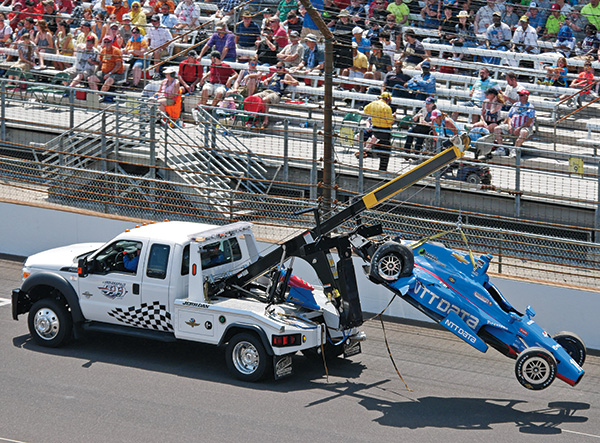 4K Video/Photo Shooting
Perhaps the most intriguing feature of the Panasonic Lumix G7 is its 4K Video/Photo mode. For starters, the G7 can shoot 4K video in 3840x2160 at 30p or 24p in MP4, along with the Full HD 1920x1080 60p video in AVCHD Progressive or MP4 (MPEG-4/H.264) format with full-time AF. If you've never shot 4K, you'll be impressed with how much detail the G7 can capture in its videos though, to be honest, I don't see a dramatic visual difference from 1080p HD. (The leap from standard definition to HD was much more of a game changer.)
Panasonic's 4K Photo feature, however, has the potential to be a game changer. Just turn the mode dial to the 4K setting, and you have the ability to extract a single image from anywhere in your Ultra HD footage during playback and use it as a printable, 8MP still photo. And because you're shooting at 30 fps, you should, theoretically, be able to "never miss a moment" with your images, as Panasonic likes to put it. For the most part, this was an ideal feature for shooting the Indy 500, allowing for massive 30 fps bursts of the passing cars without having to wait for the buffer to clear.
Then just scroll through the 4K footage with your finger on the G7's touchscreen during playback, tap the image of the car (or athlete, pet, toddler, etc.) you want, and it's saved as a picture in the MP4 format. There's also a 4K Burst S/S (Start/Stop) mode designed for unpredictable photo subjects; and a 4K Pre-Burst mode, with recording starting approximately one second before and after the shutter button is pressed. All three 4K Photo modes allow you to save 8MP images in a variety of aspect ratios: 3840x2160 (16:9), 3328x2496 (4:3), 3504x2336 (3:2), and 2880x2880 (1:1).
On the downside, the image quality of the still photos has something to be desired. In particular, since you're using the video mode to capture the footage while panning, still shots are susceptible to the infamous rolling shutter movie effect, which unnaturally elongates subjects. The unfortunate result were racecars that sometimes looked oddly stretched, like futuristic spacecraft.
Conclusion
The Panasonic Lumix G7 really surprised me. While it seemed like it would be overmatched by the power and speed of the Indy cars, the camera did a great job keeping up with the action and I was able to come away with quite a few keepers from the race. The G7 was also supremely portable and adaptable, allowing me to ably capture shots in a variety of shooting situations: over big crowds; in dark, hazy garages; and right in the pits amidst all the madness of the Indy 500. If its image quality wasn't always as top-notch as I would've liked—particularly in low light at high ISOs and in its 4K photos which showed the effects of rolling shutter—the G7 proved to be a solid, mid-level mirrorless camera with plenty of tricks up its sleeve for capturing fast action.
FEATURED VIDEO