Panasonic G5 Mirrorless Camera Review
The Panasonic G5 is a very compact mirrorless system camera that looks like a small SLR, yet has an electronic viewfinder. The EVF has a very high resolution of 1.4 million RGB dots and shows a very crisp and clear image.
The camera is designed for use with the new X lenses made by Panasonic. These lenses have an integrated motorized zoom and servo-controlled focusing system. To accommodate use of the lenses the G5 offers a zoom switch to change focal length rather than a lens ring, just like when using a compact camera.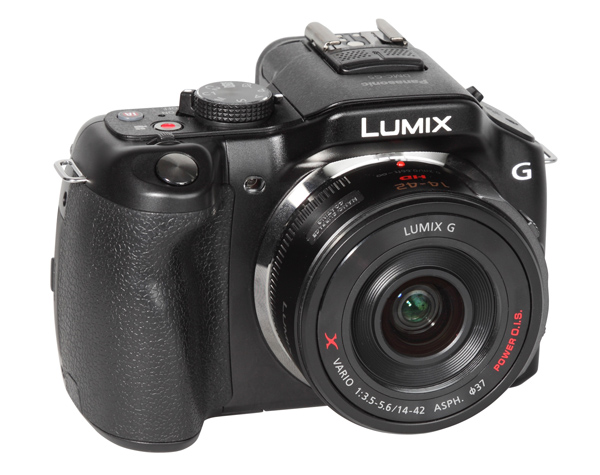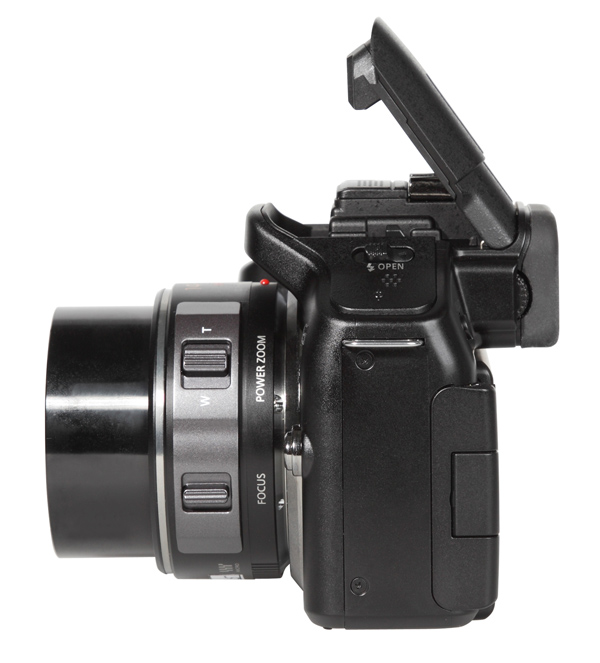 The camera has a very large LCD screen with 920,000 RGB dots, which is very high resolution for a touchscreen. In combination with standard function elements, the touchscreen allows for very comfortable handling of controls. The G5 uses two setup dials (one near the shutter release button, the second encircles the cursor field) and five user-defined function buttons. Three of these function buttons are "real," while function buttons 4 and 5 are available as icons on the touchscreen. The touchscreen is where the user can change numerous parameters. For example, it is very easy to set up the focus point in focus tracking mode by merely touching the chosen area. The LCD screen can be flipped up- and downward and be swiveled to the front (for self-portraits, for example).
The G5 can record Full HD video. Unfortunately it doesn't offer manual exposure settings in video mode and can't work with an additional microphone for better sound quality. However, the photographer is allowed to set up the sound record level manually to adjust sound recording to any given situation.
While the photographer can't set aperture and shutter speed manually in video mode, all these parameters are easily changed in still photo mode. The camera offers P, S, A, and M and numerous scene modes, including six different portrait styles such as "Silky Skin" or "Backlit Softness." In iA mode the camera will automatically choose the required scene mode. The G5 also offers numerous image effects like "Sepia" or "Dynamic Monochrome." These effects are also available in video mode, which allows users to create very extraordinary looking movies.
Image Quality
Color: The camera showed a very good performance in color reproduction. The white balance system showed a slight tendency toward more greenish color areas, but color errors are on a low level. Skin tones are very good and have only a minor tendency toward more magenta-colored nuances. The saturation is on a standard level for compact system cameras with slight oversaturation (105.1 percent). The camera showed a lot of details in red-colored elements. The differentiation in the red spool in the test box shot and the fabric of the model's T-shirt is very good.
Sharpness: The resolution results are on a good level for a compact system camera. The camera reproduced the ISO 12,233 chart with 2954 lines, which is acceptable for a camera with a nominal resolution of 3456 lines in picture height. The kit lens does a really good job: image corners show only a slight decrease in sharpness. The model shot shows the slightly soft character of the G5's JPEGs. The standard setting uses only a very light sharpness filtering. The user can change these settings in the menu for individual image styles. Using Raw mode and converting these images in the included software with higher sharpness settings will create much crisper results.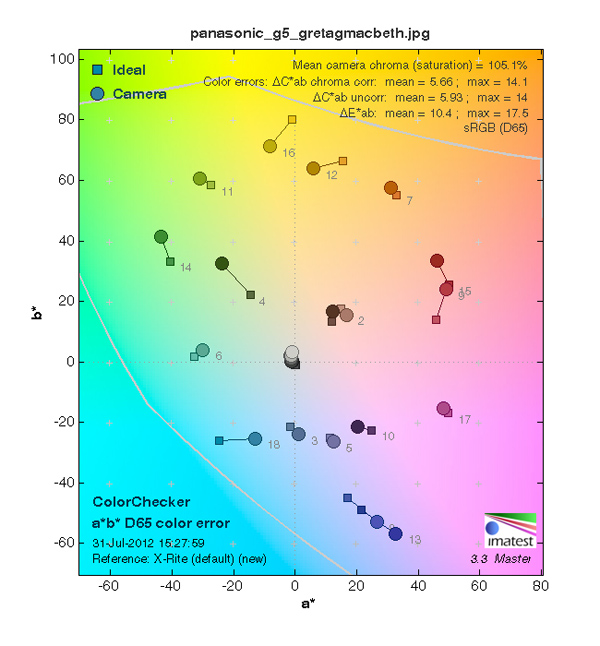 Noise: The luminance noise starts on a relatively high level in lower ISO speed settings but is kept on this level by an increasing anti-noise filtering, which works very well. Luminance and color noise show an unremarkable "film grain look" up to ISO 3200 settings. In images taken with ISO 6400 this grain gets annoying, but there are still no color clouds visible. Nevertheless, details are smoothed by filtering at ISO 6400; at ISO 12,800 we noticed clearly visible anti-noise filtering effects on contrast lines.
With a maximum of 10.6 f/stops the dynamic range results are good in lower ISO speed settings but decline very quickly in speed settings higher than ISO 400.
The Panasonic G5 has a list price of $799 with the 14-42mm kit lens. For more information, visit www.panasonic.com.
Scorecard
Pro
+ Compact and newly designed body
+ Swivel LCD with high resolution; touchscreen
+ EVF with high resolution
+ Fast AF system; allows fast performance in continuous shooting mode
+ Nice colors, though a bit oversaturated
+ Full HD capabilities with high frame rates and high data rates
Con
- No manual exposure setup in video mode
Lab results and test images by BetterNet, our TIPA-affiliated testing lab. Edited by George Schaub.
FEATURED VIDEO