Olympus Launches New Stylus 1s Compact Digital Camera
Olympus launched a new compact camera this morning, the 12-megapixel Stylus 1s. The Olympus Stylus 1s offers new features and other improvements over the previous model but in a similar compact, lightweight design.
The Olympus Stylus 1s adds a variety of functions, including Small AF Target (enabling pinpoint focusing on specific locations) and Step Zoom (with nine preset zoom positions). Olympus also redesigned the grip and incorporates the blue line characteristic of the i.ZUIKO digital lenses.
Despite its compact 2.2-inch thickness and lightweight 14.2 ounce body, the Stylus 1s offers a 10.7x constant aperture f/2.8 i.ZUIKO digital zoom lens. This lens enables high shutter speeds for fast action or low light shooting environments, and captures crisp details against beautifully defocused backgrounds. Olympus anti-reflective ZERO (ZUIKO Extra-low Reflection Optical) coating, assembled through multilayer film deposition technology, is applied to the surface of the lens for clear depictive performance—even in backlit and unfavorable shooting conditions.
For close-up shooting, the Stylus 1s includes a Super Macro mode for capturing subjects as close as 5cm away from the end of the lens. With the combination of the wide converter lens, WCON-08X, and tele conversion lens, TCON-17X, it's possible to shoot from an ultra-wide-angle 22.4mm to a super telephoto 510mm. The bundled BLS-50 lithium-ion battery, which is also compatible with the Stylus 1, features an improved capacity for longer shooting times.
The Stylus 1s has a built-in 1.44-million-dot, high-resolution interactive LCD electronic viewfinder (EVF) with a 100 percent field of view, allowing users to preview the exposure, color and focus peaks for clear images in any condition. The EVF's integrated eye sensor allows users to look into the viewfinder to automatically switch the display from the rear monitor to the viewfinder. Adaptive Brightness Technology raises the backlight brightness when shooting in bright outdoor conditions and lowers the brightness in dark indoor conditions, reducing visual errors from light and dark adaptation of the eye.
The Stylus 1s inherits a blend of dedicated physical controls from the Olympus OM-D line for shooting pro quality images with ease. The Hybrid Control Ring allows users to quickly adjust settings with a twist of the ring without taking their eye off the subject. The subdial can be controlled with the thumb on the right hand, and functions can be assigned in the same way as the Hybrid Control Ring, making it easy to apply complex adjustments. The customizable zoom lever and two function buttons further improve shooting ease and speed.
The Olympus Stylus 1s will go on sale in mid-April 2015 for $699 (available in Black).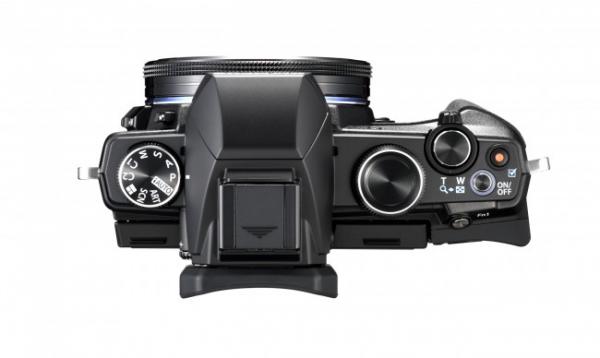 More info on the Olympus Stylus 1s here.
FEATURED VIDEO