Olympus E-P5 Mirrorless Camera Review
The Olympus E-P5 has a classic viewfinder camera design but doesn't have an optical or electronic viewfinder. It does have a swivel monitor which can be folded up- and downward and offers very high resolution (1,037,000 RGB dots). Its 3:2 aspect ratio shows additional information on both sides of the viewfinder image, which has an aspect ratio of 4:3 when taking images in the highest image resolution setting. By pressing the "OK" button in the center of the control field additional parameters are shown as overlays on the right-hand side of the live view image.
The LCD screen is touch sensitive and allows for easy set up of image parameters. Not all menu items react to fingertip commands, however, and the touch sensitivity is available for only a few functions (focus area selection, for example).
Olympus does offer an additional EVF (electronic viewfinder) that attaches to the hot shoe. The "VF-4" offers an extreme image resolution of 2.36 million RGB dots and creates a very crisp-looking image. It can be flipped upward (90 degrees), which helps when making macro shots near the ground, for example. A digital interface right below the shoe provides the EVF with energy and the digital viewfinder image.
The accessory shoe and this interface can also be used for an external microphone for better sound quality when recording video plus for use of external flash systems. There's also a built-in flash, accessible via a mechanical pop-up setup. The built-in flash system is located a little left to and high above the optical axis, which helps reduce any redeye effect.
The camera offers all standard exposure modes (P, S, A, and M) and 25 scene modes. It also has additional effect modes that create the famous "miniature" effect (Olympus calls it a "Diorama" effect), "cross processing" effects, and "dramatic tone" effects. The user can choose simultaneous application of various effects on an image, such as "dramatic tone" + "pinhole." Many effects can also be used in video recording mode, but some will cause a stuttering movie recording. In standard mode the camera is able to record Full HD video with 30 frames per second. It offers manual exposure control when recording videos in M mode.
The E-P5 has two setup dials—just like a professional SLR system. One dial is located near the shutter release button; the second is located on the back and can be reached easily by the thumb of the right hand. Using both dials it is very easy to change all parameters very quickly. The photographer can set up aperture and shutter speed simultaneously in M mode or change white balance with the back dial and ISO speed setting with the front dial in P mode, for example. The user-defined Fn button on the top also helps to set up important image parameters quickly and efficiently.
The E-P5 has a lot of individual settings in its basic setup menu and allows the user to define the dial functions, picture mode settings, histogram settings, strength of the anti-noise filter, additional parameters for automatic white balance ("keep warm lighting colors," for example), and many more. Even the addition of copyright information to the image file data is possible.
Image Quality
Color: The Olympus E-P5 showed a very good performance in our color tests. The color errors are on an extremely low level. Skin tones are reproduced nearly perfectly and only some red colors are boosted by a higher yellow rate. The saturation is a little higher than in images taken with previous Olympus cameras but still on a very good level. The test image of the GretagMacbeth test pattern and the standard test image showed a very good color reproduction, although the portrait shot showed a slightly greenish or gray touch.
Sharpness: The sharpness and resolution results are excellent. The Olympus E-P5 reproduced the ISO 12.233 chart with 3125 of 3456 lines per picture height and therefore the nominal resolution of the image sensor. However, the camera uses a very intense sharpness filtering which even causes a clipping of 2.19 percent and therefore a kind of double contour in the black and white contrast lines in our test chart. The differentiation of colors is very good.
Noise: The camera showed good performance in the noise tests. Up to ISO 1600, the luminance noise is on a low or acceptable level. Higher ISO speed settings will cause clearly noticeable noise artifacts and anti-noise filtering artifacts. These filtering effects are acceptable up to ISO 12,800, but annoying in images taken with the maximum ISO setting of 25,600.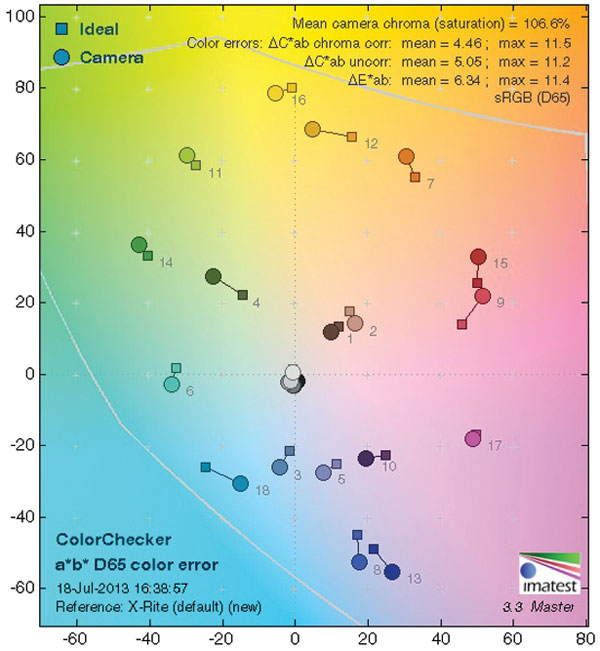 Lab results and test images by BetterNet, our TIPA-affiliated testing lab. Edited by George Schaub.
Scorecard
Pro
+ Very nice color reproduction
+ High results in our resolution tests
+ Very fast AF system
+ Wi-Fi function
Con
- Missing an optical viewfinder
- High-quality EVF offered as optional accessory only
The Olympus E-P5 (body only) has a list price of $999.99; the VF-4 lists for $279.99. Note: Various lens and finder kits are available. For more information, visit www.getolympus.com.
Image Tech
Image Tech is where we publish web-exclusive lab reports on cameras. To read the reports please go to the Shutterbug homepage at www.shutterbug.com and click on the Image Tech tab on the top navigation bar. New reports are published frequently, so check Image Tech for updates.
FEATURED VIDEO