Nikon Launches DL Compact Camera Line with 1-inch Sensors, 4K Video & Classic Nikkor Zooms
Nikon just announced a brand new palm-sized, premium camera line with some classic Nikkor lens features. Called the DL series, the cameras include the DL24-85, DL18-50 and DL24-500 models, which combine Nikkor optics with large 20.8-megapixel (CX-format) 1-inch BSI CMOS sensors.
The new DL cameras are designed to shoot high quality images with rich detail even in low light, Nikon said. They feature high-speed Autofocus (AF) and 20 frames-per-second (60 fps with fixed AF) continuous shooting capability for fast action moments, as well as 4K UHD video recording.
"These are not Coolpix cameras but they are compact, fixed lens cameras designed for DSLR shooters," Steve Heiner, a Nikon USA spokesperson, told Shutterbug in a pre-release briefing on the new DL line. "They're very DSLR-esque in their features and made for people who've had experience with more advanced cameras."
That DSLR-like quality extends to their built in zooms, which mimic classic Nikkor focal lengths. For example, the DL24-85 has a built-in Nikkor zoom equivalent to a 24-85mm f/1.8-2.8 lens. The DL18-50 model has a Nikkor lens equivalent to a 18-50mm f/1.8-2.8 lens, and the DL24-500's Nikkor lens is equivalent a 24-500mm f/2.8-5.6 lens.
Here's a rundown of the features of the three new Nikon DL cameras, according to Nikon's press announcement tonight.
Nikon DL24-85

Made for travel, portraits and general photography, the DL24-85 puts a 24-85mm focal range lens camera in your pocket. Compatible with 40.5mm threaded filters, the newly designed Nikkor lens (11 elements in 9 groups) features a 3.6x zoom range (7x with Dynamic Fine Zoom) and a f/1.8-2.8 aperture. The 24-85mm offering also features Dual Detect Optical VR, AF bracketing and a tilting Touch OLED display to make composing from creative angles easier than ever.
Exclusive to this DL model is a new Super Macro Mode (1:1) that helps capture even small subjects in life-size detail. Setting manual zoom on the camera to super macro position allows the user close-up shooting at a 35mm equivalent magnification. Macro photographers can utilize a variety of camera functions within the mode, including focus bracketing, manual priority AF (M/A) mode and peaking indication.
Nikon DL18-50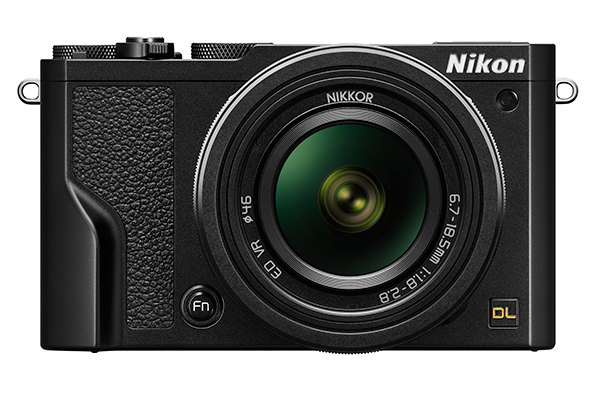 Designed for landscape and architecture shooters looking for compact, ultra-wide angle DL option, the DL18-50 is compact enough to fit in your pocket. Starting at a wide 18mm and expanding to 50mm (2.8x zoom, 5.5x with Dynamic Fine Zoom) the camera is fitted with a built-in Nikkor lens with a wide f/1.8-2.8. This lens is compatible with 46mm filters and features Nikon's Nano Crystal Coat to help reduce ghosting and flare.
The DL18-50 offers perspective controls to help compensate for image distortion, particularly for shooting tall objects from the ground like landmarks and skyscrapers. Designed for architecture shooters, this feature helps to capture the correct perspective with ease.
For use with the DL24-85 and DL18-50, a newly designed optional DF-E1 electronic viewfinder (EVF) will be available for photographers who like a traditional eye-level viewfinder to frame their photos. The compact DF-E1 features a 2,359k-dot resolution with eye sensor, alongside a tilting mechanism, diopter adjustment and anti-reflection coating, helping provide further clarity and versatility for DL shooters.
Nikon DL24-500

The DL24-500 offers the longest zoom capability in the DL premium compact line, reaching up to a 500mm focal length and 21x optical zoom (42x with Dynamic Fine Zoom). Combining Nikon's new 1-inch sensor with this super-zoom Nikkor lens, the DL24-500 is designed for users looking to photograph anything from concerts to wildlife. Featuring an f/2.8-5.6 aperture, this lens (compatible with 55mm filters) integrates the newest NIKKOR technologies to help render amazing images and background blur, even from afar.
The DL24-500 also features Dual Detect Optical VR, which comes in handy when shooting at extremely long focal lengths or without a tripod, a built-in electronic viewfinder (EVF) with 2,359k-dot OLED display and an eye-sensor and a Vari-angle 1,037k-dot LCD screen.
Price & Availability
The new DL24-85, DL18-50 and DL24-500 will be available in early summer 2016 for suggested retail prices (SRP) of $649.95, $849.95, and $999.95, respectively. Pricing and availability for the optional DF-E1 electronic viewfinder, compatible with both the DL24-85 and DL18-50, is TBD.
FEATURED VIDEO