New Gear For 2007: PMA Report; New Lenses For Digital And 35mm SLRs
Although most of the new products shown at PMA 2007 were digital, at least some of the new lenses are just as useful for anyone still shooting with a 35mm SLR system. While some of the new zooms were designed exclusively for use with D-SLRs with the APS-size sensor, the multi-platform lenses work perfectly with both analog and digital cameras. That's because they project the large image circle that's required by a 35mm film frame or by a larger than average digital sensor. Naturally, they're fine for use on a D-SLR with the smaller APS-size sensor that captures only a portion of the image that's projected by the lens. And all of the products discussed in this report benefit from superior multilayered coatings on more elements, intended for superior flare control regardless of the type of camera that's used.

On the other hand, there is a benefit to the "digital only" lenses: a more modest size/weight and often, a lower price because of the smaller glass elements that are required. Lenses of this type are more compact because they need to project only the smaller image circle required by D-SLRs with APS-size sensors. They're also "digitally optimized," although the actual methods vary depending on the manufacturer and the type of lens. In addition to the superior multilayered coatings, most such lenses include some feature that's intended to provide greater brightness and sharpness at the edges of the frame. That's a real benefit especially with wide angle zooms, particularly when they're used at apertures wider than f/8.

What was particularly interesting at PMA 2007 was the dramatic increase in the use of ultrasonic focusing systems. A growing number of companies are installing AF motors into some of their lenses; the list now includes Canon (USM), Nikon
(AF-S/Silent Wave), Olympus (Supersonic Wave Drive), Panasonic/Leica (Extra Silent Motor), Pentax (Supersonic Drive Motor), and Sigma (HSM). Although the technology employed by each company may vary significantly, all ultrasonic AF systems operate on a similar principle. Oscillation (vibrational) energy is created through friction between internal components, generating force that causes lens elements to rotate. As a general rule, ultrasonic systems use less battery power than conventional (in camera) AF motors, operate nearly silently, produce more constant torque for higher efficiency, and provide quicker starting/stopping response for more effective autofocus performance. (Editor's Note: This may presage the introduction of more D-SLRs that require motor-in lenses, such as the recently reviewed Nikon D40.)

We also saw a few more lenses with an Optical Image Stabilizer, with Tamron being the latest manufacturer to announce a product of this type. (Canon, Nikon, Panasonic/Leica, and Sigma also make some lenses with stabilizers.) And yet, this trend is likely to slow in the future. That's because Sony, Pentax, and now Olympus, are installing mechanical Image Stabilizers inside their D-SLRs, using a system that shifts the CCD sensor module to compensate for camera shake. That feature works with all compatible lenses, eliminating the need for a stabilizer in lens barrels when using any of the pertinent cameras.

Wide Angle Zooms
Probably the finest short zoom that Canon has ever made, the multi-platform EF 16-35mm f/2.8L II USM should provide the ultimate in edge sharpness and brightness even at very wide apertures. It's equipped with three distinct types of aspherical glass plus two Ultra Low Dispersion (UD) elements to correct all aberrations and new Super Spectra coatings on more elements to minimize ghosting and flare. Additional benefits include an ultrasonic ring-type AF system with new high-speed algorithms, internal focusing, and extensive sealing against water and dust. Remarkably rugged overall, this large (82mm filter size), heavy (22.3 oz), and expensive ($1599, street) zoom was designed for professional photographers or for anyone who insists on superlative image quality at every aperture.
Pentax is now shipping the first lenses with a fast/silent AF system employing a Supersonic Drive Motor (SDM) to be available in certain high-grade products such as the new (digital only) DA* 16-50mm f/2.8 ED AL [IF] SDM ($899, street). As with many other ultrasonic focusing systems, manual focus touch-ups are possible in AF mode. Do note, however, that only the K10D (and future D-SLRs) can take advantage of the SDM focus motor; with other models, the camera's conventional focus motor must provide autofocus. This is a large/heavy (77mm filter size; 1.2 lbs) professional lens with internal focusing, rugged water/dust-resistant construction, two ED plus three aspherical glass elements, and multilayered Super Protect coatings for excellent flare control.
Olympus has announced High Grade (HG) and Super High Grade (SHG) lenses with ultrasonic focus motor called Supersonic Wave Drive (SWD) and a mechanical manual focusing feature. These include the Zuiko Digital ED 12-60mm f/2.8-4.0 SWD (HG) and the ED 14-35mm f/2.0 SWD (SHG). (An affordable--not high grade--telephoto zoom with SWD focus motor will also be available, the ED 50-200mm f/2.8-3.5.) Specifications and prices were not available at press time, but the SWD focus motor is compatible with all EVOLT cameras. As the ED designation indicates, the SWD lenses will incorporate Extra Low Dispersion glass. The HG and SHG series will also be rugged and of professional caliber in every way. Since they are Four Thirds mount lenses, the Zuiko Digital products are also compatible with the Leica and Panasonic Lumix D-SLR cameras, also with a 2x "focal length magnification" factor.
| | |
| --- | --- |
| | |
| | |
Telephoto Lenses
By far the largest lens on display at PMA 2007, the massive Sigma AF APO 200-500mm f/2.8 EX DG prototype was billed as "the world's first Ultra-Telephoto Zoom," providing an approximately 400-1000mm f/2.8 equivalent when used on a D-SLR camera with APS-size sensor. While the focal length is not unusually long, it's the incredibly wide f/2.8 maximum aperture that accounts for the size of the lens, and hence the weight (about 35 lbs). Because of the huge optical elements that are required, including four SLD (Special Low Dispersion) elements for aberration correction, this will be an expensive lens likely to command close to $10,000.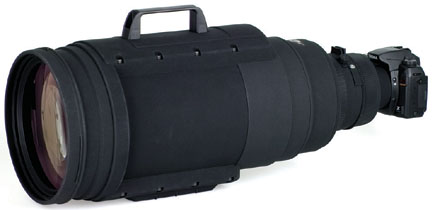 This new multi-platform Sigma zoom will also include motorized zoom control, a rotating rear filter holder, and a unique new feature: an LCD data panel that displays focus distance and the focal length in use. Add the dedicated 2x EX DG tele-converter (included) and this lens will become a 400-1000mm f/5.6 AF zoom, providing an (approximately) 800-1600mm f/5.6 equivalent on many D-SLR cameras. We assume that this monster will primarily be used by professional sports photographers when shooting from a distant vantage point in low light.
FEATURED VIDEO