Mission Workshop "The Rhake" Camera Backpack Review
The Rhake—a weather-resistant, roll-top backpack from Mission Workshop—accepts a custom-fitted capsule that converts it into a camera backpack. According to the manufacturer, Rhakes are "made by hand in small batches in the USA," and judging from the workmanship, I'd say that's an accurate statement.
Right off the bat I give it 10 out of 10 for cosmetics. It's a roll-top, and although that design generally annoys me, The Rhake is easy to open and close, so it's not a major chore to access the contents. In addition, the camera capsule (which we cover below) has a large top compartment that holds a DSLR with a long lens, further facilitating quick access.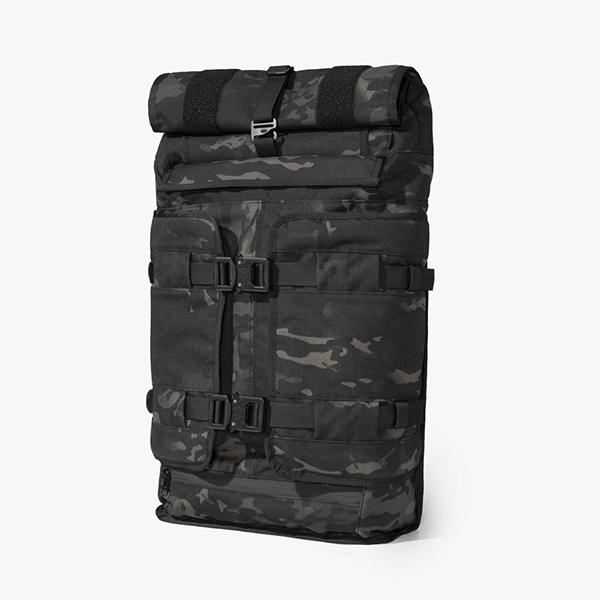 The Rhake measures 21 x 13 x 5 inches (external) and weighs just a feather over 3-pounds empty. It's available in water and stain resistant HT500 nylon or MultiCam black camo Cordura. All Mission Workshop backpacks come with a lifetime limited warranty.
Up top you'll find a nicely padded grab handle. Upon opening the top you encounter a large (22-liter) main storage area. It's lined with a slick plastic material that appears to be waterproof and durable. Inside there's also a zippered pocket that extends all the way to the bottom. The top roll-up is secured with hook-and-loop closures and a single strap that closes with a metal-to-fabric buckle. Below that, a narrow horizontal flap hides a zipper that gives access to a roomy tablet pouch.
The front features two large vertical zippered flaps that cover utility pockets and are held tight by straps that double as compression straps. Below the flaps, along the bottom edge, there's a full-width zippered pouch that could hold a light rain jacket, small tripod or short baguette.
The sides are unadorned except for two covered zippers. The first leads to a very well concealed mesh water bottle pouch that's zipped out of sight when not needed. And on the other side, the zipper closes a full-length notebook computer slot. My huge 17-inch MacBook Pro just fit, but this computer is such a whale that it was difficult to insert and especially hard to remove.
Note that the computer and tablet pouches, like the entirety of The Rhake backpack, are lined with slick, textured plastic—not fur, foam or fuzzy fabric as one might expect.
The back features the typical perforated foam airflow padding and a pair of comfortable, fully-adjustable shoulder straps complete with sternum strap. The shoulder straps have proprietary Arkiv rails for attaching small accessories.
The Capsule
The camera capsule, which measures 9.75 x 17.75 x 4.25 inches, weighs 1.9-pounds and has handles on the top and one side. The entire top unzips to provide fast access to a DSLR with a long lens attached (or something smaller). The largest flat area has a zipper along three sides. Unzipped there is space for five or six more lenses in a maze of dividers that are well-padded and covered with soft polyester microsuede fabric.
The Capsule, available in black 1000D Nylon or subdued MultiCam black camo Cordura, is useable by itself without the backpack for some applications.
In the Field
The Rhake fit comfortably and provided good weight distribution. A Canon DSLR wearing a 70-200 plus three other lenses fit easily and securely with plenty of room to spare. Frankly speaking, I didn't find much use for the organizational pockets that are concealed under the vertical flaps on the front, but if I had been traveling by air—and dealing with lots of small items like keys, tickets and snacks—it might have been a different story. The disappearing water bottle holder, on the other hand, was very useful.
In a nutshell, Mission Workshop's Rhake provided good protection and reasonable accessibility to my equipment, and was comfortable and pleasant to use.
Conclusion
There are very few negatives, in the final analysis. If I were to use this backpack every day I would probably wish for a weatherproof bottom, i.e., a heavy plastic or fabric base that is waterproof and easy to clean. Also, the price tag (see below) is a bit north of where I normally shop, especially considering that one must buy the camera capsule in addition to the basic pack. Other than those, I give it high marks in nearly every category.
Mission Workshop offers shoulder bags, messenger bags and a full lineup of backpacks including the Arkiv Modular System (build-your-own backpack), The Radian (travel pack), The Rambler (expandable cargo pack) and The Vandal (expandable up to 65L). You can check out these and other models here. Most of these models, as well as many of the larger (20L+) backpacks offered by competitive manufacturers, accept the camera capsule.
The Mission Workshop Rhake backpack retails for $365. The Capsule lists at $130. Both can be ordered directly from Mission Workshop or through their authorized dealer network.
—Jon Sienkiewicz
FEATURED VIDEO