Master Class
Sharing The Secrets Of The Craft
Some New Additions To A Teaching CD
Photos © 2004, Monte Zucker, All Rights Reserved
One of the most enjoyable parts of my life today is sharing everything I've learned over the years. It's no secret. I learned photographic techniques--posing and lighting--many years ago and then just kept adapting to changing times. Digital certainly gave me a shot in the arm. I not only accepted it, but I embraced it completely. In the process I put together a learning CD with the title of "How'd He Do Dat?" I'm now in the process of updating it with some of my new as well as some of my old images. It's sharing time now, friends. Here's a sampling of the new additions to my CD:
Blending In A New Sky
While going through my files I found a portrait of my good friend, and exceptional photographic teacher, Don Blair. I had photographed him during a Long Island school week at which we both taught. My picture of him was taken from a low angle, placing him against a clear sky. Looking back at it now I realized that it was a great shot for sky replacement. All I had to do was to touch Photoshop's "Magic Wand" to the two distinct sky areas--in front of him and behind his head--and go to Edit/Clear. The sky was gone.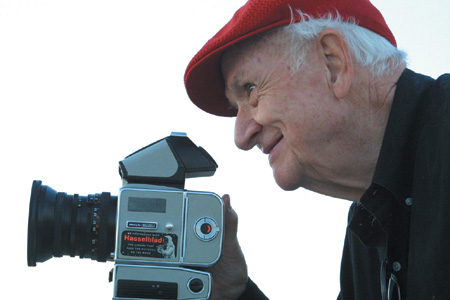 I then had my choice of the many sky shots I keep adding to my collection. I knew that I wanted a sky with character, but at the same time I needed a sky that would not detract from the portrait.


I simply moved the skyless picture over to one of my favorite skies and positioned his face so that I would have the simple, lighter background in front of him. I couldn't have anything close to his face that would detract from his profile. The dark area behind his head was perfect. To blend the two images together I did some adjustments to the sky with Levels in order to better blend the cut edges around him. I finished the picture by adding another blank layer, changing the mode to Overlay, and filling the layer with a color that I picked off the background. I then brought the opacity of the Overlay down to somewhere around 10-15 percent, putting some of the sky's color over the entire image.

LATEST VIDEO