Long-Exposure Phone Photos? Use a Hidden Trick in Lightroom Mobile (VIDEO)
It's inevitable: Sooner or later you'll come upon an interesting scene, and the only camera you have on hand is your phone. Sure, it's possible to make impressive images with the latest phones, but what if the photo you envision requires a long exposure?
As you'll see in the straightforward video below, all is not lost if you follow the tips in this Lightroom Mobile tutorial from British landscape photographer Glyn Dewis. In addition to being an accomplished shooter, Dewis is a post-processing expert, and this includes editing images on his iPhone.
Just like with a camera, the advantage of long exposures with a phone is that this technique enables you capture unique images depicting a sense of motion. This can involve cotton like-clouds and soft flowing water in landscape shots, and a variety of other scenes with slow-moving objects.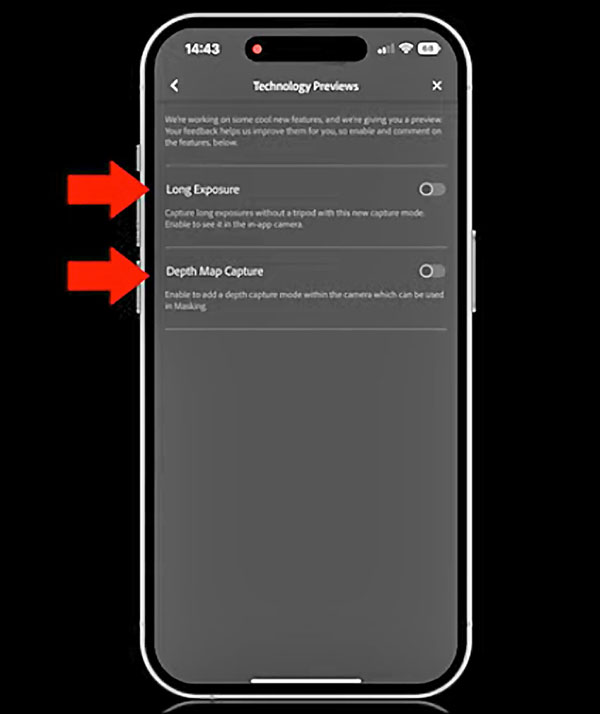 Dewis says he's always enjoyed shooting landscapes with a phone. Before discovering the trick you'll learn below, that Dewis says "I never new existed," he used his iPhone's "Live" option to create a sense of motion. But that approach has a few drawbacks—like sometimes blurring stationary objects and significantly cropping in on the shot.
Dewis prefers editing iPhone photos in Lightroom Mobile, instead of on the computer, because "the app has just about everything in Lightroom Classic and Lightroom CC.
The key to Dewis' new approach is activating Lightroom Mobile's Long Exposure and Depth Map Capture settings buried within the extensive menus. All it takes to navigate to these tools is clicking on Settings, selecting Technology Previews, and choosing the Long Exposure and Depth Map Capture options in the window that appears.
From there Dewis demonstrates how to harness the power of this method, followed by some pretty convincing before/after examples. There's also a discussion of a simple preset that can further improve your results.
You can find more tips and tricks on Dewis' YouTube channel, so be sure to take a look.
And don't miss another eye-opening tutorial we posted earlier, with what another pro says is "the most powerful composition tool in photography."
FEATURED VIDEO