Lomography's New Neptune Art Lens System: 3 Prime Lens Modules with a Universal Base for Film & Digital
Lomography's new Neptune Convertible Art Lens System offers photographers a lightweight, modular approach to shooting, with a universal base unit that mounts to both film and digital cameras and three interchangeable front lens elements.
The three fixed focal lens front modules mount to the base and include a 35mm f/3.5 wide angle, a 50mm f/2.8 normal lens, and an 80mm f/4 short telephoto—all with a compact, lightweight design. Lomography says additional lens modules are already in the works to further expand the innovative system.
The folks at Lomography say each lens component is handcrafted with premium glass elements to deliver superb resolution, contrast and color rendition. The dual-aperture system includes drop-in aperture plates to give you a choice of optimum sharpness or beautiful bokeh.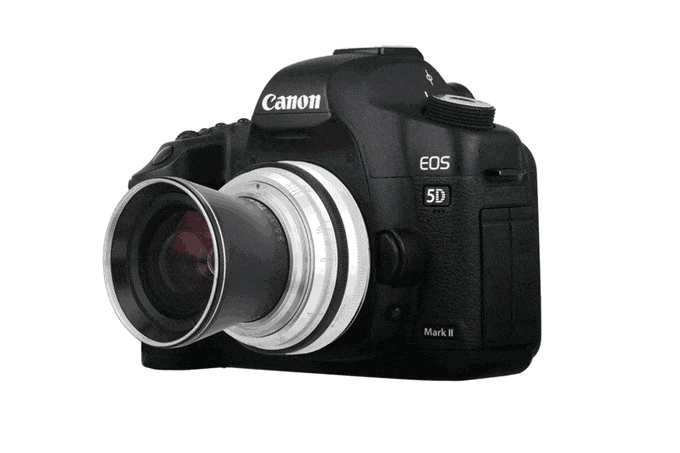 The Neptune Convertible Art Lens System was launched on Kickstarter and in just hours blew past its goal of $100,000, with over $300,000 now pledged. Future focal lengths being explored include everything from an ultra-wide 15mm to a powerful 400mm telephoto.
The Neptune Convertible Art Lens System is available in Canon EF, Nikon F or Pentax K mounts. Lomography advises you to make sure to select the right mount for your camera. Here's the camera compatibility from the Kickstarter page:
• Canon EF Mount (Analogue/Digital, Full frame & APS-C/APS-H): Canon 1D/s MKIII, Canon 1D X MK II, Canon 5D MKIV, Canon V, Canon 7D MkII, Canon EOS 3, Canon EOS 5, Blackmagic Design Cinema Camera EF, Blackmagic URSA and URSA Mini, & many more.

• Nikon F Mount (Analogue/Digital, Full frame & APS-C): Nikon F3, Nikon D300, D500, D800, D810, Nikon D5, Nikon FE2, Nikon F100 & many more.

• Pentax K Mount (Analogue/Digital, Full frame & APS-C): Pentax K2, Pentax KX, Pentax KM, Pentax K1000, Pentax ME Super, Pentax MG, Pentax MV, Pentax MV1, Pentax MX & many more.
According to Lomography, the Neptune lens systems also fits these other camera models using optional adapters:
• Fujifilm X Mount (Digital APS-C): Fujifilm X-Pro1, X-Pro2, Fujifilm X-T2, Fujifilm X-M, Fujifilm X-E & many more.

• SONY NEX mount (Digital Full frame & APS-C): Sony A7, A7 MK II, A7s MK II, Sony NEX 7, Sony NEX 5 & many more.

• Micro 4/3 Mounts: Olympus OM-D E-M10, OM-D E-M1 Mr II, Olympus PEN-F, Panasonic Lumix DMC-GX8, Panasonic Lumix DMC-GF6, Panasonic DMC-G7 & many more.

• Leica M (Analogue/Digital, Full frame & APS-C): Leica CL/E, Leica M6, Leica M (240), Ricoh A12 (LM-mount digital module) & many more.
The Neptune system is expected to ship next February, and by pledging $640 you'll receive a complete kit with the base unit, all three front lens modules, and six aperture plates. That's a 35% discount off the anticipated price, so head over the Lomography's Kickstarter page and take a look.

LATEST VIDEO