Lenses; Great New Optics For Digital And 35mm SLRs

Every year the PMA Show becomes increasingly digital in its scope, with fewer exhibitors of "traditional" products. The 2006 show confirmed this trend but surprisingly, most of the new lenses (of familiar brands) are of the multi-platform type: suitable for 35mm cameras and digital SLRs with small (APS-C size) or full-frame sensors. That may not prove to be a long-term trend because the "digital-only" lenses are more compact and lighter, so they're generally more appealing to owners--and new buyers--of digital SLR cameras with that sensor size. Now that Panasonic is also marketing a digital SLR, the Lumix DMC-L1, with the Four Thirds size sensor previously used only by Olympus, we're starting to see an increasing number of lenses in the "FT" mount. Sigma already made a few zooms intended for Olympus EVOLT cameras but is becoming more aggressive in expanding the FT line. That's no problem because both multi-platform and "digital-only" lenses work well with Four Thirds sensor cameras.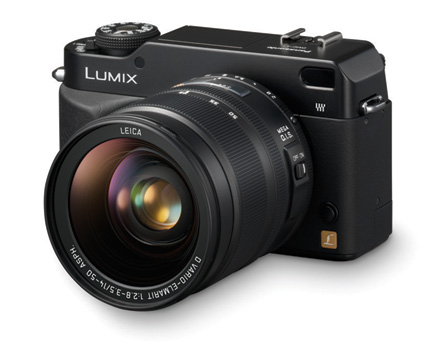 Four Thirds Mount
Already available in more typical mounts, five Sigma lenses will now be made in FT mount as well. These include the digital-only 30mm f/1.4 EX DC HSM and 18-50mm f/2.8 EX DC, but also the multi-platform Macro 105mm f/2.8 EX DG, APO Macro 150mm f/2.8 EX DG HSM, and APO 50-500mm f/4-6.3 EX DG HSM. Because the focal length magnification factor (actually field of view crop) is 2x with Four Thirds cameras, the 50-500mm zoom is particularly impressive, providing 100-1000mm effective focal lengths. A large, sturdy tripod or very fast shutter speeds will be required for sharp photos without blur from camera movement.

Sigma's strategy should pay off if the Panasonic Lumix DMC-L1 becomes a hot-selling camera. That's because so far, Panasonic has announced only a single lens for their DMC-L1, the Leica D VARIO-ELMARIT 14-50mm f/2.8-3.5 ASPH with their Mega Optical Image Stabilizer (OIS). And it may be some time before a second Leica lens is introduced.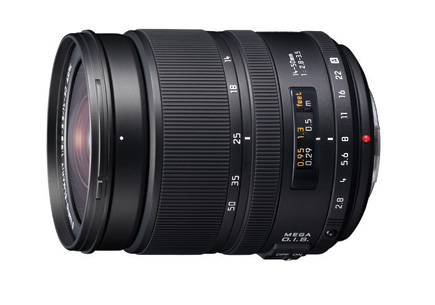 Leica D VARIO-ELMARIT 14-50mm
Full specifications on this (28-100mm equivalent) Leica D zoom were not available, but we do know that it contains 16 elements, including two pieces of aspherical glass to minimize distortion and vignetting. The product of a joint venture with Leica Camera AG, this lens is manufactured by Panasonic based on Leica standards. It certainly resembles the Leica R series in terms of cosmetics, build quality, and the mechanical aperture ring that's sure to please traditionalists. The ring is inoperative if this lens is used on a current EVOLT camera because f/stop selection is possible only with an electronic dial. The OIS system is compatible with the Olympus digital SLRs, but only when using the Conventional mode.

Panasonic's stabilizer is similar in concept to Canon's IS system, based on diagrams that were shown at PMA; both shift optical elements to compensate for camera shake. Of course, the Leica D lenses employ Panasonic's proprietary technology, a fact that was emphasized during my meeting with executives from the Matsushita facility in Osaka, Japan. Mega OIS is quite different than the Canon device, they explained. For example, OIS provides two modes: conventional and a new "activate just before shutter release"; previously, the latter was only available in camcorders and compact digicams. As well, Leica D lenses incorporate Panasonic's new Venus Engine stabilizer control device for precise control. The company was not yet ready to provide an estimate of the actual benefit of OIS in compensating for camera shake, or a price for the zoom, or their plans for future Leica D-series lenses.
"Digital-Only" Lenses
Like Panasonic's Leica zoom, two other new lenses were designed exclusively for digital cameras. These are intended only for other brands of digital SLRs with the APS-C size sensor and are not currently available in the FT mount. Although most new lenses of all types are digitally optimized, those intended only for digital capture are smaller because they do not need to project the larger image circle required by a larger film frame or sensor. Hence, weight is reduced, too, but the price is not necessarily lower. That's because of the investment required for new technology, additional high-tech optical elements, and for retooling to manufacture these new lenses.
While Tamron has not yet decided to make FT mount zooms, the company has expanded their Di II line to include a new SP AF17-50mm f/2.8 XR Di II LD Aspherical (IF) with a wide maximum aperture, useful for faster shutter speeds in low light. Available for Nikon, EOS, and Maxxum digital SLRs with APS-C size sensor, it's roughly a 26-78mm equivalent. Like all recent Tamron zooms, this one benefits from extensive multilayered coating, using new technology for maximum flare control, useful because digital cameras incorporate highly reflective sensors.

This is a rugged, high-grade Tamron lens, with updated chip, three XR (Extra Refractive Index) glass elements, two hybrid aspherical elements, plus a low dispersion element to compensate all types of optical aberrations as well as linear distortion. Tamron has also employed unspecified methods to optimize the angle of light striking the (three-dimensional) surface of a digital sensor, a useful feature that should provide high edge sharpness/brightness. (Specs: 67mm filter size; 15.3 oz; 10.6" close focusing; hood included; $449, street price.)

Canon now offers a lens with similar focal lengths, the EF-S 17-55mm f/2.8 USM IS, another "standard" (27-88mm equivalent) zoom with wide constant maximum aperture, exclusively for the EOS Digital Rebel, XT, 20D, and 30D. This one includes two Ultra-Low Dispersion (UD) elements and two pieces of aspherical glass for aberration and distortion control. It's also extensively corrected for flare and ghosting so it should provide images with snappy contrast. This Canon zoom also features a silent ring-type ultrasonic focus motor with new algorithms for faster speed and an Image Stabilizer said to provide a three shutter speed step advantage over conventional lenses. That should make the lens ideal for low-light shooting without flash at surprisingly long shutter speeds. (Specs: 77mm filter size; 22.8 oz; 1.15 ft close focusing; hood optional; $1150, list price.)
| | |
| --- | --- |
| | |
| | |
Multi-Platform Lenses
Compatible with all types of SLR cameras, most of the latest multi-platform lenses are also digitally optimized. At the very least, they include more layers of chemical coatings on more lens elements for flare control; some products benefit from additional optimization technology. According to Tamron, their new AF70-300mm f/4-5.6 Di LD Macro 1:2 has been upgraded with a new chip and "advanced quality control and multi-coating to raise the level of resolution and prevent flare due to aberrations." As a particularly affordable zoom, this one includes only one low dispersion element, the most important feature in a telephoto zoom (roughly 109-465mm equivalent with some digital SLRs).