Kingston Icon Of Photography Harry Benson Reveals Digital Photography Tips
Kingston Technology Company, Inc.announces that award-winning photojournalist Harry Benson shares new tips and techniques for the Kingston Icons of Photography website. Benson describes how he's captured riveting photographs for major newspapers, plus Life, People and Vanity Fair magazines.
Kingston's "Icons of Photography" website profiles some of the world's most respected photographers. Each month, the company spotlights a different Icon plus their tips, techniques and an online gallery of images. Icons share anecdotes and advice for taking better pictures, and cover topics ranging from lighting and backgrounds to color profiling and making the most of equipment. Through "try it yourself" suggestions, Icons explain how they tackle their own photography challenges.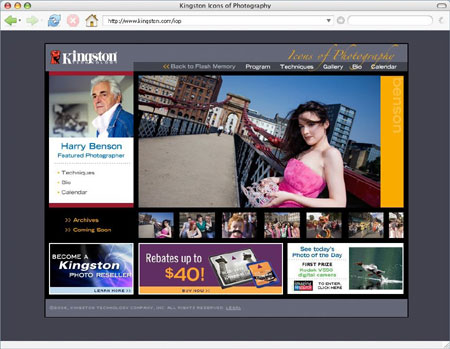 October leads with a new profile by Scotland-born Benson, who claims that awareness and attention are very important when working as a photographer. "The biggest mistake photographers make is only looking at the world when they're holding a camera. Take the time to look around and understand what is going on," he says. "Photojournalists have a unique way of seeing the world. This is what makes us different."
Benson currently shoots for Vanity Fair and Architectural Digest, among others. He has won numerous awards, including the 2005 Lucie award for lifetime achievement in portrait photography, and was twice named ASMP Magazine Photographer of the Year. Benson has had nine books published, with two new books: Harry Benson's Glasgow, and Harry Benson: The Tivoli Gardens coming out in 2007.

Kingston will introduce a new Icons photographer on the 15th of each month. Other Kingston Icons of Photography include: Barbara Bordnick, Colin Finlay, Douglas Kirkland, Gerd Ludwig, Peter Read Miller and Chris Rainier. Visit www.kingston.com/flash/iop to read more about Benson and other Icons' work.