Jack of All Trades, Master of All: ProMaster's Tripod Does What Others Can't
When ProMaster's new Chronicle tripod arrived to review, I did a quick inventory and found eight camera supports in my house, not counting the odd collection of desk stands for smartphones and mics that seem to pile up like USB cables.
While eight is a huge number of tripods, it's not uncommon for photographers and videographers to end up with multiple tripods, each serving a specific need.
As with any sponsored content I write, I agreed to review the Chronicle tripod only if it added something to my camera support collection and improved my life. Surprisingly, the ProMaster Chronicle's unique design provided something that was missing from my collection, which turned out to be more valuable.
I knew the Chronicle's selling point is that it can be quickly configured into various setups, but I've heard that before. Usually, companies claiming they've made a versatile tripod simply give a removable center column for low-level shooting.
At first glance, the Chronicle is yet-another full-sized, well-built carbon fiber tripod that can collapse into a small and transportable package. They say looks are deceiving, and the Chronicle turned out to be more than meets the eye.
I intentionally skipped reading the quick-release guide to give it a chance to impress me, which it did.
What became readily apparent in my shooting was that the designers did not just spend time designing a solid tripod to compete with other brands. They created a tripod meant to eliminate the need to own several specialty tripods by providing multiple functions in one design.
Over the years, I have found that all-in-one devices are usually no better than the tools they replace. For example, a Swiss Army Knife screwdriver is never as good as an actual screwdriver, but it will get by when you're on a shoot and realize you forgot a real screwdriver.
The Chronicle is a rare device that doesn't just get by in a pinch; it does a better job than many single-feature tripods I've used.
There is a carbon fiber and an aluminum version of the Chronicle. At 4.19 pounds (carbon) or 4.74 pounds (aluminum) the Chronicle is already one of the lightest tripods in my collection. Considering it does the job of several camera supports at the same time, the weight is even more impressive.
Versatile Setup
Extending from its compact folded position into a human-height tripod is accomplished by rotating locking rings on the four-section legs. When fully extended, the tripod measures 59 inches tall.
Once the main tripod legs are opened, the unique center column is revealed; this column is the secret to the Chronicle's versatility.
The center column is segmented with a squat metal body and small legs connected by a screw mount. This patent-pending section is called the Flexor.
For super-low-level shooting, unscrew the legs from the bottom of the Flexor, pull the tripod's leg locks outward, and lower the legs to nearly horizontal. The working height when horizontal is only 8.25 inches.
Pulling the Flexor column out through the top of the tripod and gripping it by the folded legs, you can use it as a stabilizer. Unfold the legs, and the Flexor turns into a tabletop tripod.
Since I reviewed the Chronicle before release, the user guide wasn't available, but I decided to skip the provided quick guide to be surprised by the unique features.
That's how I missed that Chronicle also converts into a monopod using one of the tripod's legs.
This conversion starts by removing the Flexor column the same way as when using it as a stabilizer or a tabletop tripod.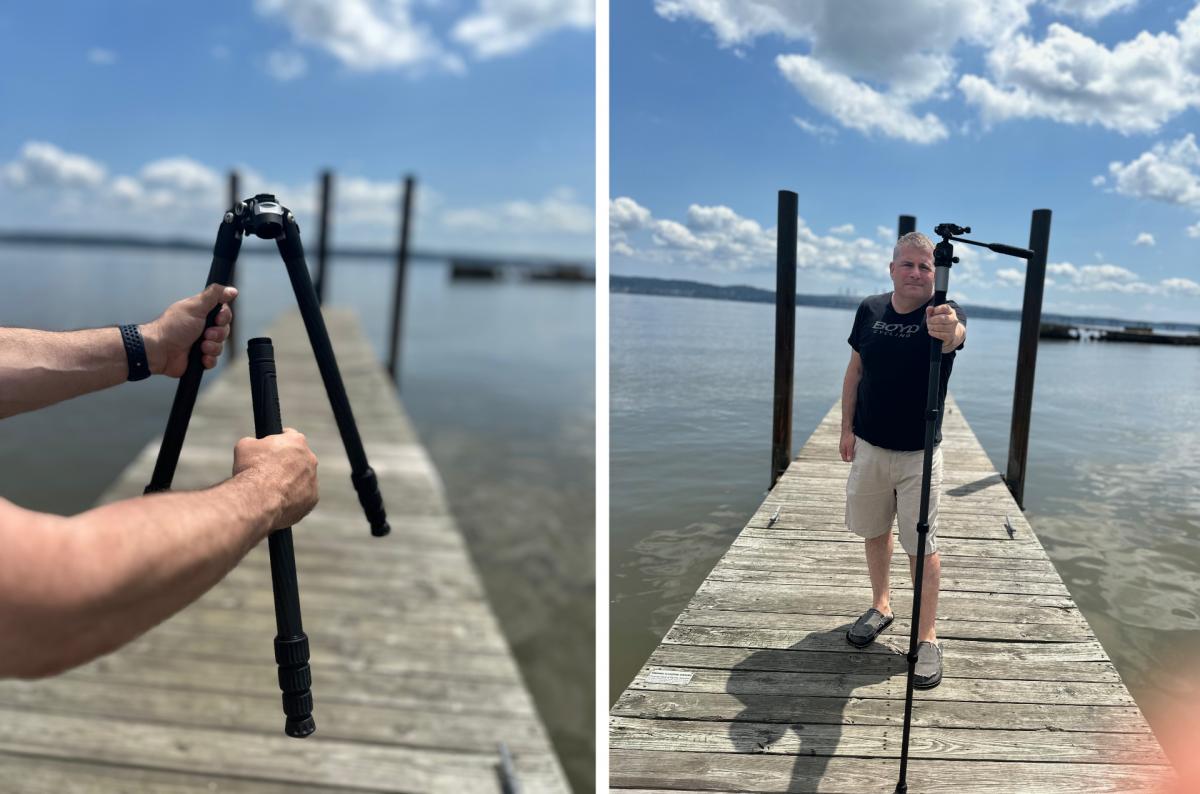 The small tripod feet connected to the Flexor column's bottom are removed, revealing a screw mount. After unscrewing one of the tripod's legs, that leg can be attached to the screw mount on the bottom of the Flexor column.
The monopod can be used with the standard rubber foot on the bottom of the tripod leg, or that foot can be removed and replaced with the tabletop tripod feet for added stability.
I typically use a monopod without feet as most monopods have either a weak joint connecting the tripod feet to the monopod, or no joint at all.
The Chronicle has a solid-feeling locking ball joint which allows for the best of both monopod worlds. Lock the ball joint to use the monopod in a fixed shooting perspective, or unlock it and pivot the tripod. In either case the fold-down feet provide great stability.
The Head of the Matter
The tripod head, a weak spot in many otherwise good tripods, is amazingly designed. The head features a dovetail-connecting Arca-compatible plate with a solid release mechanism.
I didn't expect to find that the whole mount mechanism rotates 90º to allow for landscape-oriented photography or vertical video. I used the Chronicle with a Canon 6D Mark II, the beefy 24-105mm RF lens, and the beefier 135mm RF lens.
This combination can cause tripod plates to slip, but the Chronicle tripod head holds this combination well when tightened, even when rotated to the vertical position.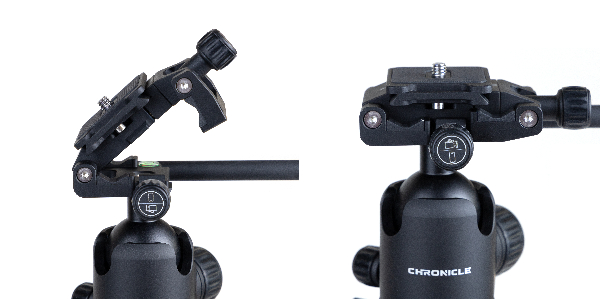 I also didn't expect to find a built-in smartphone holder as part of the tripod head. The patent-pending ball head includes an adapter that eliminates the need for a screw-in adapter to shoot with a phone. Switch from the Arca-compatible plate to a phone clamp with just the twist of a knob. The tripod head also has a detachable handle to make it easier to capture smooth video.
So-Many-In-One
As a creative working in photography and videography, I often grab several different camera supports when I head out for a job.
If I'm shooting landscape or real estate photography, I usually bring a tripod that can convert to low-level shooting or a tabletop tripod. I like to bring a tripod and a monopod for wildlife and sports.
For video work, my typical kit includes a video tripod with a video head and a tabletop tripod that I can use when doing a seated talking head. I'll bring a stabilizer for a vertical video or a walking-follow shot. I always carry a vertical tripod head, or I'll get a smartphone tripod head, depending on whether I'm shooting with a mirrorless camera or smartphone.
I hadn't even considered using one tripod for my creative needs because one didn't exist. Worse, most multi-use tripods are "jack of all trades, masters of none" designs, sacrificing build quality for flexibility.
The Chronicle tripod is a rare beast that is designed to accomplish multiple tasks and to perform those tasks without compromises or shortcomings.
Pricing and Availability
The ProMaster Chronicle will be available on Kickstarter beginning August 22, 2023 at 10 AM EDT.
Super Early Bird Pricing will allow customers to save up to 43%. In the first 48 hours the Carbon Fiber tripod is $319 and the Aluminum tripod is $239. These discounted prices are a $180 discount.