How to Shoot Backlit Bikini Photos at the Beach (VIDEO)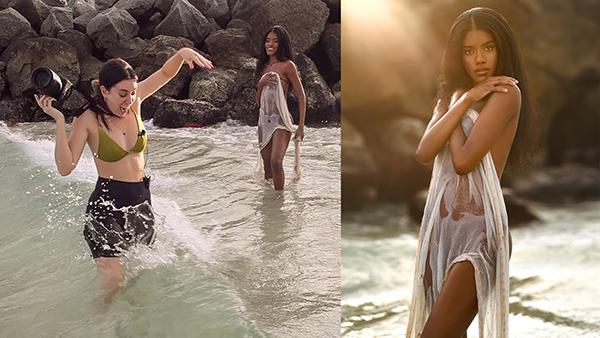 Here's a fun little tutorial from Irene Rudnyk if you're stuck in the cold, dark depths of winter like we are. In the below video, Rudnyk takes you on a behind-the-scenes photo shoot where she demonstrates how to photograph a backlit swimsuit model during golden hour at the beach.
Sounds like fun, right? It is!
However, things don't start off too smoothly as you'll see in the video below. At the beginning of the clip, Rudnyk heads into the waves to photograph model Shania without realizing that she's draging her microphone through the salty surf. Then, a few minutes later while facing the shore and photographing Shania, Rudnyk gets hit by a wave, which further douses her gear (not to mention her backside.)
As you'll see though, things dry off as the sun sets and Rudnyk has a grand old time capturing her model while demonstrating her techniques for shooting backlit photos. Yes, it's harder than it seems even if you're lucky enough to be photographing a beautiful model in swimwear on a gorgeous beach in Miami, FL.
"Today I have a behind-the-scenes from a beautiful photo shoot I did in sunny and warm Miami," Rudnyk says.
(Uh, yes, we're more than a little bit jealous.)
"My last beach photo shoot was done over two years ago so I'm so happy to be back on the beach," she explains.
"When I first started shooting the sun was still pretty high, so I decided to start out in the shade by the rocks. So, this is where my microphone fell in the water as you've seen at the beginning. Miraculously, it still worked for the majority of the photo shoot although it was fully submerged in the water. The second look though was my absolute favorite. I wanted to make it look like she's only wearing the wet cloth over her body. It was inspired by the Venus emerging from the water classic kind of look."
FEATURED VIDEO