3 Easy Ways to Rid Photos of Distracting Elements in Lightroom (VIDEO)
We've all been there: You shoot what looks like an outstanding photo, only to open it on the computer and discover a distracting element or two that sort of spoils the shot. We're firm believers of "fixing it, rather than trashing it," and that's exactly what you'll learn how to do today.
These unfortunate image-killing artifacts can include the proverbial telephone pole emanating from a subject's head, or less-obvious dust spots, junk on the ground, and other minor imperfections.
Julienne Kost is a self-proclaimed "digital imaging evangelist" and an expert in all things Adobe. In the tutorial below she explains how to clean up images with three easy Lightroom tools. As you'll see, the approach you choose depends upon the specific problems in the image at hand.
Kost is working in Lightroom Classic and demonstrates the quick results you can achieve with the Clone and Healing tools, or Lightroom's powerful Content Aware Remove healing modes.
She begins by revealing a keyboard shortcut that enables you to quicly access the appropriate options. She then describes three different modes that can be used to select or create the information necessary to patch the unwanted portions of an image.
You'll learn how all three modes work to achieve the repairs that you're after. Each option works in a somewhat different manner, but the result is essentially the same: A clean image without any distractions that lessen the impact of your shot.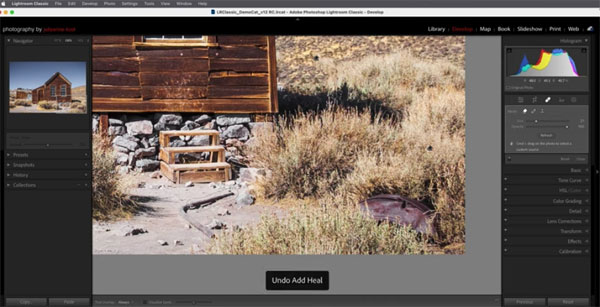 Whether you use Lightroom, Photoshop (or both) to process images, you'll find a variety of helpful advice on Kost's YouTube channel. So be sure to take a look.
And don't miss the Lightroom tutorial we posted recently from another expert, explaining how to make edits in the proper order to achieve optimum results.
FEATURED VIDEO