GoPro Launches HERO4 Session, the Company's Smallest and Lightest POV Camera Yet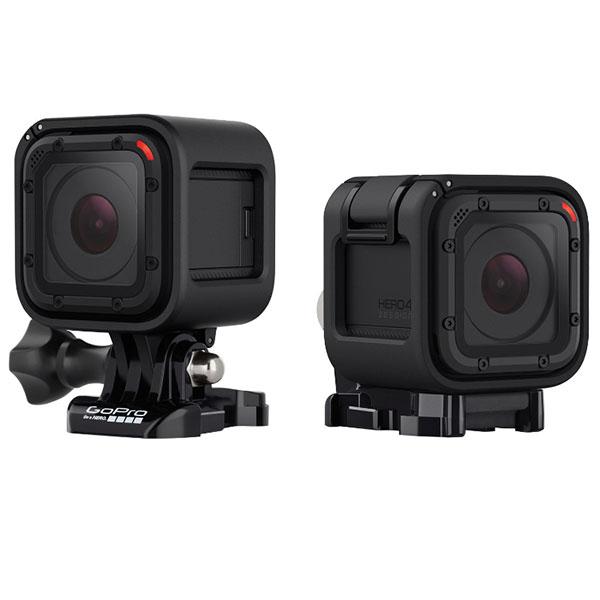 POV camera-pioneer GoPro has just unveiled its smallest and lightest GoPro yet. Called the GoPro HERO4 Session, the tiny, point-of-view camera is 50% smaller and 40% lighter than the company's popular HERO4 Black and Silver cameras.
The GoPro HERO4 Session has a rugged, waterproof design, which requires no separate underwater housing. The highly portable, black camera features simple one-button control that makes it easier to shoot POV photos and video.
HERO4 Session is compatible with existing GoPro mounts and will sell for $399.99 when it goes on sale starting July 12, 2015.
HERO4 Session captures 1080p60, 720p100 and 1440p30 video along with eight megapixel photos in Single, Burst and Time Lapse modes. It features many of the same features from GoPro's best-selling HERO4 Black and Silver cameras, including SuperView, Protune and Auto Low Light recording modes. An expanded set of controls and settings can be accessed when using the GoPro App or Smart Remote.
Operating GoPro HERO4 Session is designed to be simple. A short press of the shutter button quickly powers the camera on and video recording begins automatically. A long press of the shutter button powers the camera on and triggers Time Lapse photo capture. Press the shutter button again to save video or photo content and power the camera off.
GoPro HERO4 Session is waterproof to 33 feet (10 meters). It features a sleek frame mounting system that is compatible with GoPro's array of mounts. A dual microphone system switches sound recording between microphones to reduce wind noise during activities. Audio performance during water-based activities has been improved thanks to HERO4 Session's waterproof design, which eliminates the need for a separate waterhousing, which can muffle sounds.
Here's a rundown of specs for the GoPro HERO4 Session POV camera:
• $399.99
• 1080p60, 720p100, and 1440p30 video
• Waterproof to 33 feet (10m), no separate housing required
• Easy one-button control: short press of shutter powers camera on and begins capturing video, long shutter button press powers camera on and begins capturing time-lapse photos
• Captures 8MP Single, Burst, and Time Lapse photos
• Compatible with GoPro mounts and accessories
• Dual Mic system captures enhanced audio during high wind and water-based activities
• Built-in WiFi and Bluetooth enable easy connectivity to GoPro App and Smart Remote
• Auto image rotation corrects image orientation during recording
• Includes standard and low-profile frame mounts for increased mounting versatility
• New Ball Joint Buckle mount is included
FEATURED VIDEO