The Epson Stylus Pro 7880 Inkjet Printer; A Pro 24" Model With New "Vivid" Inks Page 2
There are three quality settings for output that are suitable for photo printing: Fine at 720dpi, SuperFine at 1440x720dpi, and SuperPhoto at 2880x1440dpi. In general, I found that SuperFine is a good choice for general printing, while SuperPhoto is used for final exhibition quality prints. Moving up to SuperPhoto doubles the print times and uses significantly more ink, so I reserve this for times when the output quality is critical.

One area that I think Epson handles better than most is paper feed. The 7880 has three paper paths--roll, cut-sheet tray, and straight. The straight path can handle media up to 1.5mm thick, like posterboard.

Overall, I found the 7880 to be slightly faster in printing than the previous model, outputting a 16x20 print in the SuperFine mode in just under 7 minutes. The same print in SuperPhoto mode takes about 13 minutes. The new print heads have an improved screening algorithm that Epson calls AccuPhoto HD Screening that improves dot placement to produce much smoother tones. Combined with the variable dot size, the final prints look very much like continuous tone prints. Compared to prints from the 7800, tonal transitions are visibly improved, especially in areas like the sky or skin tones.

Black and white printing has also been improved with a higher D-max than the previous generation of printers. Epson claims a D-max of up to 2.55 on Epson Premium Luster Photo Paper. Part of this improvement is due to the way Epson is encapsulating the inks. An additional benefit to the new encapsulation is reduced bronzing and metamerism and improved scratch resistance.

As before, the Advanced Black and White mode (#6) is available to produce neutral or toned prints using all three black inks while minimizing the amount of color ink used. Output in this mode is very good; one nice feature is the ability to fine-tune a print for just the toning effect you're looking for.
6 --Epson's Advanced Black and White mode uses all three blacks (black, light black, light light black) to produce excellent quality monochrome prints. You can fine-tune the settings to produce toned prints if you like.
I printed to a number of different types of paper, including fine art photo rags, traditional RC papers, and the new baryta-based papers, all with excellent results. Out of the box the profiles supplied by Epson are exceptionally accurate. I also had the opportunity to try some of the new Epson Exhibition Fiber Paper. While certainly not cheap, the prints from this combination are stunning--I'd rate them as among the best output I have ever seen from an inkjet printer.

In looking closely at the difference the new vivid magenta inks make in printing, I did a number of landscape and flower shots. Purples and blues are visibly more detailed than before and exceed those of the Canon and HP printers with dedicated blue inks. Even compared to the previous Epson magenta inks, the color gamut is extended well beyond what was previously output (#7). As you can see from the chart in #7, some color range has been lost in the greens and cyans, but in normal printing these colors are very seldom seen.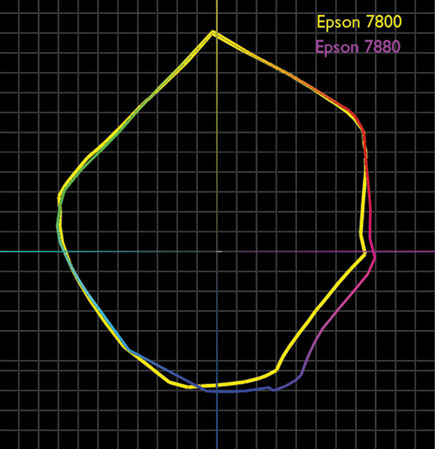 7 --The color gamut with the new vivid magenta and vivid light magenta inks is much larger in the blues and purples. The greens and cyans are a bit smaller now, but I find that in practice, these colors are very seldom seen in a print, while the blues and purples make a significant difference in the output.
Conclusion
The new x880 series from Epson brings some nice enhancements to the digital photographer interested in high-quality output. If you own a 4800, 7800, or 9800, you may not see a reason to upgrade at this time unless the extended gamut is critical for you. For those contemplating a large format printer, the new Epsons are an excellent option. Print quality, support, and paper handling are all topnotch. The only real drawback is the requirement to swap blacks when switching between media types. If this doesn't apply to you, the Epson pro line-up is hard to beat.
Requirements
· Windows XP or Vista (32 and 64 bit)
· Macintosh OS X 10.4.9 or later (new driver download needed for 10.5)
· USB or Ethernet port
What's Ahead
Along with the 4880, 7880, and 9880, Epson recently introduced a brand-new printer, the 11880. At 64" wide, and $14,995, it's not going to find its way into many smaller studios or serious hobbyists' homes, but it shows where Epson is heading with inkjet printing. The 11880 has a completely new print head system, the MicroPiezo TFP, that has several advantages. Not the least of these is the ability to have all inks on-board at one time with no cartridge swapping or loss of ink. While this is a convenience and cost-savings addition, perhaps the most exciting aspect of this new print head is the increased resolution with double the number of nozzles per channel (360 vs. the 180 in the other models). The new heads have greater control over placement, and even shape, of each ink drop placed on the page. And as a finishing touch, the print speed is dramatically increased, making this one of the fastest printers on the market. Epson isn't saying when, or for that matter if, this new technology will work its way down the line into other printers, but I think the odds are very good.

For more information, contact Epson America, Inc., Pre-Sales Support, PO Box 93012, Long Beach, CA 90806; (800) 463-7766; www.epson.com.
Jon Canfield is the author of several books on digital imaging and printing. A popular instructor at BetterPhoto.com, Canfield also teaches workshops for the Panasonic Digital Photo Academy (www.digitalphotoacademy.com).

You can reach Canfield via e-mail at: jon@joncanfield.com.
FEATURED VIDEO