Create Art From Your Photos: Topaz Simplify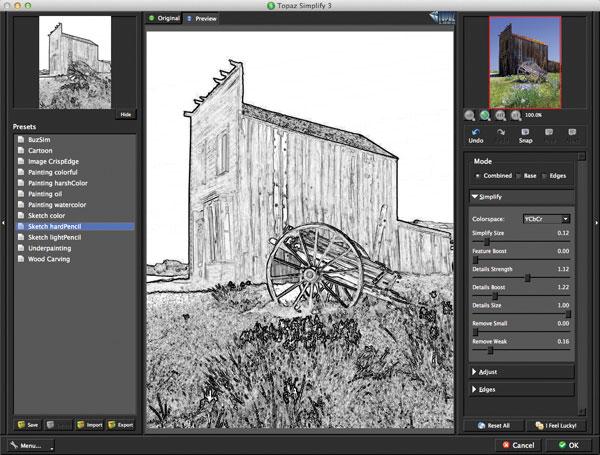 Sometimes a straight photograph isn't the goal when we capture images. Thanks to a number of programs, you can take your photograph beyond the ordinary and turn it into a work of art with a few clicks of the mouse. One such program is Topaz Simplify (www.topazlabs.com, $39.99). Running standalone or as a plug-in for Adobe Photoshop and Lightroom or Apple's Aperture, Simplify has a number of presets ranging from cartoon look to wood carvings to help you get started. Additionally, if you create your own look, you can save it as a preset and share those presets with other users.
I'm starting with a photo I captured in Bodie, a ghost town in the California Sierra mountains [1].
I thought this might look good as an oil painting printed on canvas. The first step is to select the Painting oil preset in Simplify [2]. This gives me a nice, but fairly generic looking image to build on.
The next step is to start modifying the Simplify sliders. I adjust the Feature Boost up to give me cleaner lines and more details as if I used a finer brush to paint with. Details Boost adds a little more pop to these areas, especially in the grass and flowers in the foreground [3].
I liked the settings in the Adjust sliders, so I didn't make any changes there. Under Edges, I did pull up the Edge Strength slightly to enhance the details in the wagon.
Along with the oil painting, I tried out a pencil sketch starting with the Sketch hardPencil preset [4].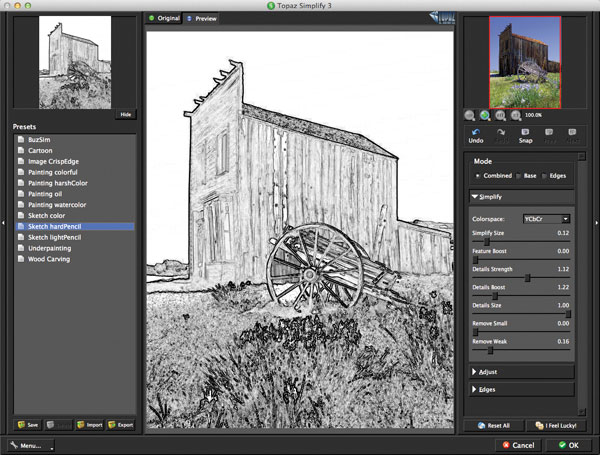 I was pretty happy with the overall look, but wanted a little more detail in the building itself. To increase it, I pulled the Details Size slider down to .72, and then boosted the Edge Strength slightly [5].
If you want to make the edges really stand out, the Fatten Edge slider will give you a bold look similar to a charcoal line drawing [6].
Similar products to Topaz Simplify
Alien Skin Software's Snap Art 3: www.alienskin.com: $199
Akvis Sketch 13.5: http://akvis.com: $72
Filter Gallery in Adobe Photoshop and Photoshop Elements: www.adobe.com: $79.99–$999
FEATURED VIDEO