Change 1 Setting & TURBOCHARGE Lightroom (VIDEO)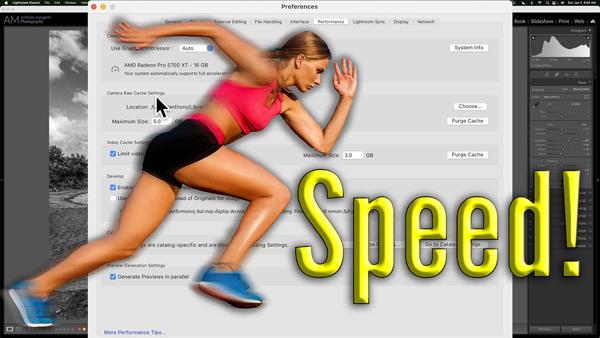 Are you frustrated by how long it takes to process your images? Perhaps you haven't configured Lightroom properly, or the culprit could be your computer system. In either case, the quick tip in the tutorial below will make Lightroom run as fast as absolutely possible.
In today's three-minute tutorial, image-editing expert Anthony Morganti demonstrates how you can turbocharge Lightroom by changing one setting in the Preferences panel to dramatically speed up the editing process. For those of you who'd rather be out shooting, than sitting behind a computer, this tutorial is a must see.
Morganti begins the episode with this bold claim: "In my opinion, what I'm about to show you is the single-most important change you can make to Lightroom to have it run as fast as possible." And you know what? We gave it a try and he's right!
Lightroom's Preferences appears in different places, depending upon whether you're using a Mac or a PC. Hopefully you've visited this panel more than once already, but if not, Morganti demonstrates where it's found.
Once you're there, open the Performance tab. Then drop down to the option called "Camera Raw Cache Settings." As you'll see, Adobe's default maximum size is five gigabytes. Morganti says, "In my opinion that's much too low."
Morganti explains that by increasing the maximum size setting significantly, Lightroom will run much more efficiently, effectively, and faster on whatever computer you own.
At this point you're probably wondering exactly what size to use. Well, as you'll see, the answer to this important question depends upon how much free drive space exists on your computer, and Morganti explains everything you need to know to figure it out.
Once you know the trick, it takes less time to change this essential setting than it does to say "Thank you Anthony Morganti." So set it, forget it, and enjoy the newfound speed!
There's much more to learn on Morganti's YouTube channel, so be sure and take a look. And check out the tutorial we posted from another expert recently, explaining how easy it is to give digital photos a film look in Lightroom.
FEATURED VIDEO