Carry On Photo Backpacks
Protecting Your Gear In The Overhead Bin
Backpack harness. Check the back of the pack. Even if touted as featuring an "ergonomic" harness, try the pack on and see for yourself. Padded waist belts add to the comfort level, as does a padded airflow back panel--especially for long treks. Shown: Naneu Pro (above) and Lowepro.
Photos © 2003, Jack Neubart, All Rights Reserved
These days, with security tight and carryon bag restrictions even tighter, all photographers face a dilemma. In the old days you could check your cameras, albeit in very strong and secure cases, and even lock them up so no one could get their hands on your equipment. Now that you can no longer lock luggage, or carry on more than one bag and a "personal" item, it's tougher to figure out the best way to bring all your gear along and get it where you're going safe and sound.

A photo backpack is the solution, and certainly my choice when traveling. It leaves your hands free, and the right bag, when configured properly, will take much of the weight off your shoulders. Depending on the design, that carryon could even serve as an overnighter or laptop bag as well, taking the place of additional luggage.
What To Look For
Harness your energy: Most important on a photo backpack is the harness system: Approach it as you would a pair of shoes. You don't need anything fancy just for city streets and country roads or if you'll mostly be riding around on the Serengeti. You'll need more robust footwear for long treks on rocky terrain--namely well-fitting hiking boots. Likewise, you'll need a fully adjustable "technical" harness, with added straps to further relieve the strain from shoulders and hips and keep the pack secure. Functional waist belts (with padding for heavy packs) transfer the load to the hips and relieve much of the strain off shoulders; a chest (sternum) strap keeps the bag from shifting and throwing you off balance, while also preventing shoulder straps from sliding off and digging into your armpits. A good harness system will leave you little worse for wear at the end of the day.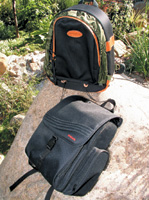 Rucksacks. The Billingham rucksack is made of canvas and is very chic, whereas the Vanguard bag is more economical and not quite as trendy. Both may be small enough to qualify as a "personal" item, leaving room for a larger "carryon" bag for the overhead bin.
How the pack rides: The pack should ride comfortably on your back and should fit you without compromise. When fully loaded, even with tripod attached, the bag should feel well-balanced, helping to maintain your center of gravity. (In theory, we try to load a backpack with the heavier stuff toward the top, for this reason.) An ergonomically contoured harness and padded airflow back panel with lumbar support add to the comfort factor, as does the use of a breathable mesh fabric against your back.

Configure the pack to your needs: The bag should keep gear well organized and readily accessible. Often the pack is configured to hold a 35mm SLR with lens attached, surrounded by any number of movable dividers that let you customize the interior. Lenses/flashes may stand on end or lie lengthwise--your choice, although the number of dividers and/or interior depth may dictate one or the other. You may have to improvise, with additional cushioning or dividers to prevent stuff from "floating" and bouncing around.
Overnighter packs. The upper packs (Lowepro and Naneu Pro, left to right) feature a fairly spacious photo section below, with the upper section for hiking or sightseeing paraphernalia. The Kinesis pack (below) has a removable, if small, photo bag that hangs inside, but more importantly, the components are ordered to your size for a superb fit.
Take a good look: The bag should be padded front to back, top to bottom (without noticeable gaps) to hold its shape and keep gear intact. Corrugated plastic or board may be used to reinforce high stress points, usually at the bottom but also in vertical dividers. Handles and straps, where exposed, should use "Box" or preferably "Box-X" stitching (cross-stitching within a stitched box) to withstand tugging. Zippers shouldn't stick. As for pockets, I like at least one large pocket and lots more inside and out, which makes the bag more functional. Padded pockets are useful but tend to add bulk.

If possible, keep film inside the bag, where padding forms insulation, or in padded pockets.

Weather the elements: The outer shell of a durable pack is constructed of wear-resistant fabric (anything from 420-denier ripstop nylon up to 1000 or so denier Dupont Cordura, or any variation of fabric thereof). Nylon is especially resistant to mold and mildew in hot, humid climes. As an alternative, canvas looks great and wears well. Rain flaps (or a rain hood) hiding zippers and a rain cover (concealed in some packs) will help weather the elements. Fabrics are routinely coated to repel water, with protective closed-cell foam also forming a moisture barrier. With the right thread used (nylon on nylon fabric, cotton with canvas), seams become practically impervious to water as well--though, with very few exceptions, I'd think twice before fording a river on foot.
Split-level backpacks. (Left to right) The f.64, M-Rock, and Hakuba packs have two distinct sections: an upper and lower level. The bags hold their shape thanks to padding or reinforced walls. The f.64 and Hakuba packs are equipped to hold gear top and bottom, whereas, the M-Rock is actually a daypack, with photo gear residing below.
Is it right for you? That's determined by your mode of travel (and the carrier) on each leg of the trip, how much of the journey will be on foot and over what type of terrain, personal endurance, and, of course, personal preference. And don't forget to consider what you like to shoot and the gear you expect to carry, whether it encompasses such items as bulky macro-flash units or long, fast optics. And if you use medium or large format, make sure the bag will accommodate these larger cameras and lenses, along with film holders. Finally, consider your destination, especially on international travel, and the return trip home.

Does it meet carryon regulations? It all comes back to this--the final criterion...and also your first: Will it fit in the overhead bin? The bag's dimensions when empty are one thing, when full another--bags may bulk out, exceeding carryon allowances and airline (or bus/train) personnel may not want to waste time with a tape measure. Not to mention, the manufacturer's dimensions may not include pockets, handles, wheels, and such. Weight is also a factor. Plus, there is the matter of determining whether it's a "personal" item or "carryon." Since allowances may vary dramatically, check the carrier's website, and even call first. And if you use (or transfer to) small commuter jets and island hoppers, consider a smaller bag still. Even then, it's no guarantee that the pack won't be stowed with baggage on a tiny plane.
Adorama tuxedo vest. Photo vests vary widely, but this Adorama vest is the only one I know that can double as formal wear.
A Photo Vest: Handy Investment For Keeping Things Handy
Wearing a photo backpack means you don't have ready access to camera bodies, lenses, and accessories. A photo vest alleviates this problem, with numerous pockets of various size and shape designed to put everything at your fingertips (provided you remember which pocket you put stuff in).

Different vests may be better suited to different situations.

Here's a sampling of photo vests we've seen:
Adorama offers a classy, black tuxedo-style photo vest, complete with satin lapels, and great for formal occasions and walks about town. Billingham brings you a very handsome and stylish vest made of breathable, water- and wind-resistant fabric--available in blue. CampCo has an economical alternative in a practical cotton vest with breathable mesh lining--in black, khaki, or olive drab. Lektra presents several options in both soft leather and cotton vests with extra large pockets--ventilated and non-ventilated backs, with removable sleeves, in tan. L.L. Rue offers a water-resistant vest made of pack cloth, with roomy, padded pockets, and ventilated for comfort--in camouflage or tan. Promaster recently added a photo vest to their line-up, very practical, ventilated, with lots of pockets. SCOTTeVEST has come out with a totally different design that is adaptable for use with a cell phone, meter, or radio slave hidden in a pocket and connected via conduits. Tamrac has an admirable cotton vest with vented back panels, "D" rings, and snap-down epaulets--in black and khaki. And Vested Interest presents a selection of photo vests designed to your specifications, with padded pockets--in various colors, including camouflage.
Tamrac vest. This Tamrac design is a fine example of what we've come to expect of the typical photo vest. Photo courtesy Tamrac.
Our Selection
Photo backpacks come in all shapes and sizes. We're limiting ourselves to airline carryon, one bag per manufacturer. Even though they're listed here, a few packs may be a tight squeeze on some carriers. We've included soft-sided roller backpack cases equipped with a backpack harness (for city and off-road), daypacks (with room for hiking/sightseeing essentials), computer photo packs (if you're one of those people who can't live without a laptop), rucksacks (conveniently small for anyone who doesn't like to overburden themselves), and, of course, the "typical" photo backpack (compartmentalized top to bottom for camera gear). For those of you who prefer to travel really light, as an alternative we've added sling bags, which are quite small and very fashionable.

A few backpacks feature removable padded inserts, which may also serve as a camera or laptop bag (as applicable). (There are many more packs out there from these manufacturers, so we recommend logging on to their website to review them.) All bags listed feature customizable, padded photo compartments, and at least one carrying handle of some sort. All backpacks presented come equipped with a backpack harness, so this is not mentioned under "Features," whereas a "hideaway" harness is mentioned, where applicable. Manufacturers may list their harness as "ergonomic"--we'll let you decide when you try them on. (Note: Dimensions are outer dimensions, and may be approximate, excluding harness/pockets/handles; all prices are MSRP, unless otherwise noted.)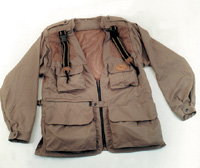 Lektra vest. Lektra vests have removable
sleeves--convenient for cooler climes. Photo courtesy Lektra.
Avoid Getting Carried Away With Carryon
If you wear a photo vest (always a good idea), be prepared to remove it and subject it to the same scrutiny your luggage undergoes. Carrying film? Make sure it's in a see-through bag or pouch, and ask for (but don't always expect to get) hand inspection. Fast film and x-rays especially do not mix, and keep in mind that x-ray exposure is cumulative. What's more, if cameras and lenses are to be inspected, and in the event someone grabs for them to personally inspect them, quickly--and with a smile--offer to open them up and hold them up to view. Hopefully that will suffice--but no guarantees. Just don't make a scene, or you may miss your flight. Finally, take a picture--of the gear in the bag, and carry the print with you, for inventory, and to make sure everything goes back in its proper place. It all seems to fit for the journey out, and then we spend hours trying to get it all back in place for the journey home.
Photo Backpacks
This category consists of full-size packs reinforced with padding top to bottom, usually with a main inner compartment devoted entirely to photo gear, although one pack in this group features three separate photo sections. While the products presented are diverse in design, we begin with one bag that may be defined as the "typical" photo backpack.
Rue vest. You can pack an awful lot inside a Rue vest. Photo courtesy Len Rue Jr.
Promaster/Gear 2020 III Standard Backpack
Features: Padded waist belt; chest strap; padded airflow back panel; Dupont Cordura nylon shell; rain flaps; padded pockets; tripod straps; 18x14.5x7"; Price: $290
User Evaluation & Comments: I especially like this one because it's comfy when fully loaded and, despite modest size and heft, carries quite a bit of gear securely.

Pelican/PCS161
Features: Roller soft-sided case with hideaway harness/chest strap; holds a 35mm SLR or medium format system; retractable handle; fits in Pelican 1610 case; 840-denier nylon shell; 20.5x16.75x9.25"; Price: $349.95
User Evaluation & Comments: Newly updated, so sample unavailable for evaluation.
Phoenix Corp. Of America/Ultimate Series XL Rolling Photo Backpack
Features: Roller soft-sided case with hideaway harness/waist belt/chest strap; rain flaps; wheels with pull-out stabilizer; telescoping handle; tripod straps; 1200-denier polyester; 22.5x15.5x10"; Price: $239.95
User Evaluation & Comments: I could heft this pack on my back fully loaded (at 25 lbs sans tripod), with my shoulders no worse for wear; keeps camera gear well organized and well protected.
Sling bags. If you're not into backpacks, then try a sling bag designed to carry photo gear, complete with movable dividers. Shown are the Beseler, in hot neon green, and the Adorama bag, a compact and comfy alternative to a shoulder bag.
Wildlife Research Photography/MP-1 Camera Backpack
Features: Three access hatches/three compartments; light-toned color; slim-line design with hideaway harness/unpadded waist belt (sans chest strap); two carrying handles; Dupont Cordura nylon shell; 23x14x7"; Price: $360 (ordered direct)
User Evaluation & Comments: Gear is readily accessible; great for long, fast lenses with camera attached and for photo safaris on the African plains, but not my choice for long treks on foot.
Split-Level Photo Daypacks
If you don't like a pack that must be placed nearly flat on the ground to access gear, you may like this alternative, with sections that open with the bag in a fully vertical position, either from the top, front, or clamshell-fashion. Bags in this group are reinforced with padding top to bottom. One bag features a non-photo compartment, although the two other packs can be retrofitted for similar use (by removing dividers or insert).
f.64/BPR Medium Backpack
Features: Front-opening upper compartment plus lower clamshell-style section; waist belt; chest strap; rain flaps; shoulder strap (in addition to harness); padded pockets; light-toned interior; 17x13x6"; Price: $125
User Evaluation & Comments: Easy access; lower level with cradle for medium-long lens on camera; solidly and thoughtfully constructed, yet economical.
Tripod sling. Tripod slings prove optimal for toting this accessory. One or more feet fit in the sling, which usually hangs down from the front of the bag, further secured with straps. Note: with tripod attached, the bag may exceed the carryon allowance. Shown: Naneu Pro pack with Cullmann Magic 2 tripod.
Hakuba/Two Compartment Large Backpack
Features: Top panel opening upper section, front panel for lower compartment; padded waist belt; chest strap; padded airflow back panel; rain flaps; removable see-through film pouch; light-toned interior; 18x12x6.8"; Price: $259.99
User Evaluation & Comments: Easy access; removable lower camera insert allows you to convert bag to daypack for hiking; this proved to be one of the most comfy bags in the bunch. Tip: To maximize spacious upper section, position 35mm SLR with grip up and cushion accordingly.
M-Rock/The Great Smoky Mountain
Features: Two sections (photo plus carryall); padded waist belt; chest strap; integral rain hood plus hideaway rain cover; padded pockets; tripod sling on bottom; 15x12x9"; Price: $160
User Evaluation & Comments: Nice, slim-line design that keeps prying hands out but also makes it more difficult for you to get in quickly; camera section large enough for small to medium size SLR outfit.
Overnighter Photo Daypacks
The non-photo section has no padding, so that it can be filled to capacity with anything and everything needed for an overnight trip or a day hike, while the main compartment (usually the lower one) is reinforced and compartmentalized for photo gear. These bags normally taper toward the top, giving them an even leaner look that makes them more airline-friendly.
Tripos pack. Many photo backpacks can carry a tripod, but not like this. The Tripos pack and tripod form an integrated unit, with the pack attached and off the ground while the tripod is in use. Photo courtesy Pro4 Imaging.
Lowepro/Rover Plus AW Backpack
Features: Photo plus overnighter section; padded waist belt; chest strap; padded airflow back panel; front panel opening upper section, clamshell entry for lower level; rain flaps plus hideaway rain cover; hideaway tripod sling; ripstop and ballistic nylon; light-toned interior; 24x14x9.5"; Price: $219
User Evaluation & Comments: Well-tailored for medium-size SLR outfit; easy access; spacious upper (carryall) section; a comfortable fit; good balance with tripod in place.
Naneu Pro/Adventure K-2 Deluxe 18" Backpack
Features: Photo plus overnighter section; waist belt; chest strap; padded airflow back panel; front panel opening upper section, clamshell entry for lower level; rain flaps plus hideaway rain cover; reflective piping; hideaway tripod sling; light-toned interior; 12x6.75x8"; Price: $129
User Evaluation & Comments: Camera section large enough for small to medium size SLR outfit; conveniently sized upper section for everyday stuff; easy access; very comfy and well-balanced, even with tripod attached; economical.
Kinesis/P414 Journeyman Modular Pack
Features: Camera bag suspended within carryall compartment; chest strap; padded airflow back panel; internal frame for better back and structural support; tested with padded waist belt ordered to my size; 22x14x9"; Price: $300 with waist belt (ordered direct)
User Evaluation & Comments: The individual components ordered to your body size make this the best fit and feel of any pack tested; removable camera bag a plus, but holds only a few items; especially suited to the great outdoors.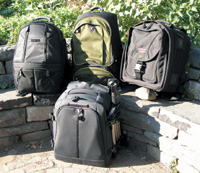 Computer photo packs. (Clockwise) The ruggedly appealing Tenba computer pack provides quick access to lenses and laptop, with hatches on both sides. The Crumpler is fashionable and benefits from a removable laptop pouch. The quietly practical Tamrac bag ports your laptop at the back, with separate access. And while toting a laptop up front, the spacious Delsey pack proved best suited for carrying my Cullmann tripod.
Photo Rucksacks
Simply shrink the full photo pack and you have a rucksack. One advantage: they limit the amount of gear carried on your back and are small enough to tuck under your seat at a restaurant and possibly on a plane--and should qualify as a personal item at airline check-in (but verify this).
Billingham/25 Rucksack
Features: Roomy outside pocket; built-in rain hood plus rain flap; extra-thick padding; canvas, with leather accents; 15.25x13.25x9.25"; Price: $374
User Evaluation & Comments: Compact; comfortable without complex harness system or waist belt; a great choice around the city or on country roads; very chic.
Vanguard/Vega 35
Features: Hinged lid; protective cover flap; padded pockets; 600-denier polyester; 14.5x14.5x6"; Price: $69
User Evaluation & Comments: Compact, stylish, and comfortable without complex harness system; best suited to compact SLR system; very economical.
Computer Photo Packs
These packs generally feature one main photo compartment, with a separate section for a laptop (to 15 or 17", depending on pack). Laptop may be stored at the front, but more often at the back, and possibly in its own pouch or carrying bag. Photo section often follows typical photo backpack design, with padded dividers.
This Lightware BP2214 digital backpack is full-bodied, benefiting from a lightweight yet rugged nylon shell, padded airflow back panel, and removable laptop bag. Photo courtesy Lightware.
Camera Care Systems/Tripos Rucksack With Tripod (Model 682)
Features: Removable laptop case and tripod included; tripod can be used while attached to the bag; padded waist belt; chest strap; padded airflow back panel; 29x18x9" (with tripod attached, shorter without); Price: $518 ($219 without tripod)
User Evaluation & Comments: Sample not available for review, but sounds like a handy option if you always travel with a tripod.
Crumpler/Brian's Hot Tub
Features: Removable photo compartment; removable laptop pouch; chest strap; padded airflow back panel; light-toned interior; removable see-through film pouch; 1000-denier nylon shell; 21.5x14x9.5"; Price: $219.95
User Evaluation & Comments: Cleverly designed and handsomely crafted bag that opens in the back, keeping prying hands
out; while harness straps are wide and well-padded, the lack of a waist belt may make long treks difficult.
Delsey/Pro Digital Backpack 33
Features: Photo section plus front laptop compartment; hideaway harness with waist belt/chest strap; padded airflow back panel; padlock-ready zippers (padlocks included); removable tripod sling; two carrying handles; hideaway rain cover; light-toned interior; ballistic nylon shell; 16.5x14.25x9.75"; Price: $233
User Evaluation & Comments: Functional design with stylish and classy look; hinged lid allows bag to stand up while accessing gear; comfy and well-balanced, even with tripod attached; roomy divider compartments.
The Gexar harness carries a Pelican case, making crossing a river "a fordable" luxury. Photo courtesy Gexar.
Lightware/BP2214 Digital Backpack
Features: Photo section plus removable laptop bag; padded airflow back panel; ballistic nylon shell; light-toned interior; 22x14x9"; Price: $359.95
User Evaluation & Comments: Sample not available for evaluation (for user comments and tips on working with this pack, go to www.jackgruber.com).
Tamrac/5259 Photo/Digital Computer Backpack
Features: Photo section plus rear laptop compartment; waist belt; chest strap; rain flaps; light-toned interior; 16.25x13x9.5"; Price: $279.95
User Evaluation & Comments: Practical design; plenty of dividers to hold lots of gear; photo section deep enough for medium-long to long lenses standing on end.
Tenba/DB15C Prodigital Backpack
Features: Photo section plus rear laptop compartment; hideaway padded waist belt; chest strap; two carrying handles; hideaway rain cover; 420-denier nylon shell; 19x14x10.5"; Price: $199.95
User Evaluation & Comments: Ruggedly crafted and cleverly designed; no rain flaps to get in way of zipper; easy access to most used gear and laptop thanks to access hatches on both sides; a very comfortable fit.
This updated Pelican PCS161 is a roller, soft-sided pack featuring a hide-away harness and chest strap, and can be stowed inside a Pelican 1610 case for added security. Photo courtesy Brandess-Kalt-Aetna.
Miscellaneous Pack Designs & Sling Bags
Hard-case enthusiasts might like the adaptive backpack harness, whereas those of you who prefer traditional photo bags will find a more comfortable and fashion-forward option in sling bags.
Gexar Action Camera Systems/Hard Body Backpack
Features: Photo backpack harness; Pelican camera case required (sold separately--must be modified with supplied conversion kit); also available preconfigured with Pelican case; 350 cu. in.; Price: $299.95 without case (ordered direct)
User Evaluation & Comments: Especially suited for Pelican case fans heading for the great outdoors; Gexar recommends the smaller Pelican cases on the pack for overhead storage.
Adorama/Slinger
Features: Reflective piping makes bag visible to oncoming traffic at night; hideaway waist belt; light-toned interior; 11x11x5"; Price: $39.95
User Evaluation & Comments: Cleverly and functionally designed; padded sling strap with waist belt makes the bag a good fit in town or country; easy access; good to have when you don't feel like schlepping a lot of gear around.
Beseler/Citipak Monostrap 300
Features: Triangular shape; Neoprene exterior; reflective piping; cell phone pocket on strap; hot neon colors; 18x16x4"; Price: $194
User Evaluation & Comments: The most stylish bag in the bunch; best suited for compact camera gear; surprisingly comfy; youth-oriented.
Full-size backpacks. The Promaster bag (far right) is the "typical" photo backpack, entirely devoted to photo gear, with movable dividers inside. The Wildlife Research Photography pack (middle) is designed to hold very long lenses and provide ready access to your gear. The Phoenix roller pack (left) holds quite a bit of gear, and easily converts from roller case to backpack.
DISTRIBUTOR WEBSITES
Adorama--www.adorama.com
Beseler Photo--www.beselerphoto.com
Billingham--www.rtsphoto.com (distributed by RTS Inc.)
CampCo--www.campco.com
Classic Care Systems--www.pro4.com (distributed by Pro4 Imaging Inc.)
Crumpler--www.crumplerusa.com (distributed by JOBO Fototechnic)
Delsey--www.bogenphoto.com (distributed by Bogen Imaging Inc.)
f.64--www.f64camerabags.com
Gexar Action Camera Systems--www.gexar.com
Hakuba U.S.A. Inc.--www.hakubausa.com (distributed by ToCAD America Inc.)
Kinesis--www.kinesisgear.com
Lektra--www.lektralabs.com
Lightware Inc.--www.lightwareinc.com
L.L. Rue--www.rue.com
Lowepro--www.lowepro.com
M-Rock--www.argraph.com (distributed by Argraph Corp.)
Naneu Pro--www.naneupro.com
Pelican--wwwbkaphoto.com (distributed by Brandess-Kalt-Aetna Group, Inc.)
Phoenix Corporation of America--www.phoenixcorp.com
Promaster--www.promaster.com
SCOTTeVEST--www.scottevest.com
Tamrac--www.tamrac.com
Tenba--www.tenbagear.com (distributed by Mamiya America)
Vanguard (USA), Inc.--www.vanguardusa.com
Vested Interest--www.vestedinterest.com
Wildlife Research Photography--www.moose395.net
Tamrac computer pack. This Tamrac computer pack shows you how much you can carry, and how easy a photo backpack is to organize. Photo courtesy Tamrac.
Websites For Traveling Photographers
Check out these websites for more useful information:

www.delta.com--One of the most informative websites I've found. Click on "Travel" in the upper menu, then "Baggage Information" on the left. Remember: each carrier posts different regulations.

www.savewealth.com/travel/tips--Follow the links to "Useful Tips" (check out the "Travel Warnings" link while there, too).

www.travelite.org--Lots of useful tips.

www.photosafaris.com--For info on gearing up for a photo safari.
FEATURED VIDEO