Canon i950 Photo Printer
High Res, High Speed, And Easy To Use
Whether you shoot with a digital camera or scan conventional photographs, a high quality photo printer is an essential accessory. Fortunately, prices are dropping even though ink jet printers are becoming more and more advanced. The Canon i950 Photo Printer offers the best of all worlds: sophisticated new technology for ultrahigh resolution, continuous tone output, high speed, plus great simplicity that allows for making beautiful photos with a fully automatic mode.
The i950 produced very good to excellent results in the automatic Print Advisor mode, although in some cases, I would have preferred slightly darker prints with more "sparkling" colors. (Photo Paper Pro; Print Advisor mode.)
Photos © 2003, Peter K. Burian, All Rights Reserved
The i950 offers some advantages over the now replaced Canon S900--a 2400x1200dpi model. While it employs a similar print head with 3072 nozzles, individual ink tank system, and the Advanced MicroFine Droplet Technology, the i950 is superior in two respects. The new model boasts a higher 4800x1200dpi maximum print resolution and significantly smaller ink droplets: 2 picoliter vs. 4 picoliter in size, ejected at a rate of 74 million dots per second.

The resolution numbers sound most impressive, but it's actually the smaller ink droplet size that produces superior results. This becomes apparent in mid tones that are smoother, more finely detailed prints, and better color tonality. Because the MicroFine ink dots are virtually undetectable, the prints appear truly continuous in tone, resembling traditional photographs. While the S900 already made prints of photographic quality prints, the i950 can produce even better results, noticeable especially when closely examining 8.5x11" prints.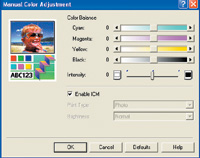 Designed for uncomplicated operation, the i950 features driver software with an automatic Print Advisor mode, plus many easy to use functions for adjusting output quality, brightness, color rendition, and more.
Basic Print Making
Thanks to the user-friendly aspects of the i950, I was making my first print 10 minutes after opening the box. A simplified guide, plus automated software loading from the Canon CD-ROM, made installing the printer head, ink cartridges, and driver software easy and quick. After completing the print head alignment process and loading some 8.5x11" sheets of Canon Photo Paper Pro, I started by using the automatic Print Advisor mode, allowing it to make all settings after I specified the paper type, size, and desired print type: "top quality photo." After 2 minutes and 20 seconds of nearly silent operation, the i950 produced an 8.5x11" photo (with borders) that is suitable for framing.

In Print Advisor mode, print resolution and color adjustment are all set automatically, optimized for the paper and the type of print selected: photo, text, tables and charts, or composite document. With Photo Paper Pro, the system automatically sets print quality to Level 2 (2400dpi), appropriate for producing outputs of photographic quality. Load Matte Photo Paper and the system selects quality Level 3 (1200dpi), suitable for this media. With Photo Paper Plus Glossy, the automatic quality setting is Level 1 (4800dpi), the most appropriate with this media.

Naturally, the Canon driver software also allows for some personalized control. Select the "Print Quality>Custom" option and you can increase resolution or decrease it for even faster printing. In order to prevent an inappropriate quality setting--and excessive ink output--not all options are available for all types of media, a logical precaution. With the Glossy and Pro paper, Level 2 was great for all-purpose photo printing (at 2400dpi) while Level 1 produced the very highest (4800dpi) print resolution but used the most ink.

The "Color Adjustment>Manual" option in the i950 Properties screen offers additional user-control: three print brightness settings, slider scales for adjusting the "strength" of various colors, plus an "ICM" option. Checking the "ICM" box produces "color correction with an sRGB default profile" for richer hues and tones. This is not a standard feature with Print Advisor but it was often useful for prints that I made from image files in the Adobe RGB 1998 color space, for a slightly more vivid color rendition.

The driver software offers some additional features, including borderless printing (with most paper types), various layout options (banner, poster, multiple images on a single page, etc.), Vivid Photo mode for more vibrant colors (especially greens and blues), Monochrome Effects for black and white prints with sepia or other color tone, plus three tools for automatic image adjustment. The latter are intended for correcting problems in images with low resolution, with poor exposure or color balance, or with excessive digital noise.

Evaluation: The i950 was designed for superb print quality with uncomplicated operation. That's why Canon does not provide a full instruction manual for the i950, but merely includes a "Help" feature that offers a brief explanation of the purpose of each function. While some owners will wish for a full manual, the various driver software options are virtually intuitive. Do note that there's no control for full color management nor any method for selecting the gamma or the contrast level. Nonetheless, the driver software is adequately versatile for most applications and for photo enthusiasts who are not digital imaging experts.
Printed from a
high-resolution image file made with a 5-megapixel digital camera, this 8.5x11" print is excellent in all respects. It exceeds the level of quality that I expect from a lab making traditional prints from my 35mm slides or negatives. (Photo Paper Plus Glossy; Quality Level 1; ICM selected.)
Print Quality
As hinted earlier, the Canon i950 produces color prints that range from extremely good to superlative. With
high-resolution image files that are optimized for printing in Photoshop, even prints made with the Photo Advisor mode exhibit high sharpness, snappy contrast, great definition of fine detail, pleasing saturation, and attractive skin tones. Although some of the prints are a bit too bright, they're better than those I would expect from a conventional enlargement made by a commercial photofinishing lab.

For the best possible prints, I reduced image brightness in Photoshop as necessary and used some of the options available in the printer driver software. I frequently selected the highest quality level and occasionally the ICM feature or Vivid Photo mode as appropriate for a specific image. My only complaint? As with many printers, the i950 dialog screen does not show a preview image, so it's impossible to evaluate the effect of any color adjustments. After making a few prints, I became quite adept at guessing at the settings that would produce the intended results.

Although the i950 uses more ink at high quality level settings, its printing time does not change much: it increased by only 10 seconds when I switched from quality Level 2 to Level 1. The extra time was well spent, because the i950 now produced 8.5x11" prints that appeared slightly sharper and exhibited more visible texture in hair and in fabrics. When compared to 4800x1200dpi printers that take over 5 minutes to make an 8.5x11" print in the highest resolution mode, the i950 is lightning fast at 2.5 minutes.

In order to test the low resolution image enhancing features, I printed some very small (256KB) image files in 4x6" size, first with default modes and then using the Image Optimizer and Photo Optimizer Pro functions. In every case, the first print was quite pixilated and a bit dark, while the "enhanced" print was better in both respects, though still not "photographic" in quality. These enhancing tools, and the Noise Reduction option, cannot work miracles. They would be more useful with larger image files.

Because many photographers appreciate black and white images, I decided to make some monochrome prints. Few ink jet photo printers generate perfectly neutral monochrome prints automatically, and the i950 is no exception. After optimizing the images for printing in Photoshop, I found that those made on glossy paper exhibited a noticeable cyan color cast. When I switched to matte paper, the results were closer to neutral with a very slight magenta cast, easily corrected with the color adjustment control in the driver software.

Evaluation: When printing from an image file of high quality, the i950 can make color prints with incredible resolution and sharpness, and rich, gorgeous colors that assure very high visual impact. The prints should satisfy demanding photographers, even those who occasionally exhibit or sell their work. Use Photo Paper Pro, and the prints will resist fading for up to 25 years, if matted and framed under glass and displayed in an area without direct sunlight. Develop some expertise in making the right driver settings and the i950 will also produce very good monochrome prints, though not of the caliber that we expect from a silver-halide print made by a custom lab.
Because it employs six inks, the i950 has no difficulty in reproducing the slight differences in tone in a single color or the subtle variations between similar (but not identical) colors. (Photo Paper Plus Glossy; Quality Level 1; Vivid Photo setting.)
Overall Evaluation
One of the fastest high-resolution photo printers on the market, the Canon i950 is also quieter than most, even without switching to the "Silent" mode. Like all printers that employ an individual ink tank system, this one is quite economical to operate because there is no need to replace an entire cartridge when a single color runs out. I found that Photo Magenta and Photo Cyan tanks needed to be replaced most often. These are the extra inks that are not available with the more affordable i850 model, and they help to produce superior color, with greater tonal differentiation and more subtle gradations. Long-term testing would be required to determine the cost of ink per print, but the individual ink tank system should keep the operating cost moderate. (Shop around and you can find individual Canon tanks for about $10 each.)

If you can't believe that an ink jet printer can generate prints that are better than conventional photographs, check out the Canon i950 Photo Printer at a store that makes sample prints. You should be impressed, because this model offers double the resolution and half the ink dot size of the highly-rated Canon S900 at a price that's about $50 less. That's remarkable value for a high-speed machine with exceptional performance, good versatility, and ease of use. If you need to make larger prints (up to 13x19")--or want driver software with more advanced controls--ask for a demo of the Canon i9100 ($499); it features the same technology but employs 4 picoliter size droplets. While that model will be preferred by some, the more affordable i950 will be a best seller, understandable because it is an ideal photo printer for the entire family, from the novice to the photo enthusiast on a limited budget.
PROS
· Remarkable printing speed with very quiet operation, virtually silent in "Silent" mode
· Simplicity: produces high quality photo prints even in automatic mode
· Borderless printing option for print sizes from 4x6" to 8.5x11", with certain papers
· Excellent color rendition: pleasing skin tones and rich, fully saturated hues and tones without loss of color subtleties
· Superb print quality: ultrahigh sharpness and resolution of detail; extremely smooth, without visible dots; no banding
· Economy, with six individual ink tanks that allow for replacement of a single depleted tank
CONS
· Limited documentation and instructions
· Requires experimentation with color adjustment to produce neutral b&w prints, particularly with glossy paper
· Few advanced options in driver software for serious print makers
· Not optimized for printing on media such as luster, velvet, watercolor, etc.
Technical Specifications
Maximum Resolution: Up to 4800x1200dpi in color or black and white; 4800dpi available only with photo papers
Ink Cartridge: Six cartridges in individual tanks: Black, Cyan, Magenta, Yellow, Photo Cyan, Photo Magenta
Maximum Print Size: 8.5x11"
Borderless Printing: Borderless printing selectable with certain paper types in 4x6" to 8.5x11" paper
Lightfast Rating: 25 years with Photo Paper Pro
OS Compatibility: Windows XP--Pentium 300MHz Processor/128MB RAM; Windows Me--Pentium 150MHz Processor/32MB RAM; Windows 98--486 Processor/16MB RAM; Windows 2000--Pentium 133MHz Processor/64MB RAM (Pro.), Pentium 133MHz Processor/256MB RAM (Server); Mac OS 8.6 to 9.x--20MB RAM; Mac OS X (v 10.1 or later)--128MB available RAM
Standard Interface: USB, cable not included
Dimensions/Weight: 16.5x10.8x6.3"; 10.6 lbs
Software Included: Setup Software & User's Guide CD-ROM including: Printer Driver, Electronic User's Guide, Electronic Photo Application Guide, e-registration, Easy-PhotoPrint (Windows), Easy-WebPrint (Windows), PhotoRecord (Windows), ZoomBrowser EX (Windows), ImageBrowser (Mac), PhotoStitch (Windows/Mac)
Street Price: $239

For more information, call Canon at (800) 652-2666, or visit their web site at www.usa.canon.com.
FEATURED VIDEO