Bob Lilly: Hall of Fame Football Player Bob Lilly Shoots Scenics Page 2
He's restricted in his equipment choices when traveling by air, but exclaims, "If I'm driving, I take it all!" Lilly says he typically takes about 4--5 driving trips a year to shoot scenics. At the time of our interview, he was planning a trip to Monument Valley, Arizona, then up to Reno, Nevada, and Yosemite National Park in California.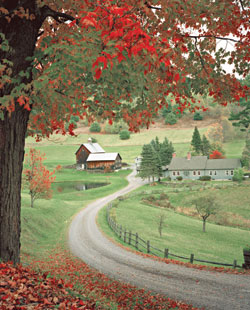 A rural New England farm scene, framed by colorful leaves just beginning to change during the fall.
The Great Outdoors
Lilly's scenics have been taken primarily in the United States. He's photographed, among many locations, the foliage and lighthouses of New England, and the green areas of Tennessee, "but my preference is New Mexico and west of there." He says he loves the plains, the "earthy tones" of Monument Valley, and photographing the old mine shafts in Colorado's Black Canyon of the Gunnison. He adds, "I enjoy including man-made elements in my nature photography--like adobe buildings in New Mexico and creating silhouettes of old woodmills at sunset." Throughout the years, he's photographed most scenic areas of the American southwest, including Canyonlands National Park, Arches National Park, Natural Bridges National Monument, Lake Powell, Paria Canyon wilderness, numerous slot canyons, Bryce Canyon National Park, Zion National Park, Death Valley (in winter), Yosemite National Park, and Sequoia National Park.

He says that photography fits in well with much of what he loves to do: "traveling, fiddling with equipment, and going outdoors. My passion is getting out there. Even if the sky's not pretty, I don't care sometimes if I don't take a picture."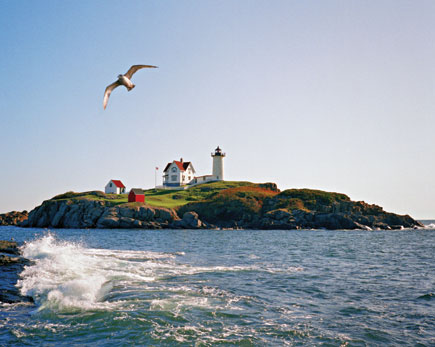 Cape Neddick, built in 1879, is the southernmost of Maine's many lighthouses, and very popular among photographers. It's also known as Nubble Light, referring to the barren rocky island (the Nubble) on which it sits.
Lilly compares his love of photography with the adrenaline rush he got playing in championship games: "I played football for 24 years of my life; 14 as a pro. When I plan one of these photo trips, I get the same rush as I did before a game. It's a very similar feeling!"
Lilly today, behind the lens as a scenic photographer.
10 Tips for Great Scenics
1. First of all, you need to be inspired. Lilly often looks to various photo publications and fine-art photography books for inspiration, which feature the work of Ansel Adams, Bruce Barnbaum, John Sexton, Richard Avedon, David Muench, Eliot Porter, and more. "Go to the library and check out some of these books, and look for things you might be drawn to," he advises. Lilly often plans photo excursions based on areas he's learned about from publications like these.
2. When planning a photo trip, do research on the best time to shoot particular scenic areas you want to visit. You can do this via the Internet, magazines, and travel publications, Lilly says. "When you want to take a photo trip, do research to utilize your time the best way. Choose a destination with several photo opportunities in a localized area, and know when to be at each one. Outline your trip." Of course, even when a photo excursion is well-planned, weather and other variables can be unpredictable.
3. Double-check your cameras and batteries to make sure everything is in top working condition. Lilly says he shoots test rolls of film before leaving home to ensure that he has no light leaks in his film backs, and checks all equipment to be sure everything's working right. He suggests buying new batteries ahead of time and being prepared.
4. When going to your destination, it's a good idea to talk to local people to learn about other areas to shoot. One of these occasions occurred about 10 years ago, when Lilly was photographing scenery around Page, Arizona, and noticed pictures of some very unusual landscapes he wanted to shoot. As it turned out, the photos were taken in a spot that's known today as "The Wave" in the Paria Canyon Wilderness, which straddles the Arizona/Utah border. His queries resulted in getting a local guide, who showed him the area and some wonderful photo opportunities.
5. Experiment a little with split neutral-density filters or with other filters that can enhance the sky. Lilly says he often uses split neutral-density filters when shooting scenics to reduce contrast between a bright background and shady foreground. He also uses polarizers and other filters on occasion.
6. Leave the experiments at home--take the film and
accessories you know will work in the field. However, he does advocate experimenting with new film, equipment, etc. before you leave home.
7. In areas that are photographed often, you can sometimes find guides to take you to the more-remote locations. If you're visiting a gallery near Zion National Park and happen to see a wonderful image of a turquoise pool of water in Zion, inquire about a guide who may be able to take you there. "And before you go, find out how strenuous the hike will be," Lilly advises. You don't want to get in over your head!
8. When you're traveling from place to place, don't overlook interesting structures along the way that you can shoot when the light is right. Lilly makes notes on a map when he discovers interesting photo opportunities, and plans to return during better weather or more-interesting light.
9. Be prepared for the elements with proper clothing. For example, Lilly says "I walk around home with a new pair of hiking boots to break them in before going on a photo trip." He recommends layering your clothing when on an all-day excursion to meet the varying temperatures and weather you may encounter, to wear a hat to protect your head, and to bring proper clothing for the trip.
10. Don't leave home without a tripod and cable release. Lilly says a tripod and cable release are imperative for sharp images, especially in scenic photography. "I wouldn't go on a trip without these items," he asserts.


LATEST VIDEO