The Bag Man Reviews the Manfrotto Advanced Rear Photo Backpack
If you think the name Advanced Rear is a little confusing, wait until you wade through the entire Manfrotto Advanced photo backpack lineup which includes models named Advanced Active, Advanced Travel and my overall personal favorite, the Advanced Gear photo backpack. The good news is that aside from the goofy naming system, I can't find anything else wrong with them. These are beautifully designed, very well made and look like they'll last a lifetime.
But I'm getting ahead of myself…
So that there is no confusion, Manfrotto offers an excellent assortment of messenger bags, photo backpacks and other camera carry solutions—not to mention some of the world's finest tripods and scads of other gear photographers love. I make fun of their naming scheme only because it's not simple, and I have a very simple mind. (People often tell me that I'm simpleminded, but enough about me.)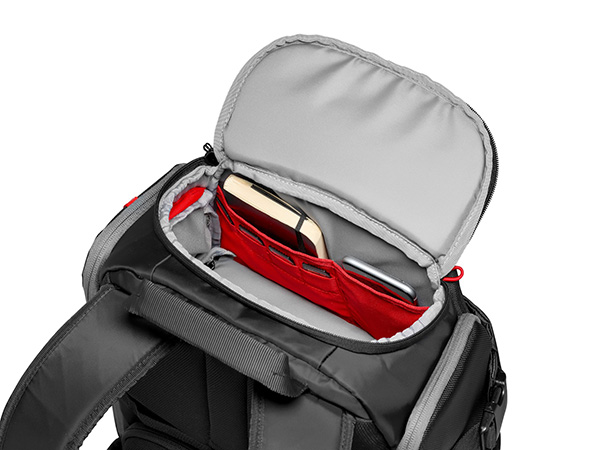 The Advanced Rear is a handsome mid-sized pack that provides roomy top access for a camera with lens and convenient rear access to a removable padded camera tray that accommodates one body with lens and three or four other lenses, depending of course on size. Also from the front, a sturdy lockable zipper opens to reveal a double-layered pouch that stows a 13-inch laptop computer and a decent-size tablet. There's another, slimmer pouch on the front that's just right for airline tickets, a notebook and couple very flat sandwiches.
On either side there are nicely designed zippered pouches that extend nearly the full length from top to bottom. One pouch has an elastic throat that will prevent even a large water bottle from escaping. Both are deep enough to fit nearly your entire arm, right up to the elbow. I can hide a four-cell Maglite on either side with ease.
On the bottom half of each side pouch there is an open-top pouch made of a stretchy (but strong) fabric. Three inches above each open pouch is a wide strap with a quick release clasp. Using the strap to secure an item stuffed in the pouch—a tripod for instance—is a snap. All in all, it's a clever arrangement.
The harness and adjustable shoulder straps are unremarkable but adequate, and include sufficient padding, a sternum strap and waist stabilizer straps. The haul handle on top is strong and padded just enough. There's also a loop that securely tethers the backpack over the handle of a rolling bag or wheelie.
Although the exterior fabric appears to be waterproof, Manfrotto includes a rain cover. It's gray, so it reflects the sun, too. The bag is of suitable size for carry on luggage (always check with the airline anyway) and has a sleek, symmetrical look overall—not mottled up with Molle slots, flapping straps or worthless office organizer pouches.
You can buy the Manfrotto Advanced Rear photo backpack just about anywhere. MSRP is $159.
In the opening paragraph I mention the Manfrotto Advanced Gear photo backpack (pictured above). I wasn't kidding—it's a great little no-nonsense bag and retails for around $89. It based on an earlier, now discontinued Manfrotto Micro Backpack that I fell in love with years ago. I was able to buy a second copy before they disappeared.
The Advanced Gear is small—roughly 14 x 11 inches—but it has a big appetite for equipment and fits easily anywhere in the car. We will investigate more Manfrotto bags in future articles.
—Jon Sienkiewicz