The 7 Best Storage Devices for Photographers
Kittens become cats, pigeons target sports cars and hard drives fail. Hope for the best but prepare for the worst—buy a plug-in external hard drive for your precious images or for a loved one. They are so simple to use that even an adult can manage on the first try, and they are so affordable that you'll kick yourself if you fail to backup your photo files (and other important data) because your hard drive will fail. Just like that cuddly, cute kitten will soon become a smug adult cat that ignores you except when you're in the middle of something urgent.
Call me paranoid, but I don't feel secure unless I have at least three copies of every image that's important to me. So, yeah, I use a bunch of hard drives (redundant internal and external) as well as cloud storage and a few dozen magic spells. Flirt with danger if you dare, but I won't. Not when there are reliable solutions available that cost less than a haircut in Manhattan.
And if you're looking for a timeless gift for anyone on your holiday list—including but not limited to photographers—consider a plug-and-play external drive. They'll thank you, I guarantee.
Here are a few things to consider and my top seven choices, ranked by price from "oh?" (affordable) to "Oh!" (downright cheap).
Portability: Desk-size or pocketsize? Even if you have room on your desktop you may want a truly portable drive that easily travels from job to job or room to room. NAS (Network Attached Storage) drives connect to your home network and thereby are available to everyone you allow (e.g., other family members) even when offsite. NAS is also excellent for automated, scheduled backups that keep your data safe when you forget. The negative side of NAS: lose your network connection and you lose access to your data, plus anything connected to the internet can be hacked.
Capacity: Sizes range from 500GB (the smallest you should seriously consider) to more than 8TB. Some stationary drives can be expanded after purchase as needs increase. Best advice is to buy more than you need today because you will need more tomorrow. Have you ever heard someone complain, "That drive I bought is just too damn big. I'm thinking about downsizing."
Connection: Mac or PC? Need both? If USB (and it probably will be) which USB? The latest MacBooks are USB-C. The takeaway is: know what interfaces and protocol your system requires and buy the fastest version possible (i.e., USB 3.0 instead of USB 2.0).
Media: Spinning media or SSD (Solid State Drive)? Conventional drives have spinning platters inside. SSDs have no moving parts and are therefore less prone to mechanical failure. They can still fail, but not from as many possible causes. Spinning media is almost always much less expensive on a per-gigabyte basis, and SSDs don't come in gigantic capacities. Also, it can take longer to fetch data from a conventional drive. My advice is address all of your other buying decision requirements first and then find out whether or not the solution you need has an SSD equivalent, and if it suits your budget.
Power: Bus Powered means that the drive gets its juice via the USB cable, no external power source necessary. Most small portable drives are Bus Powered while most desktop models require a wall-wart-type AC adapter. Bus Powered is very convenient, especially for travel.
Special Features: Rugged? Need to throw it in the backseat of your pickup truck and hit the bumpy trail? How about backup software? What's included? If Bus Powered, is the USB cable permanently attached? How long is the warranty? Have you ever heard of the brand, or does the name sound like someone copied it from a Kiribati restaurant menu?
#1 Buffalo LinkStation 210 4TB Private Cloud Storage NAS
Available in capacities up to 8TB, the 4TB version is a good combination of capacity and price. Comes complete with drives installed, the Buffalo LinkStation plugs into your router for instant network access, allowing you to consolidate storage and backup your PC and Mac computers. Stream videos and photos to your DLNA/UPnP connected devices, and access data from your smartphone or tablet devices. It even includes a built-in Bit Torrent client for simplified file downloading and management.
Who's it for? Power users and others who want access to secure storage while offsite and/or share storage capability with other computers throughout their home or small business. Also for those who prefer the "set and forget" backup routine.
Why I like it: Simple to setup and use; can be connected and operational in seconds flat. Also it provides foolproof storage for every member of the family.
Price: $164
Buy in on Amazon here. Buy it now while you're thinking about it.
#2 LaCie Rugged Mini 4TB
Available with Thunderbolt + USB-C or USB 3.0 connections, the LaCie Rugged Mini is super fast (file transfer speeds of up to 130MB/s) and offers great portability, tough construction and excellent performance altogether in one attractively priced package. It's ultra-compact (3.39 x 0.75 x 5.31 inches) and weighs less than 0.9 pounds. Plus it's built to take it—literally—and offers drop, crush, and water resistance. Comes with a two-year USA limited warranty.
Who's it for? General users but especially for folks who need to travel with a durable, reliable HDD. Also great for those with limited desktop space.
Why I like it: Great orange rubberized skin that protects it and also makes it easy to find in case of an emergency. I use one as my "grab and go" backup storage I can quickly locate if I need bug out fast.
Price: $149
Buy in on Amazon here.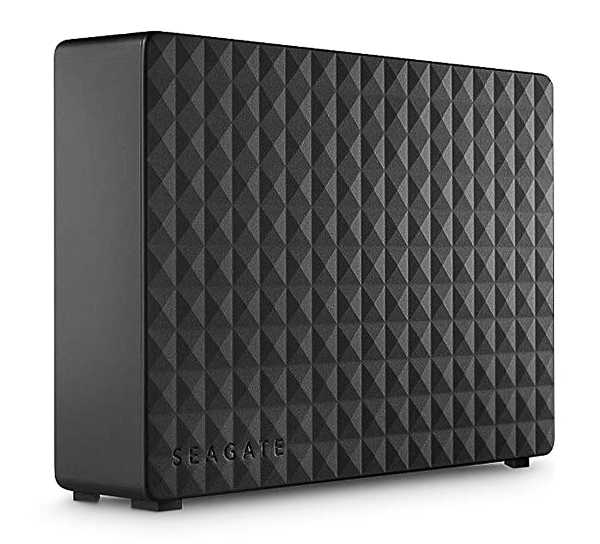 #3 Seagate Expansion Desktop 8TB
From one of the biggest names in the hard drive arena, the Seagate Expansion Desktop is exactly that—an expansion of your computer's storage space. This model is designed for Windows PCs and uses a USB 3.0 interface. Setup is fast and simple, just connect the Seagate drive to your Windows computer for automatic recognition—no special software required. Draws 18 Watts of power using an external AC adapter.
Who's it for? Any user looking for huge, fixed backup storage for their desktop or notebook Win PC.
Why I like it: Direct, straightforward and simple—just plug it into an available USB 3.0 port and use the drag-and-drop method to backup your files. Very low cost per GB.
Price: $139
Buy it on Amazon here.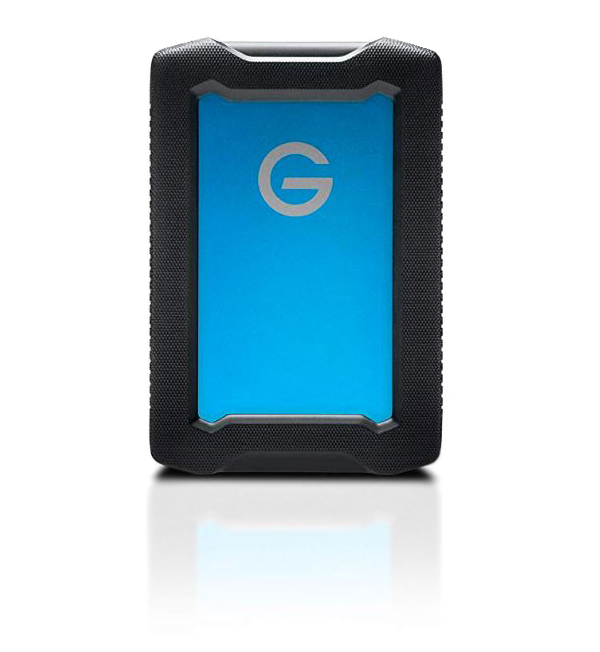 #4 G-Technology 4TB ArmorATD All-Terrain Rugged Portable
With three layers of shock resistance, the G-Tech ArmorATD is ready for nearly anything. It has a rain/dust protection IP rating of IP54, and the enclosure will endure 1000 pounds of crush (elephant trainers take note). Compatible with both Mac and Windows PCs, this pocket-size (5.12 x 3.43 x 0.83 inches) beauty can almost hide beneath a postcard and is USB-C ready, USB-3.0 and Thunderbolt 3 compatible.
Who's it for? Folks looking for durable, portable storage that's secure even if subjected to harsh environments and small elephants. Not for underwater use.
Why I like it: Great cosmetic design and total compatibility with all of my computers; plus, it can withstand the careless treatment it might receive in my gadget bag or briefcase.
Price: $129
Buy in on Amazon here.
#5 SanDisk 500GB Extreme PRO Portable External SSD
Another great product from that great name SanDisk, the Extreme PRO is a highly portable (4.34 x 2.24 x 1.68 inches) SSD (Solid State Drive) that delivers on-the-spot backup possibilities plus grab-and-go convenience. It features universal compatibility with PCs and Mac computers with USB Type-C and Type-A connections. There are no moving parts and it has a ruggedized design (the IP55 rating confirms that it's resistant to water and dust) that sports a silicon rubber coating to deliver higher impact tolerance. You can automatically back up files online with Flashback cloud backup service (limited-time complimentary offer included). And—it's all protected by a 5-year USA limited warranty.
Who is it for? Backpackers, business travelers, field photographers—anyone who needs very compact, rugged storage.
Why I like it: It's solid state (SSD) so there are no spinning platters inside to get dusty or suffer from vibration. Great combination of features and full I/O compatibility across the board. And the Flashback cloud backup service limited-time complimentary subscription is cool, too.
Price: $109
Buy it on Amazon here.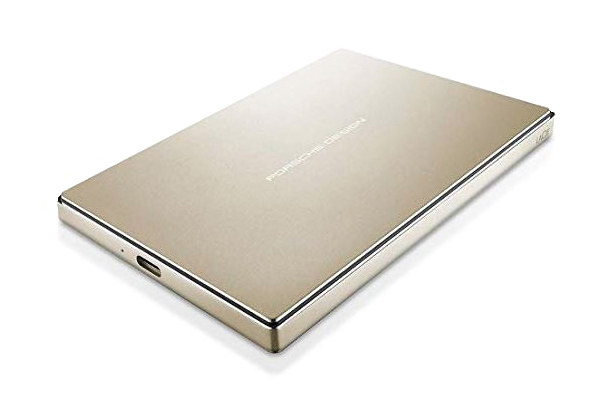 #6 LaCie Porsche Design 2TB USB-C Mobile
Are you kidding me? A full 2TB (that's about 2000 gigabytes) in a Porsche designed silver-colored aluminum housing that's just 5.0 x 3.3 x 0.39 inches and weighs only 6.7 ounces? For less than 80 bucks? Sign me up. This is as close to a Porsche as I'll ever get, and I'm willing to forego one month of Starbucks to buy it. Delivers transfer speeds of up to 5GB per second and features USB-C connectivity as well as compatibility with USB 3.0 ports.
Who is it for? Me. Santa, you get that? The GPS coordinates for my chimney are 10.4475° S, 105.6904° E. Seriously, when you combine LaCie's legendary quality, Porsche's compelling design and the latest up-to-the minute technology, you have a product that everyone over the age of three would love to own.
Why I like it: Attractive modern styling, high capacity and a brand name I trust with my most important photos.
Price: $79
Buy it on Amazon here.
#7 WD 500GB My Passport Go Cobalt SSD
The bus-powered Western Digital My Passport Go is ultra-compact (3.7 x 2.6 x 0.39 inches, less than 2 ounces) and very rugged. It's drop-resistant up to a height of two meters and can handle shock and shakes even while plugged in thanks to the solid state SSD technology inside and rubber edges outside. She arrives formatted for PC and Mac computers, with included automatic backup software for Windows and compatibility with your Apple Time Machine (reformatting required). Also works with PS4 and XBOX One. Three year USA limited warranty
Who is it for? Mobile users who need high durability and a small form-factor. Also great to keep in a desk drawer to make incremental backups of work projects.
Why I like it: It's solid state (SSD) and we know that it's good to not have moving parts (I've made a career of it), it's very compact (hardly know it's in your backpack) and it's made by WD, Western Digital, a big big name in computer storage.
Price: $69
Buy it on Amazon here.
—Jon Sienkiewicz
FEATURED VIDEO