3 Snug Photo Bags That Caught Our Eye – Featuring HEX, Kinesis and Peak Design
When does a camera bag become a burden? The instant you find yourself thinking, "I don't think I'll drag this big thing along next time." The bags in this trio can be worn from a belt, slung over the shoulder or stuffed into a larger pack to organize the cargo. And despite their petite size they hold a lot. In today's world of smaller cameras and lenses, a snug bag may be just what you're looking for.
We found three camera conveyance systems that hold just enough for a trip into the city, a hike in the forest or just about any other half-day photo excursion. There are other compact bags that fit into this category, but we especially like these three. Let's take a look.
HEX Evolve Sling ECO
Made from recycled Cordura ECO fabric, the HEX Evolve Sling is surprisingly roomy and comfortable to wear. Measuring a svelte 5.5 x 10 x 2.5 inches (H x W x D) and weighing a scant one-half pound, this stylish pack features pouches on the front and back that seal with waterproof YKK zippers and a large interior pocket that hides a third zippered pouch. There are compression straps on either end so you can pull it up tight (if you've ever walked all day wearing a waist pouch you'll appreciate this feature). The nonremovable belt is adjustable and fitted with a YKK clasp fastener. Colors available: gray.
Cordura ECO fabric is a thing, not a marketing slogan. Cordura ECO fabric is made from reclaimed waste resources that have been recycled into high quality yarns. This particular material is water resistant and antimicrobial. It resists and repels bacteria, mold and fungus.
You can buy the HEX Evolve Sling ECO at your local camera shop or directly from HEX. Price is $34.95.
If you need more cargo space check out the Hex Ranger DSLR Sling V2 we reviewed a short time ago. It's available from Amazon for $99 in two sizes and four colors (mini size is $69).
Peak Design Field Pouch V2
The folks at Peak Design position their second-generation Field Pouch as "…a minimalist carry-all sling bag, and compressible in-bag organizer." Of course you could stuff any small bag into a larger bag and call it an organizer, but the Peak Design Field Pouch V2 flattens when empty so it's truly functional in that role. The roll-top design allows easy access and enables the bag to double its internal capacity. It comes with an ultralight adjustable strap for cross-body or shoulder carry and integrated loops for belt/waist carry.
The Peak Design Field Pouch V2 measures 9.4 x 7.5 x 0.4 inches (H x W x D) empty and 10.6 x 9.8 x 4.3 inches filled. Empty weight is 6 ounces. You can pack a slim mirrorless camera body, a compact camera or a couple short lenses, but not much more. The exterior is crafted from weatherproof double poly-coated DWR impregnated 400D nylon canvas and it comes with a Lifetime Warranty.
Available in three colors (black, gray or navy) the Peak Design Field Pouch V2 sells for $44.95 and should be at your favorite camera store now. If they're sold out, order directly from Peak Design.
Kinesis A634 Reporter's Waist Pack
Largest and heaviest of this group, the Kinesis A634 Reporter's Waist Pack offers the largest capacity as well at 6.3L (liter), and is available in a kit with a dedicated Kinesis belt. Interior measurements are 7.5 x 11.75 x 4 inches (H x W x D) and she weighs in at 10.5 ounces. The Kinesis A634 Reporter's Waist Pack can be worn as a shoulder bag, too. Kinesis does not include a shoulder strap, but many would work. Kinesis recommends their Y315 strap for best fit.
In addition to the main compartment there is a large zippered pocket accessible from the top. On the front are two smaller zippered pockets. Overall design provides plenty of opportunity for careful organization. Thankfully it does not include wasteful pen loops or useless tiny pouches.
Interestingly, the Reporter's Pack was not originally designed or intended for cameras or other optical items, but many photographers saw the potential and requested the padding necessary for safe carry. The padding is minimal—but adequate—and lightly padded interior dividers are provided as well.
The Kinesis A634 Reporter's Pack is available from Amazon for $75. Check out the Kinesis Store on Amazon for other interesting photo gear. Another item at the Kinesis Store that caught our attention is the Kinesis Safari Sack that can be purchased empty ($23) and then appropriately filled for use as a camera/long lens support or as a tripod stabilization weight. Alternatively you can purchase the Safari Sack already filled with buckwheat for $30.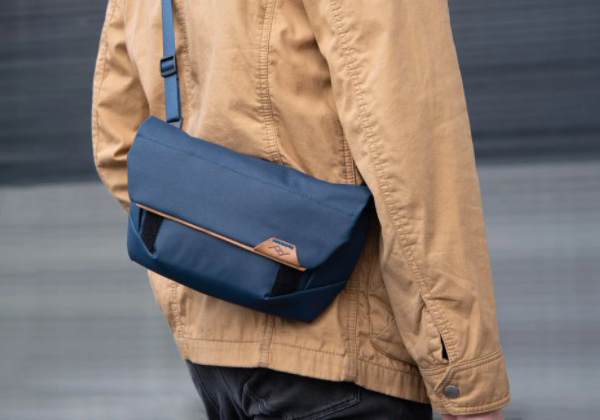 Conclusion
The three products featured here are as different as can be, and all combine excellent design with high quality construction and top-level utility. That said, there is something about the HEX Evolve Sling ECO that cements it at the top of my list. I admit that my first reaction was the fear that I'd be mocked for wearing a 1970s-vintage Fanny Pack; however, practicality triumphed over my fashion insecurity and I never looked back.
One suggestion for HEX: the color is almost 18% gray, the preferred color for White Balance adjustment targets. In fact, it's so close that I have used it to set color balance successfully. Still I wish it were exactly 18% gray, or at least had a patch of 18% gray material sewn to the back. If you're looking for a photographer-centric differentiating feature, take heed.
Oh – yeah, then there's this. When I overheard my companion mutter, "I don't think I'll drag this big thing along next time," I thought she was talking about me. Whew! Fortunately she was talking about her other ballast—her weighty camera shoulder bag. So I'll send her this roundup and tell her it's about time she lost some weight. Stay tuned.
—Jon Sienkiewicz
(As an Amazon Associate, Shutterbug earns from qualifying purchases linked in this story.)
FEATURED VIDEO