3 Back-to-School Cameras Get An A In Every Subject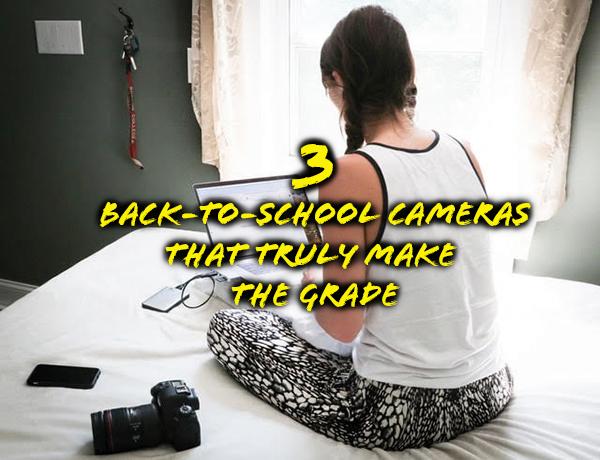 Photo by Dylan Gillis on Unsplash
Whether your kiddos are heading off to college, high school or doggedly pursuing their doctoral thesis, help them document each semester as they develop into fine young men and women and define their lives. Here are three cameras that will serve them well, are quite affordable, and have enough features that they can continue using them for many years to come.
The cameras below from Nikon, Fujifilm and Panasonic were selected because they produce exceptional results, are easy to use, offer enough accessory options that they can grow with the user, and are at price points that deliver great bang for the buck. Not to mention that your student will be proud to carry because of their wow factors.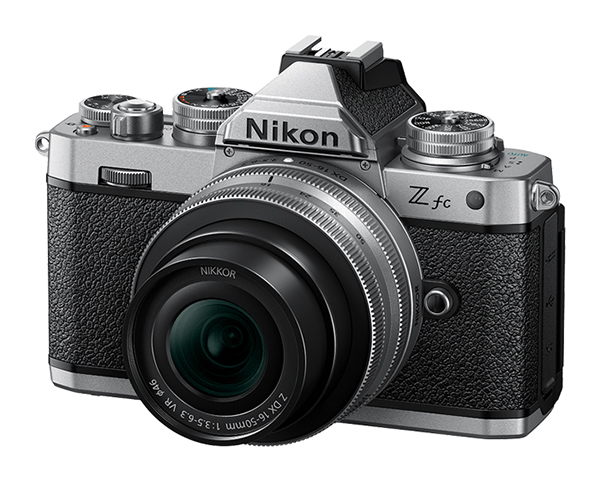 Nikon Z fc 16-50mm f/3.5-6.3 VR Nikkor Zoom
Available right now with 16-50mm f/3.5-6.3 VR Nikkor zoom from Amazon for $1096, the Nikon Z fc sports a retro design reminiscent of Nikon's legendary 35mm film cameras of yore, and offers a DX (APS-C size) 20.9-megapixel DX CMOS sensor driven by Nikon's EXPEED 6 processing engine. The Nikon Z fc accepts all Nikon Z-mount lenses and also F-mount Nikkor lenses via the optional FTZ Mount Adapter, so if you have any Nikon legacy glass, your scholar can possibly use those, too.
Video rules Gen Z these days, and the Nikon Z fc is ready, providing 4K UHD, built-in stereo microphone, external mic jack, and a flip-out Vari-angle LCD. It's also live stream and web conference compatible.

If your progeny wants to stand out from the crowd in a sophisticated yet subtle way, Nikon directly sells from their website the Z fc in six attractive colors including amber brown, natural gray and sand beige for $1199 with the VR (image stabilized) 16-50mm zoom.
Read the full Shutterbug review of the Nikon Z fc here.
Fujifilm X-E4 with Fujifilm XF 27mm f/2.8 R WR Lens
At the heart lies Fujifilm's ultra-popular X-Trans sensor that delivers the "Fuji Colors" so many photographers rave about. The Fujifilm X-E4 features a 26.1-megapixel APS-C X-Trans BSI CMOS 4 sensor paired with their X-Processor 4 image signal processor. It uses a randomized pixel array that provides a high degree of image quality and sharpness thanks in part to the omission of an optical low-pass filter.
The XF 27mm f/2.8 R WR lens is of the compact pancake design and equates to about 40mm as compared to the 35mm camera benchmark, but the X-E4 is the key to the whole world of high quality Fujifilm lenses. And of course, you can buy the camera body separately plus the Fujifilm zoom lens of your choice.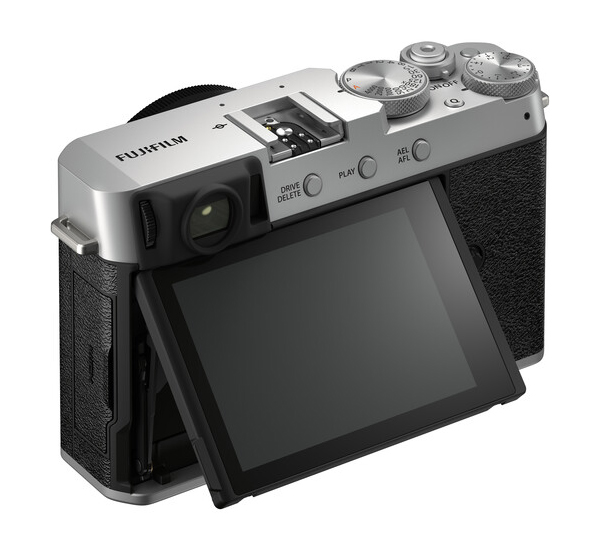 Replete with enhanced video features, the Fujifilm X-E4 is a great choice for content creators, particularly those who carry a camera with them everywhere, every day. Serious video-shooters will appreciate the internal DCI/UHD 4K recording at up to 30fps and Full HD recording up to 240fps for ultra-slow-motion playback. Additionally there's a micro-HDMI port that enables 10-bit 4:2:2 recording to an optional external recorder, plus a 3.5mm microphone jack and 2.5mm remote port with included headphone adapter for more advanced audio endeavors.
Priced around $1049 with the 27mm lens, the Fujifilm X-E4 is available in black and silver colors. Like the other two brands mentioned herein, the X-E4 is a foothold in a camera brand franchise that offers a variety of bodies, lenses and/or accessories that any user can grow with, as they might. And if photography is not their long-term passion, the price is low enough that it's not a misadventure.
Read the full Shutterbug review of the Fujifilm X-E4 here.
Panasonic Lumix LX100M2
Flaunting a 24-75mm f/1.7-2.8 Leica DC Vario-Summilux lens with power Optical Image Stabilizer (O. I. S.) to effectively compensate for camera shake, the Panasonic Lumix LX100M2 is equipped with a 17-megapixel Micro four-thirds sensor. The styling reminds one of a classic rangefinder camera with a modern streamline. Although it does not accept interchangeable lenses, the trade off is a versatile Leica lens that zooms from 24mm to 75mm (equivalent), a fast starting aperture (f/1.7) and a more compact size overall.
For video shooting, The Lumix LX100M2 provides 4k video and a unique, Panasonic exclusive: 4K PHOTO that uses proprietary Panasonic technology that captures 30 fps in high resolution 4K Ultra HD video and extracts them as photos. That means that your youngster is able to get just the right shot at just the right moment in time—at football games, science experiments, but not at frat parties.
To broaden the user's range of subjects, the Panasonic Lumix LX100M2 features true macro shooting at the distance of a mere 3cm (at the 24mm wideangle lens setting). So they'll be able to get tight shots of the disgusting school cafeteria food in all its gory, right down to the barely-identifiable lima beans. Oh—sorry—those are flattened chickpeas. Why are they green?
You can order the Panasonic LX100M2 with Leica zoom from Amazon for $997, and it's widely available from other retailers. If you have a hometown camera shop, show them some love. Learn more about the Panasonic LX100M2 here.
Conclusion
You're into photography because you read Shutterbug—and vice versa. So you probably agree that smart phones take pretty damn good pictures, but in terms of pixel-level image quality, versatility, creative options and producing high resolution images that will endure to be edited in the decades to comes, phones fall short. And they always will as long as the lenses they are outfitted with are as small as the eye of a juvenile largemouth bass. At age 17 or 20, your kids might not care too much about what they do with an image after they post it on social, but when they're your age they will appreciate having library of super sharp, grain-free, richly saturated images they captured with real camera during their school years. They reach for their phone because it's easier—and easier is rarely a good reason for anything.
—Jon Sienkiewicz
(As an Amazon Associate, Shutterbug earns from qualifying purchases linked in this story.)
FEATURED VIDEO