$149 Canon Compact Photo Printer Selphy CP-400
Canon's new compact photo printer, the SELPHY CP-400 allows you to make 4 x 6-inch postcards or photographs in approximately 81 seconds, four seconds faster than previous Canon models.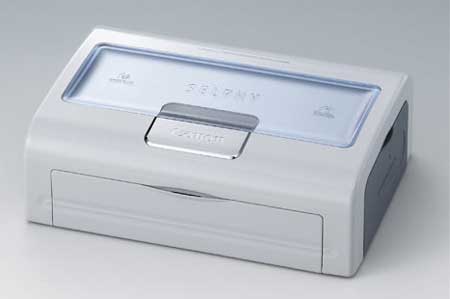 The Compact Photo Printer SELPHY CP-400 runs on AC power and can be connected to a PictBridge-compliant digital camera or a compatible personal computer. Its small size (6.7 x 4.7 x 2.2 inches) and new streamlined design make this compact photo printer simple to tote along to parties and family gatherings. It can also print credit-card size photos, photo stickers, photo labels and 4 x 8-inch photo greeting cards. This new dye sublimation device is said to create water and fade resistant prints that last up to 100 years.
The SELPHY CP-400 is PictBridge compliant. PictBridge is the worldwide direct printing standard that allows any PictBridge-compliant printer to print directly from any PictBridge compliant digital camera. Standard PictBridge features include the choice between borderless and bordered prints, optional date imprinting, print quantity selection, and trimming (cropping) of individual images. All of these features are controlled through a menu system on the camera's LCD monitor.
The Compact Photo Printer SELPHY CP-400 provides further PictBridge support with two added features; N-Up printing, which allows users to create more than one smaller version of the same image on a sheet (2,4,6,9, etc.); and Fixed Size Printing, which allows the end-user to pre-select a dimension for the print, even though it may be a different size from the paper it will be printed on. For example, consumers can print a 3 x 5-inch photo onto a 4 x 6-inch paper.
For more information contact Canon at www.canonusa.com