Win a Sigma Lens & Amazon Gift Cards in Our Final Sweepstakes of the Summer!
I don't know about you but I'm sitting in my bathtub with all my scuba gear on, pretending I'm in the warm Caribbean Ocean. I just poured a little bit of my rum punch out to honor the imminent end of the summer, "One for my homie, summertime."
Well, all good things come to an end, including the Shutterbug Summertime Sweepstakes. You might not be stoked that this is the final of five epic giveaways, but we shredded through some awesome prizes and should show some love to the winners of the last sweepstakes:
(1) Winner: Sony Alpha a7 III Mirrorless Digital Camera with 28-70mm Lens
Pamela N.
Seaside, CA

(4) Winners: $50 Amazon Gift Card
Shannon H.
West Palm Beach, FL

Sune Pedersen
Holstebro, Denmark

Delena McGuire
Florence, KY

Kevin Rodrigue
Myrtle Beach, SC
Ok, for our final sweepstakes prize Sigma did a hang ten and is offering the Sigma 56mm f/1.4 DC DN Contemporary Lens to the final winner. Of course, we also have some great runner-up prizes: $50 Amazon gift cards. Every little bit helps when you're a creative, so don't forget to enter! You may be the lucky one:
Giveaway #5 – Dates: Sept 8 - Sept 20
Winner announced: Sept 21, 2020
Prizes:
(1) Sigma 56mm f/1.4 DC DN Contemporary Lens
(4) $50 Amazon Gift Cards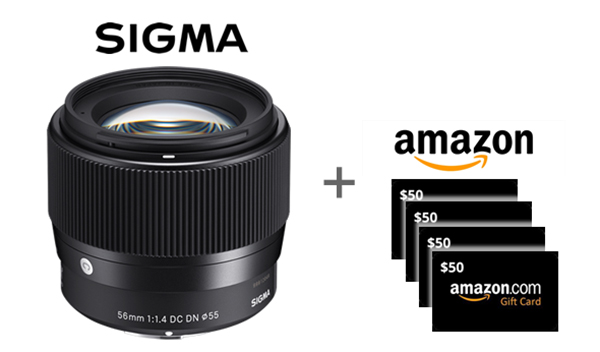 If…let's say at some point in the distant future when we are all cyborgs, this prize is probably what you're going to want to replace your human eyeballs with. The fine glass that never disappoints is of course a Sigma lens; a Sigma 56mm f/1.4 DC DN Contemporary Lens to be exact. A lens is like the diamond on the ring, this is where all the magic happens in your photos, where fine craftsmanship becomes important as heck. Here are some of the details on the lens:
This lens completes the Sigma large aperture series of portable wide-angle, standard, and telephoto prime lenses in Micro Four Thirds, Sony E, EF-M and L mounts. Featuring compact design, light weight and outstanding image quality offered in Sigma's Contemporary line, this lens stuns with a beautiful bokeh effect and the amount of brightness expected from F1.4 lenses even in the mid-telephoto range for cropped sensor cameras. In addition, this lens is characterized by smooth and quiet autofocus ideal for video shooting. Compatible with the Sony E mount Fast Hybrid AF, it also achieves precise AF tracking. By using the face recognition or eye AF functions of the camera, focus will continuously be on the face or the eye even if the subject moves during the shoot.
So, yes guys, this is the LAST summertime giveaway! That doesn't mean summer is completely over so don't cry yet, you have a few more weeks before you need to shed tears. This is just your last chance to ENTER an amazing Shutterbug giveaway.
So, if you've been seeing the info about the Shutterbug Giveaways but procrastinating to enter, DO NOT PROCRASTINATE ANY LONGER! This could be your time to shine. Good luck!