Vanguard VEO Range 36M Messenger Photo Bag Review
Vanguard is an international company that sells camera bags and photo backpacks, high quality tripods, binoculars/sporting optics and an assortment of camera accessories. The Vanguard VEO Range 36M Messenger Photo Bag is just one of the many camera carrying solutions they offer.
How does the VEO Range 36M compare with other products in its price range? And how have they managed to differentiate themselves in this congested and aggressive product category?
Vanguard is Authentic and Original
As a company, Vanguard is an anomaly. Whereas many sellers of camera bags buy designs from independent designers and then contract with factories for fabrication, Vanguard employees (there are more than 1,000 of them worldwide) handle all R & D, production, administration, marketing and sales in-house and in Vanguard-owned and controlled facilities. They do not use third-party factories, development or design firms or other outsourcing of any kind in the process. Do you know how rare this is?
From Concept to Close-out
Moreover, Vanguard is a woman-owned family business. Because they are 100% in control of every step from concept to close-out, Vanguard handles every milestone in a product's lifecycle. And by the way, they have followed this successful formula since their founding in 1986.
Vanguard VEO Range 36M BG
As messenger-style photo bags go, the VEO Range 36 has a traditional look and a unique design. On the top there are two zippers. One opens to expose the top camera compartment and the other protects access to a large pouch that's actually the bag's cover flap. On the front there is a wide, divided pouch that closes with a zipper, and below that is the bottom-level storage area which is large enough to stow four lenses (50mm f/1.4 Nikkor size).
The bottom-level compartment is truly useful. My 70-200mm f/2.8 fits easily. It also accommodates a VEO 2 GO tripod (except the H models) completely inside if you're after a look that's totally under the radar.
Inside the top compartment you find a nicely padded and separated laptop pocket (up to 13-inch notebook computer or tablet) and a set of well-padded, moveable dividers that protect a camera (maybe two) and a couple lenses—or more; it all depends on your camera system and how you pack. Again, access to the top compartment is provided by either lifting the cover flap open, or unzipping the slash on top. Very good design that provides ready access.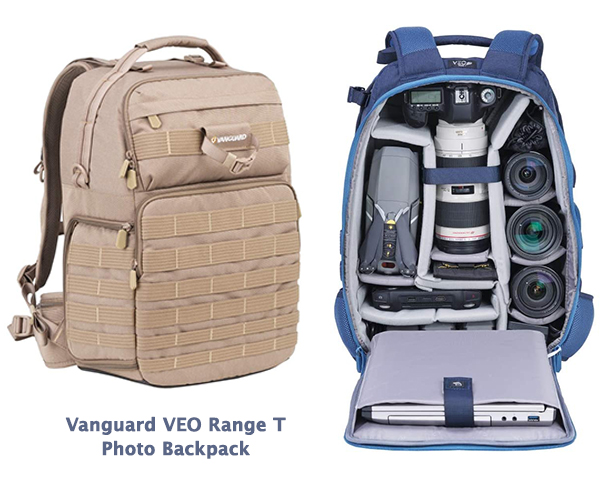 The cover flap is secured by hook/eye fabric and, optionally, by two sturdy straps. When not extended to hold the cover shut, the two straps connect to a second set of fasteners to create a rigging that allows you to lash a tripod or raincoat to the bottom of the bag.
There are pouch pockets on either end and an unpadded, zippered pocket on the back. As this sits directly under the luggage trolly/wheelie loop, it should not be used to store a tablet. The shoulder strap is two inches wide and strong, and comes with a nonslip shoulder pad. The hardware is polycarbonate, same as found on the majority of modern camera bags. Also included, a foul-weather cover. And oh yes, there is a sturdy grab handle on top.
Capacity and Dimensions
The Vanguard VEO Range 36M Messenger Bag holds a mirrorless camera with lens attached, up to six lenses (by my count), a flash or other accessories plus a 13-inch laptop/tablet. A small tripod like the Vanguard VEO 2 GO standard tripod can be carried in the bottom compartment or strapped to the bottom. (Vanguard VEO 2 GO H High models will not fit inside.)
Internal dimensions are 14.13 x 4.75 x 9.5 inches. Externally it measures 15.75 x 7.63 x 11.75 inches. Empty, the Vanguard VEO 36M weighs and scant 2.3 pounds. The VEO Range 36M BG also comes in two smaller sizes (21M and 32M) and one larger (38M). The BG designates the color (beige); also available, NV (Navy), in every size.
Conclusion
In addition to being a fresh and desirable design, the Vanguard VEO messenger bag is very well made and obviously constructed from choice, high-end materials. It's the sort of bag I take on longer trips because it's easy to separate and organize the contents. It's light when it's empty and holds quite a bit. What else could one ask for?
Price and Availability
If it's not at your local camera shop, ask them why not and then order the Vanguard VEO Range 36M from Amazon for $109. You can order directly from Vanguard. MSRP is $109 but sometimes it's discounted when promoted.
Vanguard's complete photo catalog can be downloaded here. They offer a separate catalog for Vanguard outdoor products. When you visit their website, check on the bargains under the Vanguard Steal tab.
—Jon Sienkiewicz
(As an Amazon Associate, Shutterbug earns from qualifying purchases linked in this story.)
FEATURED VIDEO