REVIEW: New Camera Bags and Photo Backpacks from Three Legged Thing's Step-Sibling Morally Toxic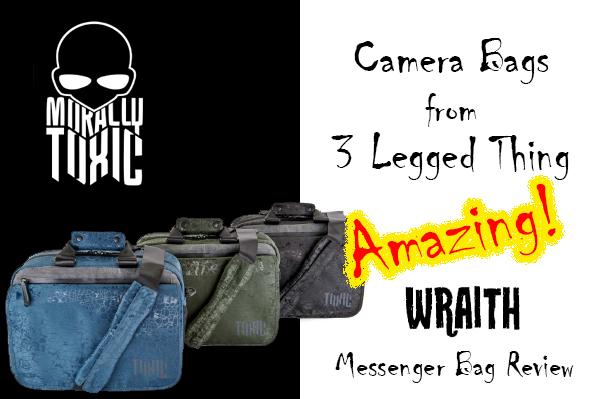 We review the new Wraith 15L Photo Messenger Bag from our maniacally creative friends across the pond.
If you're familiar with 3 Legged Thing tripods you know that the only thing about them that's more outstanding than their high quality products is their robust and creative approach to life. That same refreshing and upbeat attitude is abundantly present in their self-acclaimed "twisted step-sibling" brand called Morally Toxic.
According to them (and who could know better?) Morally Toxic is a small team of passionate people who are creating and innovating bags "for all people," and is the twisted step-sibling of British tripod manufacturer 3 Legged Thing. The brainchild of 3LT founder and highly acclaimed author Danny Lenihan, Morally Toxic is a "bold approach in a market saturated with staid and corporate designs."
They claim that their new Wraith Photo Messenger Bags and Valkyrie Photo Backpacks are a fusion of alien and reptilian design concepts, and we cannot disagree. They are also extremely well made, beautifully designed and highly functional. For this review we are totally ignoring the backpacks so we can feast on the messenger bags.
The original artwork accompanying this story was supplied by Morally Toxic.
Key Features
• Outstanding workmanship, fit and finish
• Constructed of durable water-resistant fabrics
• Padded main storage for camera gear has movable dividers
• Isolated laptop pocket with two-side opening for easy access
• Unique "Frog pocket" for stowage of wet items
• Dual front organizer pockets with protected access
• Protective front flap with zipped access to tablet stowage
• Secret pocket for cash and passport security
• Internal dividers with unique integrated pockets
• Loop strap for attaching to wheelies/rolling bag handles
• Shoulder strap with detachable shoulder pad
• YKK and YKK Aquaguard zippers
• Dual carry handle on top with connecting pad
• Waterproof 100% Polyester rain cover included
• Two sizes: Medium (15L) and Large (20L)
• Three colors: Onyx, Emerald and Sapphire
• 5-Year global warranty
• Approximate cost $209.99 (M) and $219.99 (L)
Dimensions
The Morally Toxic Wraith 15L we tested specs out at 14.6 x 9.4 x 7.5 inches (37 x 24 x 18cm) and weighs 2.9 pounds (1.3kg) empty. The Large (20L) MT Wraith Messenger Bag measures 16.1 x 11.4 x 7.5 inches (41 x 29 x 19cm) and weighs 3.2 pounds (1.45kg).
Exterior
Crafted from 200D Polyester fabric with water and stain resistant coating, the bag exterior features a Jacquard weave combination that changes appearance depending on viewing angle and lighting. Very cool. The pattern design replicates a vintage (1929) map of Stagsden, the area in the UK where 3LT and Morally Toxic are located. The leather zipper pulls are debossed with the STAGSDEN label as well.
Interior
Inside we find soft, black 100% Nylon fabric that's Velcro-receptive. The durable dividers and padding are made from 5mm and 8mm technical foam. Two of the dividers have unique pouch pockets where you can stow a memory card, lens cap or any small, reasonably flat object.
Frog Pocket
It's built to separate wet things from the rest of your kit. Big enough to hold a giant grapefruit, the Frog Cavity is quickly and easily accessible from the outside (only). Personally, I don't carry many wet things, so the hydrophobic feature is wasted on me, and maybe you too. However, having a totally separate, discrete chamber is outstanding. Alternatively I used it to carry a lens, a largish ring of keys, multiple snacks and—sign of the times—a stash of N95 covid masks.
Tablet/Laptop Pockets
The laptop pocket is nicely padded and very accessible— it unzips on two sides. It accommodates notebook computers up to 13 inches and gobbled my MacBook Air with ease. It also holds a paper notebook for those of you who still occasionally write or draw pictures.
The tablet pouch is more than adequate and of course, both the tablet and computer pockets are fully separated from whatever else you might pack.
Other Pockets and Pouches
There's a mesh bottle holder on the end opposite the Frog Trap and twin organizer pockets on one of the large sides. The organizers are zipper sealed and covered by a flap that itself has a zippered compartment for flat things like tickets or travel documents. I've spoken out against organizer pockets before and have not changed my mind. To me, organizer pockets are a total waste of space. But some people use them—apparently many people because bag makers continue to provide them.
The other large side (opposite the organizers) is covered with soft gray fabric and blessed with a leather Morally Toxic logo, complete with what appears to be an alien with either a big nose or a pointy chin.
Capacity
The capacity of 15L (Liters) is a generous size for most photo treks or even office commuting, if anyone still does that. One Liter equals 61 cubic inches, slightly smaller than a cube that's 4 x 4 x 4 inches. Packed carefully, the Morally Toxic Wraith 15L holds a mirrorless or DSLR, 4 or 5 lenses, a compact camera, 13-inch PC and a tablet. That still leaves room for the aforementioned grapefruit, family of 5 or 6 frogs or other slippery item.
In the Field
Either you like the fabric finish or you don't—I don't think there will be many 50/50 opinions. It's very distinctive and although I haven't battered mine much (yet) I believe the pattern will hide scuffs and bruises.
Ease of use, ease of access and overall functionality are simply awesome. The bag is a pleasure to pack and carry. There are four attachment points for the heavy-duty shoulder strap, so you can change the configuration to switch carrying styles—and that's great.
All of the hardware—save the zippers—is made of sturdy, lightweight composite material that's not only strong, it's also very quiet. The material on the bottom is a tight weave that will defeat wet grass or gravel.
Conclusion
Beautifully and intelligently designed, the Wraith Camera Messenger Bag from Morally Toxic (kin to 3 Legged Thing) is constructed using choice, high quality materials and manufactured with obvious care and precision. It's well worth the projected resale price of $209 and looks like it can provide a lifetime of service.
—Jon Sienkiewicz
(As an Amazon Associate, Shutterbug earns from qualifying purchases linked in this story.)
FEATURED VIDEO