Tamron AF18-270mm F/3.5-6.3 Di II VC PZD; Sometimes One Size Does Fit All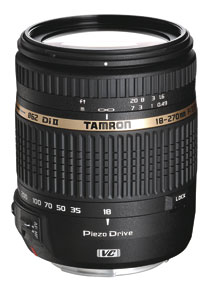 Tamron has always been a pioneer in the do-everything zoom lens category and their new AF18-270mm F/3.5-6.3 Di II VC PZD lens is no exception. Don't be intimidated by those initials—it's all good stuff—and I'll get to them shortly. The 18-270mm F/3.5-6.3 is part of Tamron's Di II family of lenses that are engineered specifically for digital SLRs with image sensors measuring 24x16mm, typically referred to as APS-C. The sensor size of the Canon EOS 50D I tested the lens with measures 22.3x14.9mm so I guess that's close enough. The 15x zoom range of the lens provides a 35mm focal length equivalency of 28.8-432mm with the Canon EOS 50D's 1.6x multiplication factor, but that will be slightly different for the Nikon and Sony versions that are also available. Shooting full frame? Check out Tamron's Di lens series for 35mm film cameras or digital SLRs featuring larger (24x36mm) sensors.
The Long And The Short Of It
Now to the alphabet soup that has been part of Tamron's culture ever since I can remember. Tamron's new Vibration Compensation (VC) system is built into the lens I tested as well as the company's 28-300mm F/3.5-6.3 XR Di VC LD Aspherical (IF) Macro and 18-270mm F/3.5-6.3 Di II VC LD Aspherical (IF) Macro lenses. You already know the concept by many other names, including image stabilization; Vibration Compensation works in a similar but different manner. While other image stabilization systems correct camera movement in horizontal or vertical planes, Tamron's VC system uses a tri-axial configuration that wraps three pairs of driving coils and low-function ball bearings around the shake-compensating optical group to produce a free-floating shake compensator. The 18-270mm VC lens incorporates a sensitive gyro sensor for detecting any movement and the entire system compensates for diagonal camera shake as well as for up and down and side-to-side movement. I expect to see the VC feature built into more Tamron lenses in the future.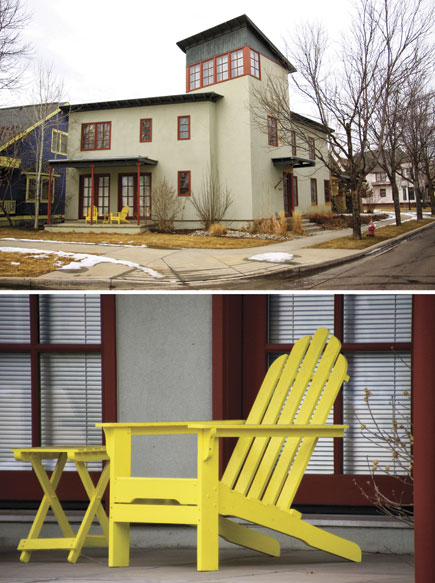 The 18-270mm F/3.5-6.3's 15x zoom range provides a 35mm format equivalency of 28.8-432mm with the Canon's 1.6x multiplication factor—it's about 27-405mm with Nikon and Sony versions. I shot the top photograph at 18mm while standing in the middle of the street. (Mary was watching for cars.) Then moving the lens to 270mm I made the bottom photograph from the same position. Program mode exposure for the top shot was 1⁄800 sec at f/4.5 and ISO 320. The bottom exposure was 1⁄640 sec at f/6.3 and ISO 320. Both exposures were bracketed because of the gloomy, heavily cloud-covered day.
All Photos Joe Farace
The PZD a.k.a. Piezoelectric Drive contributes to the small size (3.5" long) and light weight (15.9 oz) and allows the 18-270mm F/3.5-6.3 to focus quickly and precisely, producing sharp results under all kinds of demanding shooting conditions. All that boils down to a 24 percent reduction in length and an 18 percent reduction in weight from previous models. The PZD is extremely quiet, making it ideal for shooting nature, live performances, golf, and other conditions that demand quiet operation. While shooting I never heard the grinding noise that I got from some other image stabilization lenses.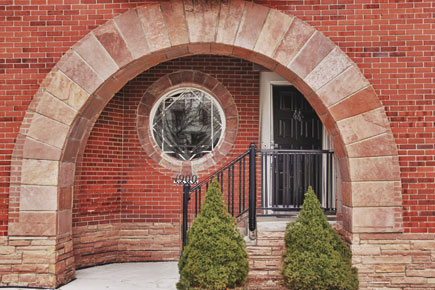 When I was shooting in Prospect, Colorado, the weather was quite overcast, like a giant helmet of clouds over the sky, which created dark shadows under this arch, making it a perfect candidate for HDR capture. Shooting a three-shot bracket and processing the files in Nik Software's (www.niksoftware.com) HDR Efex Pro produced this result. The lens' VC feature made sure that all three shots would align perfectly—without a tripod. The nominal exposure in Av mode was 1⁄250 sec at f/4.5 and ISO 320 with the lens set at the 23mm focal length.
One Size Does Fit All
While testing the Tamron 18-270mm F/3.5-6.3 I didn't photograph any resolution charts, newspapers, or brick walls (OK, that last part is not strictly true) because that's not how you'll use this lens either. In addition to the photographs that you see here, I used it for my Picture-a-Day Project (http://tiny.cc/fdehb) where you can see other images made with the lens.

The lens is surprisingly compact and I tried it with two of my personal APS-C-sized Canon EOS bodies, the 50D and Digital Rebel XTi that has a 22.2x14.8mm sensor. Even with the Rebel's smaller bulk and light weight, the lens was perfectly balanced. The 18-270mm F/3.5-6.3 has a few controls built into it. The most obvious and expected is the AF-MF switch and there's also a VC on-off switch that is clearly labeled in English, unlike the cryptic symbols Canon used on my EF 28-135mm IS lens. A lock switch works when the lens is in its physically shortest (18mm) focal length to prevent the dreaded lens droop that affects most long focal length zoom lenses. Use it when carrying a camera with the lens mounted, because droop it will do. The lock is there when you need it but can be tricky to use, so photographers who want to keep their manicure or nail polish in good shape should be careful.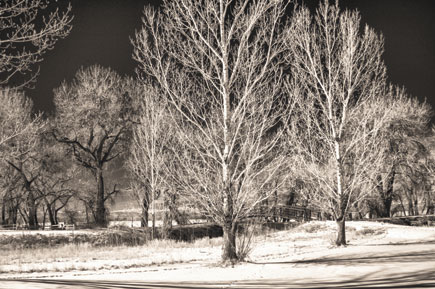 This digital infrared image was made at Barr Lake State Park and that white stuff on the ground is not grass rendered white by the process—it's snow! Camera was the Canon EOS Digital Rebel XTi with an Av exposure of 1⁄250 sec at f/8 and ISO 400 with the lens set at the 18mm focal length. The photograph was sepia toned to soften the overall look.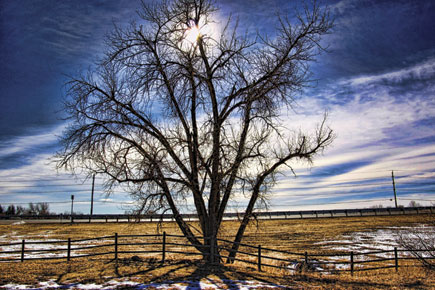 One of the best ways to test how a lens handles flare is to shoot directly into the sun, which I did at this little park on Colorado's Highway 7 alongside the Platte River. Shooting directly into the sun produced an area of overexposure around the sun as you might expect but no flare due to a well-designed lens hood and an equally well-designed grouping of 16 lens elements. Exposure with the Canon EOS 50D in Av mode was 1⁄800 sec at f/11 and ISO 320.
Tamron bundles a reversible"tulip"-style lens hood and, unlike hoods from other manufacturers that I've used, it worked perfectly under all kinds of lighting conditions. Since flare can be a problem with a complex zoom lens like this Tamron, I shot an image with the camera pointed directly into the sun and a combination of the well-designed lens hood and lens design reduced any flare to an absolute minimum. In fact, see for yourself; there is no visible flare and no apparent reduction in contrast.
FEATURED VIDEO