Shutterbug Readers Take On The World: It's Not What You See But How You See It
"To me, photography is an art of observation. It's about finding something interesting in an ordinary place…I've found it has little to do with the things you see and everything to do with the way you see them."—Elliott Erwitt
I think Mr. Erwitt's talking about "the way you see" is the best advice for any photographer no matter what their experience level may be. One way to open your mind and eyes to different ways of seeing the world is to look at other people's images, and that's one of my goals with this column. Helping us with that today are four Shutterbug readers who bring their own unique views of the world to bear on the art and craft of photography.
www.bobgardnerphotoman.com
Bob Gardner's no-frills website uses the SmugMug platform to clearly focus on his photographs. There are 10 galleries with three of them centered on bridges, including covered bridges, which the book and film The Bridges of Madison County forever linked to the images of documentary photographers. Gardner's bridge photographs have a touch of the pictorial and are unabashedly romantic. His Historic Wooden Truss Covered Bridges gallery shows 145 covered bridges in Ohio. (Madison County, Iowa, has six.) Clicking a thumbnail lets you see large, colorful, well-crafted, and composed images along with titles and details about the bridges. They were lovingly captured during four seasons, adding variety to a portfolio of images I would love to own in book form.
In another collection, Gardner shoots the bridges in monochrome and occasionally hand-tinted infrared, transcending traditional techniques and taking on artistic conventions. Gardner isn't finished with bridges just yet, and Bridges & More Bridges takes you across steel, stone, and wooden structures in color, black and white, and infrared, all showing his intense attention to detail. He captures these places with a certain nostalgia that makes you feel as if they could have been made a hundred years ago: you almost expect to see a horse-drawn wagon crossing a bridge. While the hand of man is present, humankind itself is missing. The images reflect the photographer's own humanity, giving a wistful look at living history not just in his images of bridges but in his other collections as well.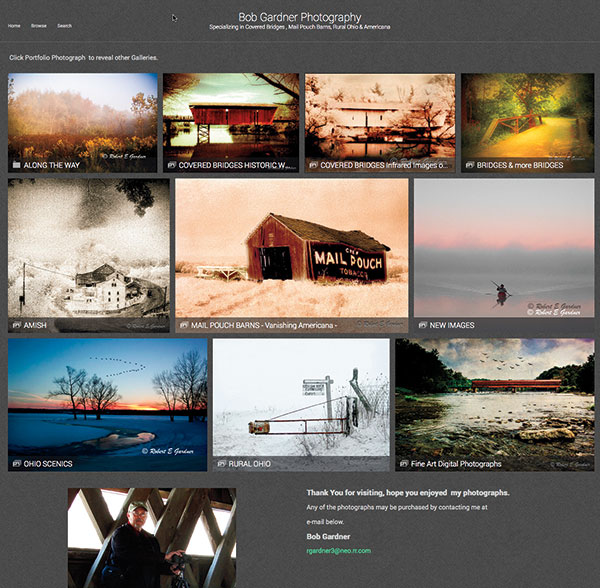 www.jsricephotography.com
Photographer Jim Rice also uses SmugMug as the platform for his website, populating his 16 portfolios with a diverse assortment of genres. Four of them, including Rural.Decay, contain black-and-white photography envisioned here in full-blown Walker Evans mode. When looking at these images as a slide show they look much better than the smaller (but still nice-sized) thumbnails, which is the opposite of what usually happens when looking at photographs on the web and which also says a lot about the quality of Rice's imagery.
His two galleries of street photography feature one in color and another in monochrome. What is remarkable to me is how he shifts gears between the two styles, with Street.B&W containing images you could believe were made in the 1940s or maybe 1950s. This is accomplished without affectation or special effects and to me it's just how Rice sees the world. By contrast, Street.Color is full of vibrant, contemporary images with an occasional splash of HDR. You knew I'd peek into his Vehicles collection and here Rice merges the style from his black-and-white street gallery with images like one of a 1953 Ford looking au courant 1950s, while his hulking image of a rusting LaSalle feels modern. These are not just pictures of interesting cars but interesting photographs of cars, and believe me there's a big difference. Be sure to visit the other portfolios and enjoy a true photo stylist at work.
www.lemansstudios.com
Lee Mandrell is an Indiana photographer capturing landscape images from all around the Midwest. His boldly designed website contains 16 collections of photographs that show his depth of talent, with everything from portraits to nature to an interesting section Mandrell calls Monochromes & Infrared. Here you'll find an in-your-face page of images that can be viewed individually and in a large format, which helps you appreciate his work's subtlety. With photographs such as the nostalgic "checkers" shot, Mandrell tackles the "splash of color" cliché, making it his own as if other photographers had not already beaten it to death. He makes it feel fresh.
I've always enjoyed the panoramic format and Mandrell's gallery of panos shows his versatility, producing dramatic and colorful cityscapes at night, lovely black-and-white nature scenes, and just plain drop-dead gorgeous sunsets. His Indiana gallery gives you a feel for a state that has a unique charm, showing the rustic beauty of the Story Inn and nighttime shots of a covered bridge at the Indiana State Fair. In fact, this entire gallery is full of vibrant color and crisp compositions, yet also displays the kind of images that say AMERICA in capital letters and is a virtual living tribute to the famous song "Back Home Again in Indiana." There's much more here to explore, so don't miss a single frame.
www.losttracksoftime.com
Matthew Malkiewicz's Lost Tracks of Time website shows the prolific—52 galleries—photographer's exploration of trains. Like most rail fans, Malkiewicz likes streetcars and his gallery SEPTA - Philadelphia PA contains documentary images of vintage and modern streetcars prowling the streets of the city. I especially liked his nighttime photograph of a streetcar festooned with glittering Christmas lights leaving a car barn.
Malkiewicz travels far and wide to capture images, like the snow-covered locomotives in the WP&YR - Skagway, Alaska gallery. He makes the time for portraits of the railroad workers, too, but his spectacular photograph of a steam-driven snowplow clearing tracks and bellowing steam while throwing clouds of snow into the sky while a helicopter hovers above really grabbed my attention. It's a mind-blowing image that says much about the technical abilities of a virtuoso photographer who can also make captivating portraits along the right of way. His work is occasionally wistful, as in subtle images of leaf-covered rusting hulks in East Broad Top - Orbisonia PA, a.k.a. The Narrow Gauge Railroad Time Forgot. It's virtually impossible to capture the full extent of the train-filled environment Malkiewicz has created in a few words. Take your time and enjoy the show.
Joe Farace invites Shutterbug readers to visit his websites, including www.JoeFarace.com and www.JoeFaraceShootsCars.com, which also includes a blog with tips on photographing cars and motorsports.
FEATURED VIDEO