Shutterbug Reader Survey Sweepstakes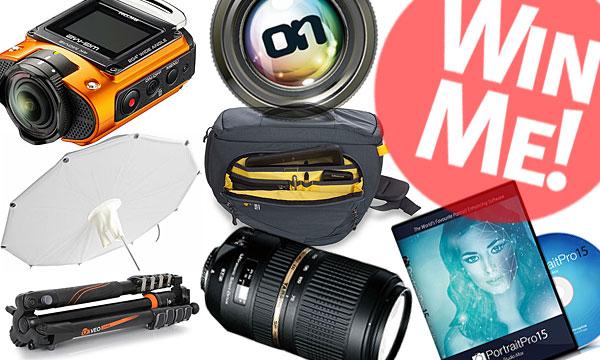 Register to win a prize package ($1,369.95 Retail Value) we are giving away.
Take a few minutes to tell us about what kind of photographer you are for a chance to win some amazing gear! Complete our short Shutterbug Reader Survey and you'll be automatically entered in our sweepstakes for these seven prizes. One winner takes all!
To enter the sweepstakes, click on the link below and leave your email address:
www.surveygizmo.com/s3/2817678/Shutterbug-Reader-Survey
For complete sweepstakes rules, click here.
Prizes included in the package:
---
Tamron 70-300mm Lens ($499.00 retail value)
The SP 70-300mm F/4-5.6 Di VC is an ideal choice for a two-zoom system—complimenting a wide-to-moderate-tele zoom perfectly. Delivering class-leading sharpness, brilliant color and striking contrast, discriminative APS-C and full-frame digital SLR photographers alike are quick to laud its performance. The first lens to feature Tamron's USD (Ultrasonic Silent Drive) auto-focus drive mechanism and VC (Vibration Compensation)* image stabilization, these proprietary technologies are teamed with XLD (Extra Low Dispersion) and LD (Low Dispersion) glass in a 17 element, 12 group formula. APS-C-sensor photographers will enjoy extreme telephoto subject magnification, with a resulting picture angle range approximating a 109-465mm lens on a 35mm film or full-frame DSLR. Sharpness, enhanced by Tamron's exclusive tri-axial VC image stabilization is amazing. Combating blur from camera shake, Tamron VC enables shooting handheld at as many as four shutter speeds slower than would be possible otherwise. Full-time manual focus makes fine tuning easy.
---
Ricoh Pentax WG M2 camera ($299.00 retail value)
The RICOH WG-M2 has spectacular 4K resolution, with four times more pixels than the Full HD format. The RICOH WG-M2's 4K format assures astonishingly high-resolution movies at 3840 x 2160 pixels — twice more pixels horizontally and vertically than the Full HD format (1920 x 1080 pixels). It faithfully records breathtaking beauty and thrilling experiences in spectacular, vibrant movies. The WG-M2 also offers Full HD 60p and HD 120p movie formats, allowing you to effortlessly capture beautiful, flawless movies of fast-action sports and lively pets.
---
Vanguard VEO 235AB ($129.00 retail value)
Dedicated to photographers who love to travel, VEO tripods offer a new breed of super lightweight, compact usability.
---
Anthropics PortraitPro Studio Max ($119.00 retail value)
PortraitPro Studio Max is the superior edition of the PortraitPro retouching suite. It gives busy photographers full batch automation, coupled with the highest quality enhancement. Any aspect of the face or hair can be adjusted in only seconds, at a fraction of the cost of traditional retouching software.
---
Photek Soft Lighter II ($115.00 retail value)
The Photek Softlighter II is a bounce diffuse light source giving off a light that is as soft as moon light. We offer it in three sizes SL-4000 36" Diameter , SL-5000 46" Diameter and the SL-6000 60" Diameter You can also purchase The Softlighter II for use with on camera flash. It is the same umbrella with a new designed front diffuser.
---
ON1 Photo 10.5: ($109.00 retail value)
A full-featured photo editor that works as a plug-in to Adobe® Photoshop® and Lightroom®, or as a standalone application. Browse and manage photos wherever you keep them; on your computer, an external drive or cloud service. Photo 10 includes the necessary tools to manage and edit your photos with non-destructive Smart Photo technology. Enhance color and detail, improve portraits, add effects, share, or swap faces and backgrounds easily.
---
Mountainsmith Descent Anvil Grey bag ($99.95 retail value)
With shoulder sling carry, this camera pack keeps your DSLR poised to capture the shot in any adventure situation and quickly swings out of the way as you hustle towards your next photo opportunity.
---
To enter the sweepstakes, click on the link below and leave your email address:
www.surveygizmo.com/s3/2817678/Shutterbug-Reader-Survey
For complete sweepstakes rules, click here.
[This Sweepstakes is now closed.]
FEATURED VIDEO