Shutterbug's Exclusive photokina Coverage; Digital SLR Cameras: Cameras Get Smarter, With More Live View And Video, Too
Although digicams with built-in lenses still outsell D-SLRs by 10 to 1, market research indicates that 20 percent of consumers are planning to upgrade to an interchangeable-lens camera. As a result, most manufacturers are devoting significant R&D efforts to the D-SLR category, and we found some really desirable new cameras at photokina. The trend was toward more of the high-tech "intelligent" features originally developed for digicams, additional "dynamic range expansion" options, improved LCDs and Live View modes, higher resolution, larger sensors and/or superior processors.

We also saw two D-SLRs with movie capture capability, a first for this type of camera and a feature that's likely to become standard.

While this report was originally intended to cover only Single Lens Reflex (SLR) models, I'll discuss an entirely new category that also accepts interchangeable lenses. The "Micro Four Thirds" format is similar in many respects—including sensor size—to the Four Thirds D-SLRs, but omits the reflex mirror (and penta-prism), allowing for smaller/lighter cameras and lenses. These are not SLRs but they're included in this report for the sake of convenience; in future show reports, Digital Interchangeable Lens Cameras will have their own section.

Just before the photokina show, Samsung announced that it was developing a "hybrid" model, "a cross between a D-SLR and a compact camera." Like the Micro Four Thirds bodies, it will be mirrorless but will employ the larger 23.4x15.6mm sensor from one of the Samsung D-SLRs. No other specifics were available, and a prototype was not shown. Presumably, this announcement has encouraged other manufacturers to begin work on their own new mirrorless systems, although none would agree to comment on this topic.
Full-Frame D-SLRs
While the smaller CCD and CMOS chips remain the norm, several D-SLRs employ sensors roughly the same size as a 35mm film frame. Several full-frame models were already available before the show, of course, including some Canon D-SLRs, the 12-megapixel Nikon D3 and Nikon D700. Now, we have brand-new entries from Sony and Canon. In terms of resolution, the 24.6-megapixel Sony Alpha A900—first shown in February 2008 as a prototype—is particularly impressive. This (30 oz) camera features a new CMOS sensor, a gorgeous 912,000 dot 3" LCD, built-in stabilizer and flash, a well-sealed magnesium-alloy chassis, and a very bright viewfinder with 100 percent coverage. While it's designed for use with the larger multi-platform lenses, this full-frame D-SLR does accept the smaller DT-series lenses as well; the image area is cropped so effective resolution drops to 11 megapixels.
The Sony A900 ($3000 when announced) is similar in specifications to the very versatile 12.2-megapixel Sony A700 but employs two BIONZ processors, allowing for a fast 5 fps Burst mode in spite of the enormous image files. Instead of Live View, the A900 provides a very valuable Intelligent Preview option; it's great for evaluating the effect of several overrides, including the unusually versatile Dynamic Range Optimizer. The new AF system employs a nine-point sensor with 10 additional assist points to maximize focus reliability. While shooting stock images in Europe, I was impressed with this Sony camera's great responsiveness and superb image quality even at ISO 1600, and a test report will follow soon.
After months of rumors that the 12.8-megapixel Canon EOS 5D would be replaced with a 16-megapixel version, the company finally introduced the EOS 5D Mark II with a 21.1-megapixel sensor, also a full-frame CMOS chip. This model is competitive in resolution with the ($8000) EOS-1Ds Mark III pro body, but the MSRP at the announcement date was a surprisingly modest $2700. The EOS 5D Mark II, in a water-resistant, magnesium-alloy body, is intended for use only with multi-platform lenses. It's packed with great features such as a 3" 920,000 dot LCD, large viewfinder with 98 percent coverage, ISO levels to 25,600, and a new DIGIC 4 processor for 3.9 fps burst capability and very effective noise reduction circuitry.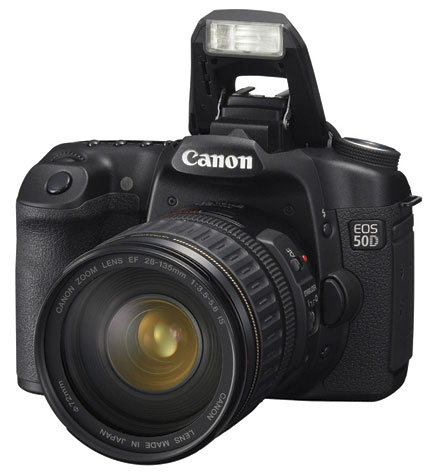 Live View is available with three Focus modes, including two with "silent shooting" and one that provides Face Detection AF; during brief use, this AF feature seemed to be surprisingly fast and reliable. This was the only brand-new camera without built-in flash but the EOS 5D Mark II is one of only two D-SLRs to provide a Movie mode: 1080p HD resolution and sound in Live View; HDMI output to HD TV is available, of course. The AF system employs a nine-point sensor with six AF assist points. Important new EOS 5D Mark II amenities include automatic vignetting correction with many EF lenses, and a new Auto Lighting Optimizer with many options for brightening shadow areas.
The EOS 1D-series cameras do provide benefits, including greater durability and speed, but the 21.1-megapixel EOS 5D Mark II is substantially smaller, lighter (28.6 oz), and more affordable. These aspects will make it more appealing to advanced enthusiasts and even to some pros, particularly with optional accessories: the Wireless File Transmitter and the Original Data Security Kit.

Event photographers especially will appreciate the ability to shoot both ultrahigh-resolution stills and 1920x1080 (16:9) QuickTime MOV videos at 30 fps for up to 12 minutes per segment.
Mid-Level D-SLRs
A successor to the 10.2-megapixel D80 introduced two years earlier, the new 12.3-megapixel Nikon D90 (with a new CMOS sensor) features much of the technology designed for the recent high-end Nikon cameras. A full report on this camera appears in our next issue.
While the 12.3-megapixel D300 ($1800) is faster, more rugged, and even more versatile (and complicated), the smaller, lighter, and more affordable D90 ($1000) is likely to become a best seller in the mid-level D-SLR category.
Canon's 10.1-megapixel EOS 40D was introduced only a year before the EOS 50D was announced, but the new model is very timely, essential for Canon to succeed in today's hotly competitive market. This is basically an EOS 40D with a 15.1-megapixel sensor, a faster DIGIC processor for a 6.3 fps Burst mode in spite of the larger image files, a superior 920,000 dot LCD with three anti-reflection layers, plus a new DIGIC 4 engine. In spite of the smaller pixel size, Canon claims that high ISO image quality is better due to redesigned photo diodes and micro lenses as well as superior processing.
FEATURED VIDEO