Here Are Real-World Photos of Canon's Impressive New Top-of-the-Line 1D X Mark III DSLR
Yesterday we shared the news that Canon is developing a new flagship DSLR camera called the EOS-1D X Mark III. And today we have some of the first real-world photos of this tough, speedy and powerful pro rig designed for sports shooters, photojournalists and any photographer craving the best of the best in camera gear.
Shutterbug was on hand at the PhotoPlus Expo show in New York City this week where Canon is displaying the Canon 1D X Mark III at their booth and we snapped the images in this post so you can get a better idea of what this long-awaited camera really looks like.
Yes, the Canon 1D X Mark III is being displayed "under glass" so there are reflections in these shots, and yes, it does look very similar to its predecessor. We think you'll agree though that the Canon 1D X Mark III is still an impressive-looking beast.
As noted in our previous story about the Mark III, Canon has not shared many details about this forthcoming camera including when it will be available, how much it will cost, or what the resolution will be. Some features have been announced, however, including its extremely fast 16 frames per second shooting speed with full autofocus and autoexposure using the camera's mechanical shutter, and up to 20 fps with full AF and AE using Live View with the mechanical or electronic shutter.
Along with the real-world photos of the 1D X Mark III, we've included shots of the placards Canon was displaying at its booth touting the major features they have revealed, so far, about the camera.
Stay tuned for more to come. The Canon 1D X Mark III should likely make its official debut before the 2020 Olympics in Tokyo, Japan next summer.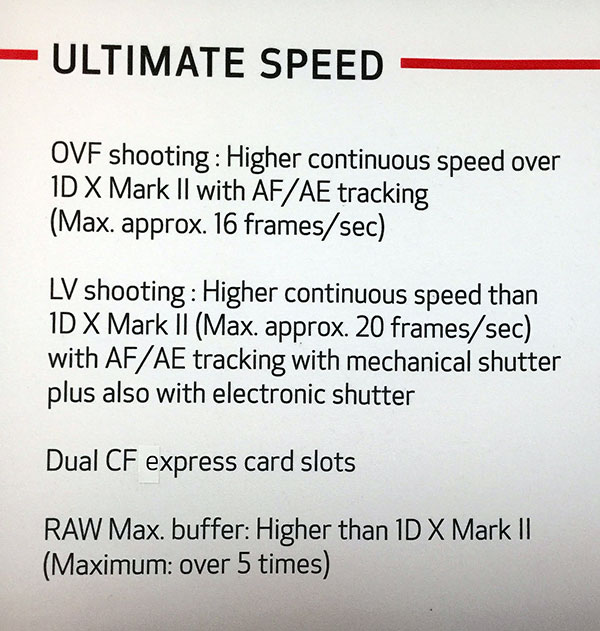 FEATURED VIDEO