Shutterbug's Exclusive photokina Coverage; Digital SLR Cameras: Cameras Get Smarter, With More Live View And Video, Too Page 2
A semiprofessional Four Thirds format D-SLR, the next E-series Olympus model resembles the compact E-520 but is equipped with some features developed for the professional E-3. The non-functioning prototype did not have a model designation, although some other articles referred to it as the EA-1. Few specifics were available but this mid-level D-SLR will be equipped with an 11-point AF system ("world's fastest") with twin-cross sensor, plus Live View with Face Detection AF and high-speed Contrast Detect AF. Other amenities will include Shadow Adjustment technology, in-body stabilizer, and an articulating LCD screen. The new Olympus body does not appear to be water-resistant or built like a tank but it should be far more affordable than the E-3 ($1700).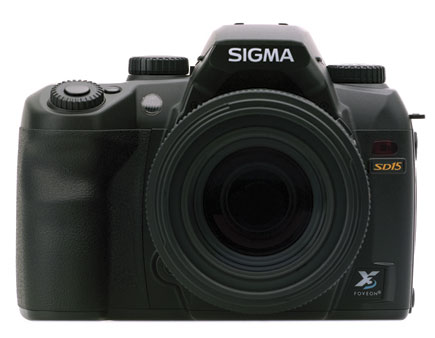 A slight upgrade over the SD14, the Sigma SD15 will also provide high resolution using the same Foveon X3 sensor, with 14 million photodiodes stacked in three layers. Although there are only 4.69 million pixel locations, the X3 sensor incorporates three huge photo receptors at each of those sites. (In principle, oversized photo receptors are capable of superior light sensitivity for wider dynamic range and lower levels of digital noise.) According to Foveon, that translates to an effective resolution of 2652x1768x3 layers or 14.1 megapixels. Sigma's literature states that the SD15 will output a 4.64-megapixel maximum image size, presumably 2652x1768 pixels. If the SD15 includes the Super High Quality Capture mode, it will also generate an image file with 4608x3072 pixels (through in camera interpolation).

Few details were available, but a Sigma rep indicated that the SD15 will offer virtually the same features as the SD14. The prototype was similar to the previous model, but with a larger 3" LCD screen, some redesigned controls, and compatibility with SD/SDHC vs. CompactFlash cards. Sigma's literature also indicates that the SD15 will be equipped with a new "TRUE II" ("Three-layer Responsive Ultimate Engine") processor for greater speed and superior quality: "high definition images rich in gradation and impressive three-dimensional detail." Pricing and availability information were not yet available at our press time.
Pentax makes several D-SLRs but the new 10.2-megapixel K2000 provides the maximum value: it's sold only in a kit, including an 18-55mm lens and an AF200FG flash for $700. It's quite similar to the K200D with a 2.7" LCD, many Automatic modes and valuable overrides, in camera stabilizer and sensor cleaner, wireless off-camera flash capability, and plenty of image-enhancement features in Playback mode. The K2000 is slightly smaller/lighter (22 oz) and offers a slightly faster 3.5 fps Continuous mode, more convenient controls, and higher ISO levels (to 3200). This new Pentax model employs a five-point (not 11-point) AF sensor and lacks the weather-resistant amenities of the K200D, reducing the cost of manufacturing. The savings are passed on to consumers, most likely families and other first-time D-SLR buyers on a tight budget.
Micro Four Thirds Cameras
Panasonic was the first to introduce an interchangeable-lens camera without a reflex mirror box or an optical viewfinder, but Olympus showed a prototype as well. Both employ the 18x13.5mm Four Thirds sensor also used in the Lumix and E-series D-SLRs. Eliminating the mirror reduces the distance from the lens mount to the sensor by roughly half, allowing for substantially slimmer, lighter cameras with a smaller mount for more compact lenses. The 12.1-megapixel Panasonic Lumix DMC-G1 in red, blue, and black—the first Micro Four Thirds model available—is 3.29x4.88x1.78" in size and weighs only 0.85 lbs. (By comparison, the Lumix DMC-L10 D-SLR weighs 16.93 oz and is 3.8x5.3x3.05" in size.)
Targeting families and those first moving up from a fixed-lens digicam, the Lumix G1 ($800 with 14-45mm lens) is easy to use but very versatile; surprisingly, there's no Movie mode but that will be provided with the next model. Full-time image preview is available on the rotating 3" LCD with 460,000 dot resolution or in the Electronic Viewfinder (EVF), without any noisy clicking or preview blackout. As well, the user can evaluate the changes that will be made by features such as white balance and exposure compensation control. Autofocus is provided only by a contrast detection system (with up to 23 focus points), but I found this feature to be amazingly fast and reliable.
Olympus Micro Four Thirds mockup
The EVF, with an effective viewfinder resolution of 1.4 million dots at 180 fps, employs technology developed for broadcast-quality video cameras. This is the best EVF that I have ever tried, providing a bright, crisp, and smooth image. Intended primarily for use with the small Lumix G-series lenses, the diminutive Lumix G1 can also be used with the conventional Four Thirds series, with an optional adapter. Additional features worth noting include Panasonic's new Venus Engine HD processor, with superior noise reduction, an ultrasonic sensor cleaner, MEGA O.I.S. stabilizer, many "intelligent" automatic features from the Lumix digicams. Note, too, that the Lumix G1 includes many of the same features as the Lumix DMC-L10, so it will compete with the entry-level D-SLRs of most brands.

Plans for the first Olympus Micro Four Thirds model had not yet been finalized, so the company showed only a tentative mockup without any type of viewfinder. The concept camera, resembling a 35mm rangefinder, was surprisingly small (4.7x2.5x1.2") but a company rep indicated that size, styling, etc. may change dramatically; it may be equipped with an EVF or a rangefinder type (non-TTL) optical finder. This camera will provide a "High-Speed Contrast AF system with face detection" but no additional specifics (including a model name) were available. We'll provide additional information at www.shutterbug.com as soon as Olympus firms up its plans.
D-SLR Cleaning Kits
Any camera with a removable lens will eventually need sensor cleaning so I'll also mention a couple of new products intended for this purpose. The Delkin SensorScope System ($115) has been improved with a more powerful SensorVac for greater suction on the "soft, safe brush tip." As well, Delkin now makes three customized cleaning wands, each designed for a specific sensor size: large (24mm), medium (20mm), and small (16mm). VisibleDust's new Arctic Butterfly 724 Brite sensor brush ($115), with "supercharged" antistatic fibers, gains an LED lamp that illuminates the sensor. The built-in motor has been improved for greater force to get rid of dust on the brush after the cleaning process.
Delkin SensorScope System
VisibleDust Arctic Butterfly 724 Brite brush
FEATURED VIDEO