Shimoda Launches Women's Collection Backpacks
Addressing a very real but virtually ignored need felt by female photographers, Shimoda Designs is offering five of their most popular and requested pack sizes outfitted with a new women-specific harness and an exclusive teal colorway. The Shimoda Women's Collection consists of female-friendly designs based on the Shimoda Explorer V2 and Shimoda Action X V2 models.
"After offering multiple women's strap options for the last four years, and continuing to work with our team of female advisors on refining the design and fit, we finally had everything necessary to create a full women's collection," said Peter Waisnor, vice president for Shimoda Designs and Tenba at the MAC Group.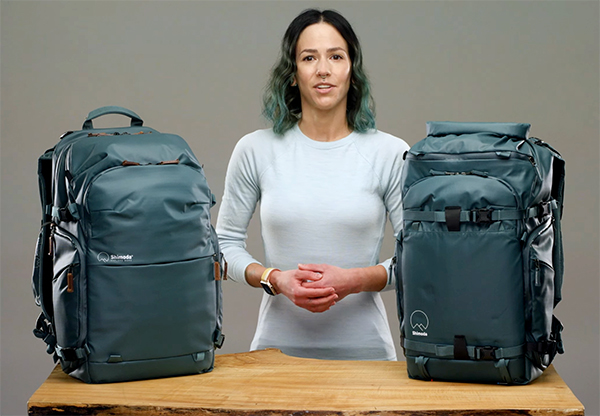 For a quick tour of the Shimoda Women's Collection, check out this YouTube video.
In other news announced simultaneously, Shimoda also updated their Action X series and released new Core Units and accessories.
Photo backpacks in the Shimoda Women's Collection feature a harness system designed especially for women. The adjustable waist belt can be shortened or lengthened by about 2.4 inches for better fit and load distribution. The new feature allows wearers to be more comfortable by transferring weight off their shoulders and directly onto their hips.
Additionally, the Women's Tech Straps are configured to curve around and away from the chest area while being slightly smaller than conventional stock shoulder straps. The dual sternum straps eliminate uncomfortable pressure points across the middle of the chest and provide two pockets just the right size to store small electronics, keys or other small items.
If you're wondering about the name, Shimoda is a city near the tip of the Izu Peninsula in Japan's Shizuoka Prefecture, about 2.5 hours south of Tokyo by train. The city holds a prominent spot in American history as the landing place in 1854 for some of Commodore Perry's Black Ships that opened Japan to US trade. Shizuoka Prefecture is sometimes called "Japan's Riviera."
—Jon Sienkiewicz