The Wolffepack Capture Is a Unique "Orbital" Photo Pack that Swings to the Front. Here's a Preview
Most bags are relatively easy to describe. Usually, one or two photos are all that's needed to capture the essence of a gadget bag, photo backpack or other carrying system. But the Wolffepack Capture is unique and, well—here, you decide for yourself.
The Wolffepack Capture is just like any other 35-liter photo backpack—until you want to access your camera packed within. At that point it becomes unlike any bag I've ever seen. The main capsule of the bag can be lowered like a puppet on a string and swung around to the user's front side.
Watch the Kickstarter video below; it gives you a good idea how the shoulder harness stays in place while the bag capsule lowers and swings around to the front.
Here's how Jo Williams from Wolffepack describes it:
"The Wolffepack Capture comes with a unique set of features ideal for photographers—the patented Wolffepack system allows you to swing your gear to your front whilst the bag stays strapped to your back. You can have your kit suspended in front of you where you can reach it, working hands free with effectively a 'workstation' perfectly placed to grab, shoot and replace. The internal padded camera pod has opens naturally and easily with one hand movement and its adjustable compartments and pockets make it ideal for organizing your accessories. Inside the bag is a customizable loading system to separate your camera gear from your everyday items and there's even a handy direct zipper for quick access to the bottom of the pack."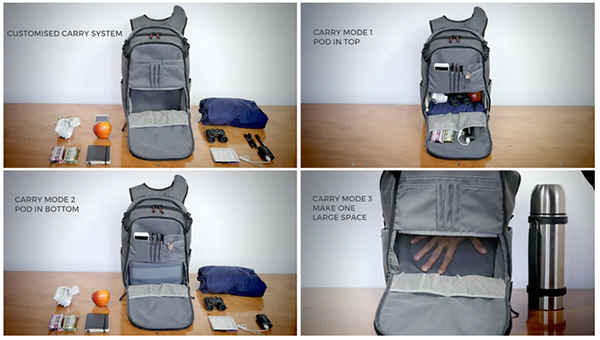 Wolffepack reached their Kickstarter goal in 72 hours, and with 30 days left (as this is written) they're a couple bucks short of doubling their goal.
This is a preview—we're hoping to be able to do a full review when the product ships in November. Since we haven't handled the bag yet, we can't report on construction, material or overall quality. That said, judging from the photos on their Kickstarter page, the Capture appears to be well made from top-notch components.
Intrigued? Then you gotta watch another, more in-depth video demonstration of the swinging backpack below. Me? I can't wait to try one.