Serious Compacts; "Second Cameras" Even Pros Can Love Page 2
Recently, camera makers have responded to consumers' requests and have throttled back the megapixels in favor of improved low-light, high ISO performance. Fewer megapixels on a large CCD or CMOS sensor means less image noise because the pitch, or distance between pixels, is greater. Some models, Panasonic's Lumix DMC-LX5 for instance, have fast f/2 lenses for enhanced nocturnal versatility. When evaluating the ISO range of a given camera, consider its ability to deliver crisp images at ISO 800 and above. Some compacts can, but many fail because of the smaller sensor (compared to your D-SLR). This is another area where Micro Four Thirds cameras like the Olympus E-P2 shine, due to their larger image sensors and modest megapixel density.
The last consideration, in the final analysis, is the single most important: your subjective evaluation of the camera's design, fit, and feel. Much in the way that a lad can be swayed by an attractive femme fatale, I have more than once been seduced by the cosmetic design of a camera—and like a true gentleman, I have never regretted the infatuation (although my closet bulges with evidence of my past indiscretions). Go with your heart. You'll take your best pictures with the camera you love the most.
Pick Of The Crop
Here is a short list of cameras you should consider worthy substitutes for your heavy D-SLR.

Canon offers two PowerShot models that deserve your consideration, the diminutive S95 and the heftier G12. Both have great bloodlines—the G series has been improved with every generation since the G1 was introduced in 2000. Both offer 1080x720 video and 10-megapixel image capture that's optimized for low-light, high ISO conditions. The G12 has a 28-140mm zoom and checks in at about 14 oz. You'll like the articulated LCD that opens the door to new shooting angles—and can be inverted to protect the screen when not in use. The S95 offers a 28-105mm zoom and weighs half as much—about 7 oz.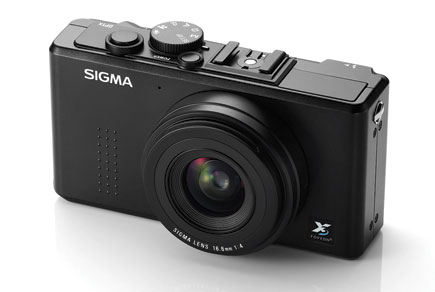 The Nikon COOLPIX P7000 offers a rugged retro look that belies its high-tech feature set. It offers a very useful 28-200mm (7x) zoom, 10-megapixel resolution, and 1280x720 video capture. The LCD has nearly one million pixels and the whole package weighs less than 11 oz. It's a great choice for Nikon users. It accepts Nikon Speedlights and delivers the sort of image quality you've come to expect from Nikon.

A favorite among those seeking interchangeable lenses, way cool retro PEN design, and stellar low-light performance, the Olympus E-P2 is a Micro Four Thirds mirrorless SLR with 12.3-megapixel resolution and tons of features. Because the Micro Four Thirds sensor is larger than what's found in traditional compact cameras, image noise is kept to a minimum. At a well-balanced 12.5 oz, it's not the lightest in the group, but it's light enough to travel unnoticed, even after a long day on your shoulder.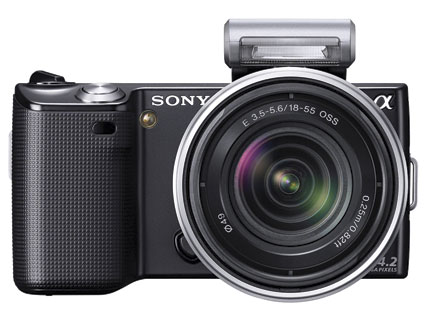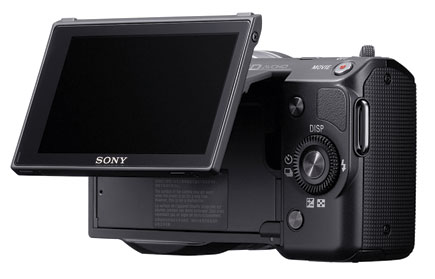 Panasonic has jumped to the top of many experts' short list with three models, the Lumix DMC-LX5, Lumix DMC-GF1, and Lumix DMC-GF2. The Lumix LX5 is the successor to the wildly popular LX3 and bests it by offering a longer zoom (24-90mm) and improved image signal processing. The Lumix GF1 is a Micro Four Thirds camera with interchangeable lenses, optional EVF (electronic viewfinder), and superb high ISO performance. The build quality is second to none, and many have compared its fit and feel to premium film cameras of yesteryear. There's a fair number of Panasonic (and Olympus) Micro Four Thirds lenses available today, and the list continues to grow. Plus, you can use standard Four Thirds lenses and even Leica M, Nikon, Canon, and Pentax lenses with the appropriate adapter (albeit with manual focus).

The updated Panasonic Lumix GF2 loses the main control dial in favor of a virtual version on the new touchscreen interface. That means it's slightly smaller overall and even easier to pack. It's also easier to navigate the menus, including the improved Quick Menu. The redesign enables faster access to major functions and provides more features, including AVCHD (1080i at 60 fps) and a stereo microphone for you video shooters. Plus, there's a new standard lens option, the 14mm f/2.5, which matches the film equivalent of a 28mm wide angle and is surely destined to become a professional's favorite.

The Sigma DP1x is an interesting camera that comes with a fixed 28mm wide-angle lens and utilizes the Foveon X3 imager. Resolution is 14 megapixels (4.7x3 layers). Pocket-sized and light in weight (8.8 oz), the DP1x delivers lush, rich skin tones and wonderful colors.

Sony boldly has gone where others have feared with the alpha NEX series of teeny, tiny mirrorless SLR cameras. The alpha NEX-5 is small (4.4x2.3x1.5") and very light (10 oz) yet it packs real SLR wallop. You'll love the articulated LCD monitor and the fact that you'll hardly notice that you're carrying it. It features a 14.2-megapixel Sony CMOS sensor and provides 1920x1080 AVCHD video capture. Available in silver or black with either a 16mm f/2.8 or 18-55mm f/3.5-5.6 lens, the alpha NEX family of cameras can use Sony alpha/Minolta Maxxum lenses via an adapter.
You can read Jon Sienkiewicz's Blog at: www.shutterbug.com.
FEATURED VIDEO