Ricoh Launches GR III Compact Camera with APS-C Sensor & Pro Features (Hands-On Photos & Test Shots)
Ricoh just officially launched the GR III, the latest model in the company's cult classic compact camera series. The Ricoh GR III is small enough to fit in the palm of your hand or a pants pocket but sports a large, 24.24MP APS-C size CMOS sensor comparable to what you'd find in some DSLRs and mirrorless cameras.
While basic specifications for the Ricoh GR III were announced at the photokina show in Germany last fall, we finally got some actual hands-on time with the new camera, which has a 28mm-equivalent, f/2.8 fixed lens, at a press meeting prior to today's official launch. Unsurprisingly, the new GR III looks and feels very similar to its predecessor, the 16.2MP GR II from 2015. However, it's actually a bit smaller than the previous model, resembling the petite Ricoh GR Digital IV from 2011, which had a much smaller 1/1.7-inch sensor.
We've included some of our hands-on images of the GR III and, at the bottom of this story, seven full resolution test shots we captured with the camera at the Ricoh Customer Experience Center in New York City during the press conference. (Don't worry, we will have more interesting test photos when we get a final version of the camera in for a full review.)
Along with the increased resolution, the new Ricoh GR III adds some other high-end features and a more expensive price tag when it goes on sale in March 2019: $899 vs $799 for the older model. That's rather steep but considering all the photo tech that's packed inside this camera, which should make your smartphone camera feel like an Instamatic, the GR III is worth considering as a portable alternative to your interchangeable lens camera.
Here's a rundown of the new features of the Ricoh GR III:
• 24.24MP APS-C CMOS sensor
• Shake Reduction (sensor-shift technology)
• 20% faster start up time (approximately 0.8 seconds)
• 28mm-equivalent f/2.8 lens with new optical design
• Hybrid Autofocus (Phase matching + contrast detection AF) with nine focusing modes
• Macro shooting capability with a minimum focusing distance of six centimeters
• 3-inch touchscreen LCD on back with tougher, tempered glass
• Built-in image sensor cleaning using ultrasonic vibrations to shake off dust
• USB Type-C, Bluetooth and wireless LAN connectivity options.
• Optional GW-4 wide-angle conversion lens expands the angle of view to 21mm
On the downside, the new GR III no longer has a built-in flash, which was available on the GR II. And because of the added Bluetooth, WiFi and touchscreen on the GR III, battery life has dropped to 200 estimated shots per charge, from an estimated 320 shots per charge on the previous model.
The Ricoh GR III will go on sale in March 2019 for $899.95. The GW-4 wide-angle (21mm) conversion lens for the GR III will sell for $249.95.
Check out seven of our test shots below from our brief time with the camera at the Ricoh Customer Experience Center in New York City. (As mentioned, stay tuned for our full review with what are sure to be more challenging and interesting test images):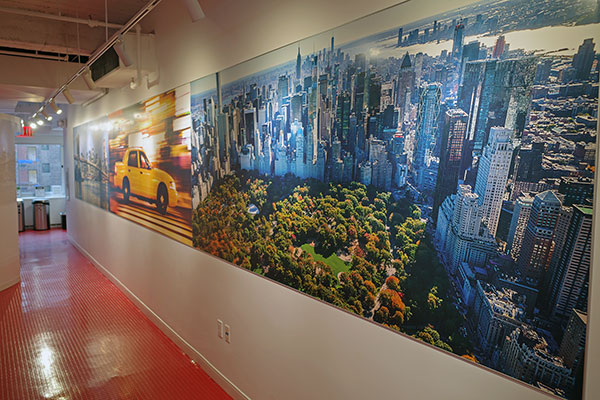 FEATURED VIDEO