Gear Roundup: Studio & Location Lighting Gear 2014, Trends & New Products
This report and product roundup is based on my visit to this year's WPPI Expo, a show popular with portrait, event, and wedding photographers. As I visited the many lighting companies at the show, it became clear that studio and location lighting is going through its biggest changes since the invention of the flash bulb.
There were both trends and fads on display. LED lighting is a trend, although its terminology might need translation for some. (If you need help understanding some of the specifications of LEDs, take a look at the "Lux, Foot-Candles, and Other Buzzwords" sidebar.) Fluorescent sources might be a fad: at last year's WPPI Expo there were three new fluorescent-based lighting systems. This year there were none, despite the fact that fluorescent RGB output spikes more closely match the receptive RGB spikes of imaging chips than LED, making existing products like Westcott's TD6 a useful tool for cool light portraiture.
LED may be trendy but there were also a few new traditional electronic flash units at the show. Speedlights continue to be a popular alternative with several new models from "third parties" on hand to challenge camera brand shoe-mount flashes. To improve the quality of the light generated by these various technologies, there were some clever light modifiers on display as well. If what I saw at the WPPI Expo is any indication, you'll find plenty of options to update and improve your own lighting gear, as always depending on both your budget and application.
LED Systems
When I asked Panasonic's Mark Toal about continuous light sources he told me, "Last year, photographers were told to get into video and hybrid imaging but avoided it. This year, they're listening." I previously tested Rotolight's Anova flicker-free LED lights that produce 1000-watt equivalent output while using 93 percent less energy than a standard tungsten bulb. Their new V2 model produces noticeably brighter output; Rotolight claims it's 350 percent brighter along with improved color rendering, producing a CRI > 95 and skin tone > 98. The new light gives you a choice between a wide 110-degree beam angle for soft lighting or Anova's standard 50-degree beam angle for greater (straight line) output. Like its predecessor, the Rotolight Anova V2 lacks a fan, making it an ideal companion for video shooters or photographers who, like me, prefer a quiet shooting environment.
This year I also tested Fotodiox's (foto-dee-ox) LED lights that have a monolight form factor and was impressed by their value and output. Now Fotodiox has announced its next generation of LED light panels, including the LED-312D, LED-312DS, and LED-1024AL that have reduced bulk to maximize portability and mounting possibilities. The three LED panels feature metal barn doors to shape and control the light with a locking system that keeps the barn doors in place, no matter how the light is mounted. The lights have an LCD panel that displays light intensity and remaining battery life to avoid a surprise shutdown during a shoot.
The LED-312D has 312 daylight-balanced LEDs with output control from 10 to 100 percent. When used with the included lithium-ion battery packs and charger, the light offers cordless operation. Two diffusion panels are included to soften the light: one panel softens the light while the second panel balances the 312D to match a tungsten light source. The LED-312DS shares the form factor of the 312D but can vary its color temperature from 5600K to 3200K with both a battery level monitor and color temperature controls on its back. The LED-1024AL has more than 1000 LEDs in a compact (12x12-inch) form factor with a metal mounting yoke, a locking diffusion panel, an AC adapter, and a soft case. All three new Fotodiox LED light panels come with a 24-month warranty.
A little "Inside Baseball" news: Promark International, which is the shepherd for Cool-Lux, DLC, Norman, Photogenic, Speedotron, and Smith-Victor brands, now includes Quantum Instruments in their stable. They showed me four new Cool-Lux LED lights, including the CL160, CL500, CL1000, and CL2000. All lights have a CRI > 95 and lightweight aluminum chassis and frame, and all but the AC-only CL2000 offer V-Mount and Anton Bauer Gold Mount battery options. Output power can be manually controlled but DMX versions are available with the CL500 and CL1000 lights and come standard on the CL2000. Power output for the four Cool-Lux models is 2400 lux/224 fc (foot-candles), 7500 lux/700 fc, 12,500 lux/1200 fc, 25,000 lux/2400 fc respectively.
Photoflex introduced their NorthStar Lite, a 100-watt LED light that's daylight color balanced and housed in a stylish extruded aluminum shell. It has auto-voltage sensing for worldwide use and an S-type mount for use with reflectors, beauty dishes, and softboxes, including Photoflex's own LiteDomes, HalfDomes, and OctoDomes. Its 120-degree angle of light dispersion makes it a good match for these light modifiers. The NorthStar Lite uses the Photoflex Swivel Mount, which can be adjusted to balance the weight load when used with a softbox.
Fiilex showed me their water-resistant P180E that can withstand rain, splashes, and mist. An Optional Rain Shield gives the P180E an IP (Ingress Protection) rating of 25 for further weather protection under severe conditions. The P180E only draws 40 watts, with an equivalent power output of nearly 250 watts. The light is dimmable from 10 to 100 percent and has a CRI > 92. It's a color tuneable source that's built for ENG (Electronic News Gathering) but at 1.2 pounds and a size smaller than a soda can it seems perfect for the photographer on the go.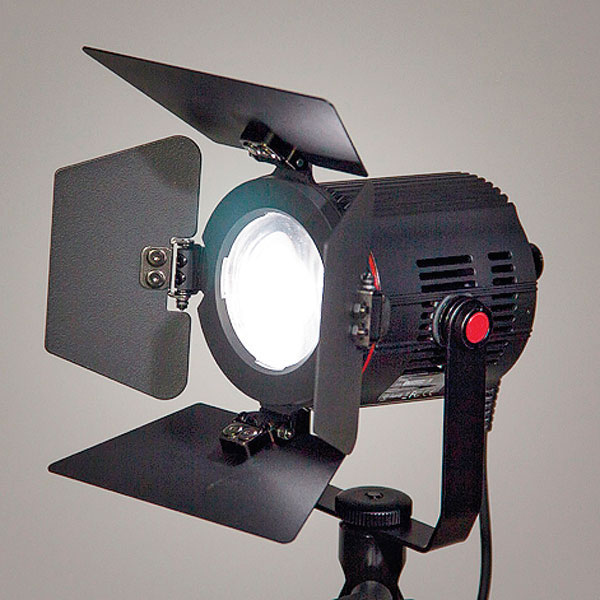 Manfrotto's Spectra 1x1 LED light panels are a family of off-camera fixtures for video or still photography. Three variations provide output from 1400 to 1700 lux and can be powered by AC or batteries in V-Mount or Anton Bauer Gold Mount fittings. Both narrow (30 degree) and wide (50 degree) beam angle versions are available. Output is variable from zero to 100 percent and Manfrotto claims there are "no noticeable color shifts at any dimming level." Light output is centered at 5600K but color correction gels are optional, with the 1x1 FT model capable of varying color temperatures from warm white (3200K) to cold white (5600K). All Spectra models come with removable yoke hardware, AC power supply, cord, and power supply mounting bracket.
Traditional Studio Flash
I tested the Elinchrom D-Lite RX ONE To Go Kit (see the March 2014 issue of Shutterbug) and liked this affordable but sophisticated lighting system. Elinchrom has now announced new Twin To Go Sets. With 960 full-power (400 ws) output, this is a small and light system—a kit weighs 22 pounds—yet has the power of a professional flash system that's also compatible with Elinchrom studio accessories. The kit includes two Quadra Hybrid packs with lithium-ion battery, two RQ Hybrid flash heads with 5-inch reflectors, cables, and a nice bag to keep it in. Also included is the Skyport Speed Transmitter that I liked so much when testing the D-Lite RX ONE, a sync cable, if only for backup, but no light stands. Two Twin Sets are available: the Quadra Hybrid Twin Set A for fast flash duration and the Quadra Hybrid Twin Set S for general photography. Since the price difference between them isn't even $100 ($4299.99 vs. $4219.99) why not spring for the A set and take advantage of your camera's high-speed sync function?
The good news is that Hensel has found a new American distributor who's quite experienced with lighting—Chimera. The newest studio tool from Hensel isn't a light but an inverter that can be used to power lights in the studio or on location. The Power Max L was developed for the latest Hensel compact flash units: two units from the Integra Mini, Integra Plus, or Expert D series can be connected simultaneously. It has a capacity of up to 440 flashes at 500 joules per battery charge. You can also operate a Hensel Speed Max or up to two of their new C-Light D continuous light sources. A protective circuit prevents damage to the connected units. Weighing just 10 pounds, the Power Max L is one of the smallest (3x3.5x3.34 inches) and lightweight units in its class, making it useful for location shooting.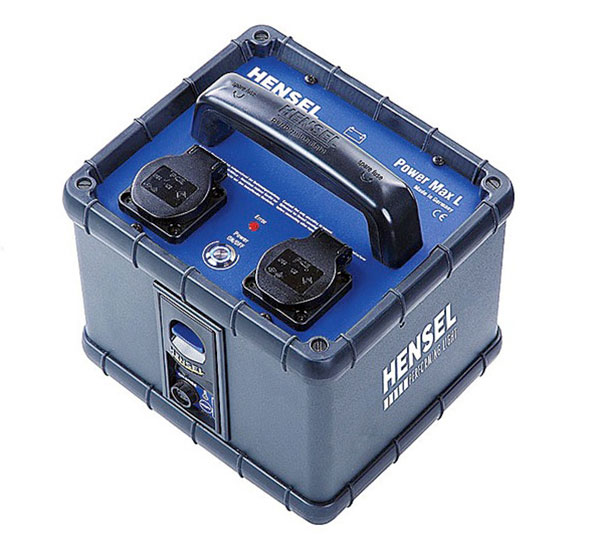 Released after the show, Paul C. Buff's entry in the inverter category is the stylish Vagabond Lithium Extreme (a.k.a. VLX) that combines a power inverter and lithium iron phosphate (LiFePO4) battery to produce a current-controlled 120VAC true sine wave power source. The lightweight (6 pound) VLX inverter has two grounded AC power outlets and can power standard Paul C. Buff flash units and many units from other manufacturers in various combinations up to 2560 ws. With a 320 ws flash connected, the system provides up to 1000 full-power flashes per battery charge, recycling in one second, with the number of flashes and recycle times varying based on battery charge and power load.
Other than brief previews, it's not intended to power modeling lamps. The system includes a multilevel battery charge indicator and a port to connect the supplied universal battery charger. This rapid charger can be used on power lines from 100 to 240VAC, allowing the battery to be recharged in three hours. VLX also features a USB port for charging portable electronic devices such as smartphones and tablets. A custom-made carrying bag is optional and both the system and bag have a 60-day absolute satisfaction guarantee and a one-year factory warranty.
Photoflex's new FlexFlash monolights are available in two models and several kits. The FlexFlash 400W Strobe has a flash duration of 1/800 sec with a digital screen that can switch between decimal and fractional display. The FlexFlash 200W Strobe has the digital screen and a flash duration of 1/1200 sec. Both have proportional modeling lamps and a pre-flash detection system, allowing infrared synchronization with speedlights. The front of the FlexFlash has an S-type bayonet mount suitable for softboxes, including Photoflex's own OctoDome. Like the FlexFlash 400W Strobe, the FlexFlash 200W Strobe can be used worldwide because of auto voltage detection. Five kit configurations include two monolights, two light stands, and different light modifiers, including two that feature FlexFlash 200W lights and three with FlexFlash 400W lights.
Interfit's new 200 ws EX200Ti monolight complements its existing EX400Ti model. Like its sibling, the EX200Ti has a GN of 163, two-second recycle at full power with a built-in radio receiver that's compatible with Interfit's Dynamic Ti Trigger. It's available as a single head to complement the EX400Ti or as a ready-to-shoot kit that includes two EX200Ti heads, two 24-inch softboxes, two light stands, a Dynamic Ti Trigger along with all the power and sync cables you'll need plus a carrying case.
Falling somewhere between the world of speedlights and studio flashes, the 500 ws Profoto B1 integrates flash and camera with its Air Remote TTL unit on a camera's hot shoe that automatically adjusts output to produce "perfect exposure." Full manual control is a button press for those shooters who prefer maximum control and output can be changed in 1/10 steps over a nine-stop range. The remote is sold separately, so a photographer can choose one for their specific camera. Check their website for camera compatibility, which now includes Canon and Nikon. The B1 is powered by a battery and wirelessly synced and controlled by the Air system up to 1000 feet. The battery will provide up to 220 full-power flashes. As with other Profoto flashes, the B1 is compatible with the company's light-shaping tools.
Speedlights & Accessories
Another strong trend this year is continuing interest in using speedlights, including shoe-mount flash from "third parties." Interfit's Strobies Pro-Flash One Eighty Flash has a user-replaceable 180 ws flash tube and a GN of 196 at ISO 100. The flash includes a 4.5-inch reflector and diffuser and there's a focus assist beam for focusing in low light. The Pro-Flash rotates from zero to 270 degrees and tilts from -15 to 90 degrees. High-speed sync mode allows you to use your flash at shutter speeds greater than 1/250 sec. At full power, the Pro-Flash will recycle in 2.5 seconds and produce 700 flashes from a single charge of the included 4500 mAh lithium-ion battery pack that can be recharged in three hours. The Pro-Flash can function as an optical slave and will ignore the initial pre-flash used in the redeye reduction modes of other flashes.
Nissin's new pocket-sized (3.5-inch) i40 speedlight weighs less than 8 ounces and features a video light function with nine adjustment steps. Two selector and power dials operate the unit: the function dial shows the selected mode and the power indicator adjusts output based on mode. Even though it's physically small, the i40 speedlight offers Wireless TTL mode, high-speed sync up to 1/8000 sec, and a GN of 130 at 105mm. In addition, it has two optical slave modes, an auto-adjust zoom from 24mm to 105mm, and a built-in diffuser for 16mm lens coverage. The flash head rotates horizontally 180 degrees and tilts 90 degrees. A slip-on softbox is also included. It's powered by four AA batteries and supports Canon E-TTL/E-TTL II, Nikon i-TTL, Sony ADI/P-TTL, and Four Thirds but alas not the Micro Four Thirds format, for which its diminutive size would seem a perfect complement.
I've used Phottix's affordable wireless transceivers in my home studio, but they also make speedlights. The new Mitros+ TTL Transceiver Flash is a powerful (GN 190) speedlight that can be used on-camera as a key or fill light as well as control other Mitros+ or compatible flashes using Phottix's Odin Receivers. The Mitros+ has built-in Odin and Strato II Receivers. Existing Phottix transmitters, like the Odin or Strato II, can be used to trigger the Mitros+ without extra receivers. You can set remote power control of groups in TTL with plus or minus EV adjustments from full power to 1/128 sec in 1/3-stop increments. The Mitros+ supports high-speed sync with shutter speeds up to 1/8000 sec and has remote flash head zoom adjustments—auto or manual—as well as a second curtain sync function. The speedlight has an AF assist light and a 3.5mm sync external battery port.
Flashpoint's StreakLight 360 speedlight is designed for both on- or off-camera use. The compact StreakLight provides powerful (GN 262) lighting from any angle thanks to an articulated head. It's also available in a 180 ws version (GN 196). The StreakLight features high-speed sync, a built-in optical slave, four shooting modes, and auto-focus assist. Control is accessed via an LED panel with adjustable output from 1/128 sec to full in 1/3-stop increments with soft, even light coming from the standard parabolic reflector and diffusion panels. The StreakLight has two sync jacks, overheating protection circuitry, and features a wireless remote control USB port, plus it can be powered by the optional Flashpoint Blast Pack rechargeable battery. There's an optional wireless remote and receiver and a full line of light modifiers, from snoots to beauty dishes, that are compatible with accessories from other brands, including Quantum and Lumedyne. You can even choose a package such as the Flashpoint StreakLight Creative Collection, which includes a dome diffuser, four color filters and grid, a flash grip, and cables, or choose to purchase accessories à la carte.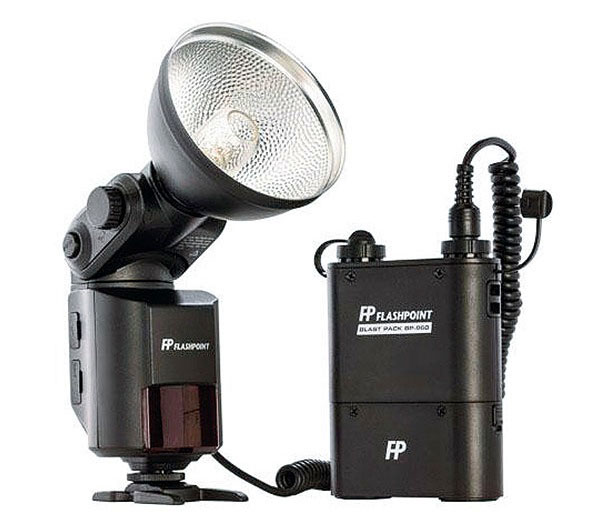 Speedlight And Other Modifiers
Gary Fong's LightBlade Diffuser is designed to fit most speedlights and softens harsh light, minimizes shadows, and reduces glare while creating accurate skin tones. Attached using the Gary Fong proprietary strap and band mounting system, the LightBlade Diffuser mounts directly onto the flash head and is secured with the included Velcro Cinch Strap. This allows photographers using the LightBlade Diffuser to shift shooting between a horizontal and vertical orientation without changing the light's angle or having to remove the diffuser.
LumiQuest's Starter Kit includes everything needed to start modifying output from a speedlight, including a Pocket Bouncer, FXtra Gel Holder, eight Rosco gels, and an UltraStrap that uses hook-and-loop fasteners to secure the accessories. To spread the light, the Pocket Bouncer softens the light from your flash by reflecting it at a 90-degree angle. The FXtra Gel Holder can be used in combination with other modifiers and has eight gel filters to balance the light or create a special effect.
MagMod is one of the cleverest speedlight modifiers I saw at WPPI and uses a combination of its rubber structure and magnets to fasten light modifiers onto the flash. The system is built around the MagGrip that eliminates the need for Velcro, adhesives, or straps. It's molded from a single piece of silicone rubber, which means there's nothing to lose. It attaches to almost any speedlight because of the elasticity of the silicone rubber, which means it also protects against breaking and tearing. (You can see a compatibility chart on their website.) Two small yet powerful rare-earth magnets make a strong, instantaneous, and secure connection between MagMod lighting modifiers. You can attach a honeycomb grid in less than a second and combine multiple grids to create a focused light source. Another option is the MagGel Kit consisting of a gel slot and eight polycarbonate Rosco color filters. Each gel slot can fit up to three filters, allowing you to seamlessly stack multiple filters to change the flash color, density, or hue.
Paul C. Buff's new Omni 18-inch reflector is really a beauty dish, albeit a small one, in every sense of the word. At $79.95, it includes a triple-layer diffusion sock, making it a multipurpose modifier for all kinds of shooting styles. The 18-inch diameter reflector with a 30-degree spread can be used directly for even coverage and smooth feathering that's characteristic of all beauty lights. The bright silver interior maximizes output, making the Omni useful for working outdoors shooting sports or any other applications requiring long light-to-subject distances. In the studio, the reflector is useful for high-key shooting from a modestly large light source. Adding the triple-layer diffusion sock widens the coverage to 120 degrees and softens output for manageable exposure levels.
The Omni's design allows light to strike the surface of the diffuser evenly, from center to edges, creating even light across its face that results in a smooth, round light source with good catchlights and a pleasant rendering of reflective objects. Real soon now, Paul C. Buff plans to offer a honeycomb grid that will snap into the reflector's recessed outer lip that can be used with or without the diffusion sock. Adding the grid reduces output and eliminates spill light but provides soft, selective lighting.
The advantage of using a parabolic umbrella is threefold. First, a big light source, especially when placed near a subject, is going to produce soft lighting. Second, because of its parabolic shape, light falloff toward the edges is minimized when compared to traditional umbrellas. Third, a parabolic design results in high efficiency giving you a choice of producing either high contrast or soft light. You can also expect between two to three f/stops more output than a typical softbox. Many shooters overlook parabolic umbrellas, especially the deep versions, because some European parabolic umbrellas cost $6000 or more.
Here are some examples: Westcott showed their affordable Zeppelin Para Softbox models that are available in 35-, 47-, and 59-inch versions from $399 to $699. Each Zeppelin has 16 lightweight, heat-resistant rods, a 1/2-stop inner diffusion panel with another 1/2-stop center panel to eliminate hot spots, an outer diffusion panel, and a travel case. Zeppelins are equipped with a zippered entry point that can serve as a second light head mounting option. When using the second mounting-point option, a Zeppelin deflector plate eliminates light spill. Because these are large devices a traditional speed ring won't support them at all, so Westcott provides a heavy-duty, yoke-style mounting bracket with built-in speed ring to reduce stress and provide support. It's available in four different adapter formats.
Westcott's Ice Light is a dimmable, 5200K to 5400K LED source that looks a bit like a Star Wars light saber. It was the standout hit at last year's show and this year Westcott followed up with an "Ice Pack" of accessories. Barn doors control and direct light from the Ice Light, while a hard plastic tungsten gel can be used to correct the Ice Light's daylight-balanced color temperature. A two-way connector and tilter bracket lets you mount multiple Ice Lights together (à la Darth Maul) or tilt a single Ice Light on a light stand. The tabletop Flexible Tripod helps when you're in a small space where a typical light stand won't fit. There's even a car charger to charge and power the Ice Light and all of these components fit into a tidy carrying case.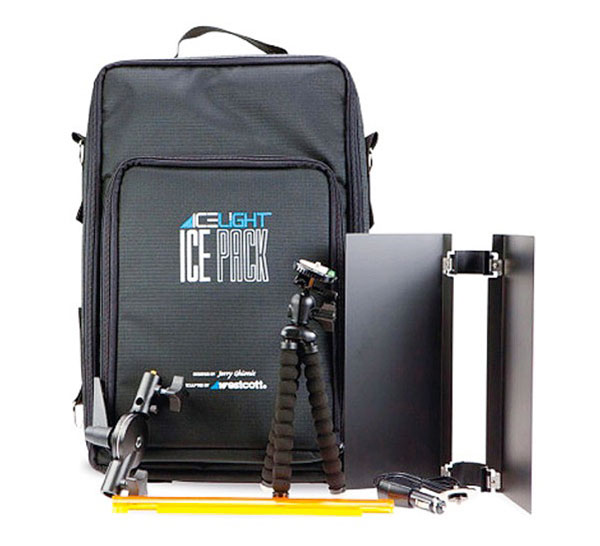 When lighting for portraits, traditional flat panel reflectors do a good job of providing bounce fill light when placed under the subject's face, but catchlights in their eyes can sometimes appear less than natural. Westcott's Eyelighter Reflective Panel addresses that problem by providing an arc-shaped white surface that matches the natural curvature of the human eye. The Eyelighter panel measures 58x33x23.5 inches and sits atop a standard light stand. It's built on a durable aluminum frame, covered with high-quality reflective fabric, and comes with its own carrying case. Look for my hands-on review of the Eyelighter in an upcoming issue.
Lastolite announced three products in their Joe McNally Signature Collection. The Joe McNally Ezybox Speed-Lite is an 8.5x8.5-inch mini softbox that attaches directly to a speedlight, on- or off-camera. The softbox features one outer and three alternative inner diffusers, including the One-Stop Diffuser, Soft Silver Deflector, and Soft Gold Deflector. The Joe McNally 4 in 1 Umbrella has a removable mask to produce softbox-style lighting while allowing the photographer to switch from a circular to a square catchlight. The Joe McNally Skylite Rapid with Masks is a reflector with masks that's built on a rigid aluminum frame that's quick to assemble while being compatible with all Lastolite Skylite Rapid accessories and fabrics.
A beauty dish is a parabolic reflector that distributes light toward a focal point and creates a lighting effect somewhere between direct flash and a softbox, giving the image a wraparound and contrasty look that adds a dramatic effect. The problem is that they can be big, heavy hunks of metal. Now, Chimera offers a 30-inch Octa Collapsible Beauty Dish that folds like a softbox. You can use it in the standard mode with the included center bounce disc or without it for a harder, bare-bulb look. When you add the included front diffuser you've got a 30-inch OctaPlus light bank with that signature wraparound light quality and circular catchlights in a subject's eyes. The Octa 30-inch beauty dish uses Chimera OctaPlus speed rings for strobes or their Versi Octa speed ring for speedlights.
Photek's new Light Modifier series consists of two new light banks. The Octabank Light Modifier is available in three sizes (35, 47, and 55 inches) and has a black outer shell with silver lining, eight fiberglass support rods with metal tips, a removable interior diffuser, a recessed removable front diffuser, a metal speed ring, and a carrying case. The light banks have a stylish red edge that also makes it easy to spot in your viewfinder if it creeps into the frame. The other family member is the 38x38-inch Quadrabox Light Modifier that broadens and softens your flash head's output and has a high output silver interior with removable front and interior diffusers. It's bundled with a metal speed ring and carrying case.
Photek's Brella Box series offers three shapes (octagon, rectangle, and square) that are simple all-in-one light banks that use a standard Edison-style screw base as a light source. Brella Boxes are available as individual light banks or in kits with four lamps, a four-section light stand, and a carrying case that allows you to start shooting almost immediately after unpacking. The BBO Kit includes a 28.5-inch Octagon, the BBR Kit features a 22x32-inch Rectangle, and the BBS Kit includes a 32-inch (diagonal) Square.
This n' That
Some products don't quite fit in any of the above categories but can be indispensable in setting up a studio, especially a small in-home setup. Gary Fong's Lightbulb Adapter Kit, for example, was created with what I saw as one of the underlying themes of this year's WPPI Expo—continuous lighting. Affordable at $49.95, the Adapter Kit contains a Lightsphere Adapter, which secures to a Light Socket Adapter with an AC power plug and fits on any standard light stand. The system uses inexpensive LED and incandescent light bulbs and, when paired with Gary's Lightsphere Collapsible Speed Mount diffuser, delivers diffused lighting and, according to Gary, "more true-to-life skin tones." The kit is available with an AC power plug or Europlug. Look for my coming review in these pages.
Photographic backgrounds and stands are indispensable in setting up an in-home studio. Savage, who knows a thing or two about backdrops, offers a new series of Economy Background Kits that includes a 5x9-foot polyester background, lightweight background stand, two light stands, and a carrying case to keep it all in for $79.95. That's less than most background stands alone. These Savage backgrounds are wrinkle resistant and have sewn-in pockets for hanging. The background stand features spring clamps for raising and lowering the backdrop. Savage offers six different kits with either one, two ($139.95), or three ($169.95) backgrounds with your choice of white, black, charcoal gray, or green screen backdrops.
Photek offers its own 10x12-foot GS12 Chroma Key velour background complete with matching Kermit the Frog travel bag. Photek's GS12 background comes with a sealed pocket at its top for hanging on the crossbar of Photek's S-4010-4 background support system or another stand you might already own. To keep the background taut—always a consideration for green screen photography—the GS12 has eyelets across both sides to make a snug fit.
For some time this is something I've been looking for: Lastolite's Magnetic Background Support which enables photographers to quickly and easily attach any collapsible background that has a steel rim to a traditional lighting stand. Magnetic connectors grip the background in two positions, eliminating yaw and increasing stability, thus allowing you to quickly switch between backgrounds at a comfortable working height. The Magnetic Background Support is compatible with any light stand with a 5/8-inch spigot connector. The Magnetic Background Support is available individually or as part of a kit, including a light stand and case.
Last year, Lastolite showed me (and I fell in love with) their reversible and collapsible Urban Backgrounds and they've been used in my recent lighting reviews to produce an outdoor look in an indoor location. This year they showed three new models: Distressed Wall/Fence, Shutter/Wooden Door, and Tarnished Metal/Container. These 5x7-foot backgrounds are an indispensable addition to a studio, especially if you photograph high school seniors and the weather isn't cooperating. While not inexpensive ($225 from Shutterbug advertisers) they are beautifully crafted and come with a nice case.
JOBY's Flash Clamp & Locking Arm is a clamp that lets you quickly secure a Canon Speedlite 430EX II flash, Nikon SB-700 AF Speedlight i-TTL flash, PocketWizard Plus III, or any wireless flash to any surface less than 2 inches wide. The locking arm has two fully articulated ball joints that position the flash at any angle while providing a long-lasting hold. The Flash Clamp & Locking Arm comes with a removable Universal Flash Shoe that can be used on any tripod with a 1/4-20 screw. The JOBY Flash Clamp & Locking Arm can be combined with GorillaPod Hybrid or SLR-Zoom mini tripods to solve tricky speedlight lighting problems.
Lux, Foot-Candles, And Other Buzzwords
Working with LED lighting systems brings you face to face with terms like lux, lumens, and foot-candles. Lux is a unit of illumination equal to one lumen per square meter or 0.0929 foot-candles. Foot-candle measures the luminance on a surface from a one-candela source that is one foot away. A candela is just what it sounds like: a typical candle emits light with an intensity of one candela. An excellent converter chart can be found on Sekonic's website at: http://sekonic.com/Support/EVLuxFootCandleConversionChart.aspx.
While electronic flash is often measured in watt seconds, sometimes joules are used interchangeably. In the International System of Units, a joule is equal to the energy expended in passing an electric current of one ampere through a resistance of one ohm for one second and is named after the English physicist James Prescott Joule (1818–1889). All of these units of measurement can be boiled down to bigger is brighter, which is why, at the suggestion of our editorial director, I try to include a 10-foot light meter measurement in my lighting reviews, giving you aperture and shutter speed for a given ISO setting.
The Color Rendering Index (CRI) uses a scale from zero to 100 and measures a light source's ability to accurately reproduce color. A CRI number is determined by comparing a test to a perfect source using a formula averaged over the number of samples to obtain the final rating. A CRI of 80 means a light reproduces 80 percent of the visible color spectrum while 100 accurately reproduces the colors found on a sunny day at noon.
Contacts
Check out the websites OF THESe Companies for more information about their product offerings.
Adorama (Flashpoint): www.adorama.com
Chimera (Hensel): http://chimeraimaging.com
Cool-Lux: www.cool-lux.com
Fiilex: www.fiilex.com
Fotodiox: www.fotodioxpro.com
Gary Fong: www.garyfongestore.com
JOBY: http://joby.com
Interfit: www.interfitphotographic.com
LumiQuest: www.lumiquest.com
MagMod: http://magnetmod.com
Manfrotto Distribution (Elinchrom, Lastolite, Manfrotto): www.manfrottodistribution.us
Nissin: www.nissindigital.com
OmegaBrandess (Gary Fong, Phottix): www.omegabrandess.com
Paul C. Buff: www.paulcbuff.com
Photek: http://photekusa.com
Photoflex: www.photoflex.com
Phottix: www.phottix.com
Profoto: http://profoto.com
Promark International (Cool-Lux): www.promarkbrands.com
Rotolight: www.rotolight.com
R.T.S. Inc. (Rotolight): www.rtsphoto.com
Savage Universal: http://savageuniversal.com
Westcott: www.fjwestcott.com
FEATURED VIDEO