On The Road; The Fixer; A Brief Guide To Guides
Travel photographers call them fixers, and that's what they do: they fix things to make sure the way is smooth so the photographer can do what he needs to do—get pictures that the average tourist can't. And if you want those kinds of opportunities—in other words, if you're really serious about your travel photography—there's no substitute for a savvy guide who can point out sites that aren't in the travel books, who'll know about events that are so local they're not publicized, and who can open doors that aren't available, and often not even visible, to others.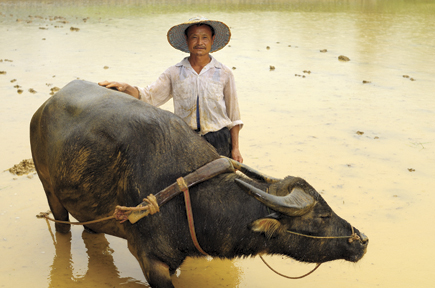 The farmers in this village in China were busy planting in the rice fields. The fixer went around and spoke to them and convinced them to give me a few moments.
All Photos © 2010, Maynard Switzer, All Rights Reserved
For instance, the fixer I had on a trip to Bhutan knew the monks of a monastery in the capital, Thimphu, and so I was invited into the monks' quarters, which are usually off-limits to tourists.

My guide in Rajasthan, India, spoke four different dialects and was able to communicate with many different people at the Pushkar camel fair. As a result, I was able to get a variety of photographs. And because he was a good friend of the mayor of a small, nearby village, we were able to walk around with the mayor, who explained all about his village and introduced me to people an ordinary tourist would never get to meet.
I took this photo on the morning after a gathering in Gujarat, India, at which thousands of people came to mourn relatives who'd died during the previous year. I wondered how I'd be received, but my guide explained what I was doing. It was a respectful approach, and no pictures were taken without my guide speaking to the people first.
Then there's the issue of dealing with law enforcement when it comes to permissions, clearances, and other paperwork. I've had several instances of fixers who were able to easily take care of routine stops at various checkpoints simply because they spoke the language. There have been times when I've had to register with local authorities in order to enter certain areas. Bhuj, India, for example. For a long time it's been closed to tourists because of a massive earthquake that took place in 2001, and when I was there last year I had to register with the local authorities to get into the city. Without my fixer's help, I'm sure it would have been impossible for me to make my way through the maze of paperwork.

How do I find fixers when I'm based in New York City and plan to travel halfway, or more, around the world? Many times it's word of mouth among photographers, and that's an ideal way because I know I'm getting honest evaluations. Also, I prefer fixers who have worked with photographers or are familiar with photography; and I don't mind if they take photographs themselves. If they're familiar with photographers' demands, they know, for instance, that they'll be getting up at 4 in the morning.
Dye pits in Fez, Morocco. My guide knew a house we could enter and get to the roof so I could take pictures.
I'd recommend the Lightstalkers website as a source of information. Lightstalkers calls itself "a professional and social resource for journalists, filmmakers, photographers, and professional travelers." The site is at: www.lightstalkers.org. Sign up as a member and then simply ask for a recommendation for a good fixer in the area you plan to visit.

Many times if I'm unfamiliar with a place or an area, I've found that the hotel where I'm staying can provide good guides. In a case like that, though, I'll always be sure to meet with the guide before engaging him.