A Netherlands Sampler; The Lowlands In Spring
As I kneel on the ground looking through my viewfinder at a particularly pleasing collection of tulips, it occurs to me that nothing grabs my attention more quickly than a display of nature's bright colors, especially after a long, gray winter. And if color, flowers, and other photogenic subjects are what you crave, The Netherlands' Lowlands—a swath approximately 35 miles long between Amsterdam and Rotterdam—cannot be beat.
Gardens, Keukenhof Gardens, near Lisse, Netherlands. Compositional possibilities are infinite in these colorful gardens. For images with depth, look for patterns and designs that lead the eye through the picture.
All Photos © 2009, Efraín M. Padró, All Rights Reserved
Photographing Icons
While visiting Holland, you will likely spend quite a bit of time photographing icons such as tulips, windmills, and wooden shoes. Because these subjects have been photographed so often, the challenge will be finding new ways to interpret them. I find that one of the best ways to accomplish this is to wait for unusual weather conditions to add drama and uniqueness to your images. Unfortunately such conditions cannot be purchased together with your plane ticket. When conditions are not what I hoped for, my philosophy is to shoot first and ask questions later. To paraphrase a popular saying, better to have photographed and lost than not photographed at all.

Another way to add uniqueness to your images is to photograph at twilight, which takes place 20-40 minutes before sunrise or after sundown. Some photographers call this the "blue hour" because the skies will turn a rich, deep blue, creating a nice separation between your subject and the sky. Photographing during twilight works best when your main subject is illuminated (as some windmills are), or when the subject's silhouette is easily recognizable (windmills or church spires, for example).
Windmill and Spaarne River at twilight, Haarlem, Netherlands. Although windmills are common in The Netherlands, not many are illuminated at night. I like photographing at twilight, when the edges of lit structures are delineated against the rich blue sky
Keukenhof Gardens
First introduced to the country in 1593, the tulip is one of Holland's most enduring symbols, and the Keukenhof Gardens are "tulip central" when it comes to admiring the flowers in a formal setting. The 79-acre park is comprised of gardens, ponds, fountains, greenhouses, a sculpture garden, and a windmill, plus features millions of multicolored tulips, daffodils, hyacinth bulbs, and other flowers. The park is located near Lisse, about 35 minutes south of Haarlem, and it includes a number of restaurants and gift shops. Even if you don't buy a souvenir, stop by one of the gift shops to photograph wooden shoes, Dutch flags, wooden tulips, and other kitschy photogenic items.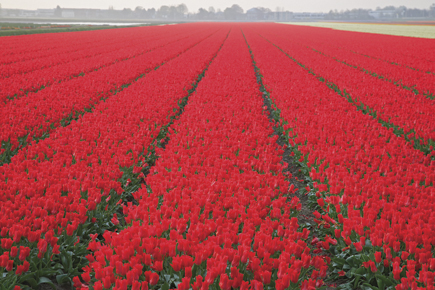 Commercial tulip field near Lisse, Netherlands. The many commercial tulip fields near the Keukenhof Gardens are the perfect place for first-light photography. Simply wander the narrow country roads by car, bike, or foot until you find a pleasing composition.
Commercial Fields
The commercial tulip fields surrounding the Keukenhof Gardens are the ideal subject to photograph at first light, before entering the gardens. Although you cannot officially enter the fields, they are next to the roads and can be photographed effectively. The best way to find the most colorful fields is to drive or bike around the many country lanes in the area. Pleasing compositions include the fields "leading the eye" toward the horizon, at an angle, or with windmills or churches in the distance. Typically, horizontal and vertical compositions work equally well. To add a quintessentially Dutch touch to your images, consider including a passing cyclist in your compositions (you will not have to wait long for one to ride by).
Windmill reflected on canal, Kinderdijk (UNESCO World Heritage Site), Netherlands. This early morning shot was taken under a weak sun, rendering the scene with a peaceful feel. Small details like the foot bridge in the distance completed this bucolic image.
Windmills
Declared a UNESCO World Heritage Site in 1997, Kinderdijk, about 7 miles east of Rotterdam, is the best place to see windmills in Holland. Nineteen windmills dating from the 18th century rise above a stark, marshy landscape, and can be viewed and photographed from a 21⁄2-mile system of paved paths along the dykes running past the windmills. The windmills are still functioning, and live-in operators are specially trained to maintain and operate the mills.

Because of the open landscape where Kinderdijk sits, the windmills photograph well either in the early morning or late afternoon hours. I used my 28-105mm zoom lens most while photographing at Kinderdijk, but bring a longer lens if you wish to isolate individual windmills. Especially in the spring, look for colorful flowers along the canals' banks to use as foreground in your compositions.

Zaanse Schans, an open-air museum located about 6 miles northwest of Amsterdam, is another good place to photograph windmills. In addition to its six windmills, Zaanse Schans features a recreated 17th and 18th century village, complete with fairy-tale-like houses, canals, and flower gardens. Look for reflections of the houses in early morning when the water is still. The windmills themselves photograph best in the late afternoon.
FEATURED VIDEO