Review of Tamron 18-300mm f/3.5-6.3 Di III-A VC VXD Ultra-Zoom for Sony APS-C and Fujifilm X-Series
Tamron just announced the 18-300mm (27-450mm equivalent) zoom for Sony and Fujifilm cameras. It's Tamron's first lens in Fujifilm X-mount and their 15th for Sony mirrorless (counting both full-frame and APS-C camera models). Measuring less than 5 inches long, focusing closer than 6 inches and selling for $699, there's a lot to like. Here's our hands-on review of the 18-300mm in Sony mount complete with several sample images.
Overview & First Impressions
Tamron is the creator of the all-in-one zoom lens category, those useful and affordable lenses that typically go from wideangle to telephoto and essentially replace three or four lenses in your bag. The Tamron 18-300mm f/3.5-6.3 is an altogether different species—it's a ultra telephoto all-in-one. It's the world's first 16.6X zoom for APS-C sensor cameras.
Zooming from 18 to 300mm (actually 27mm to a whopping 450mm) is breathtaking. I remember the first time I used a 12X zoom on a Minolta Autopak-8 D-12 movie camera back in the days when cheese was sold in chunks instead of slices. The image jumped toward me so fast in the viewfinder that I got a blackeye.
An 18-300 zoom for Sony is hot – but I was happier to learn that this lens is also available in Fujifilm X mount. It will be interesting to compare the results between my Fujifilm X-H1 (which is APS-C to begin with) and my Sony A7RII (which is full-frame that throttles back to APS-C sensor coverage with this lens). And that reminds me to mention that while the Tamron 18-300mm f/3.5-6.3 zoom is designed and built for Sony mirrorless cameras with APS-C size sensors, it works fine on full-frame Sony E mirrorless too, but it uses a smaller part of the CMOS imager resulting in a crop factor of 1.5X.
If you're not clear about why some lenses are designated APS-C and others Full Frame, take a look at this Shutterbug story that offers a concise explanation of the differences.
Photographers who shoot with Micro Four Thirds cameras like the popular Olympus OM-D series can opt for the Tamron 14-150mm f/3.5-5.8 Di III Lens which provides the equivalent zoom range of a 28-300mm. The 14-150mm Tamron is available from Amazon for $399.
In the hand, the Tamron 18-300 zoom feels solid and high-quality. The exterior finish is superb and the zoom ring moves with smooth precision. The AF likewise was quick and sure. The lens has a Zoom Ring Lock, and although I never engaged it, there was absolutely zero zoom creep.
My first destination after receiving the evaluation sample was a youth league baseball game. This is the perfect example of a venue where the 18-300mm (equivalent to 27-450mm) zoom range truly shines. At 28mm I could view the entire diamond from a position near the first base foul line, and I was able to zoom in on the pitcher with ease.
The VC (Vibration Compensation) image stabilization helped me handhold at 450mm. And the AF and Focus Tracking were easily fast enough to follow the action as the game play progressed unpredictably. I have always wanted to be able to go to a baseball game with one camera and one lens. I think this, finally, is the lens that will let me.
Second stop—New Jersey Botanical Garden. The Tamron 18-300mm zoom focuses to 5.9 inches and delivers a maximum magnification ratio of 1:2. That's one-half life size, an astonishing feat for an ultrazoom lens. At 5.9 inches the working distance is 5mm (0.2 inches) because the Minimum Object Distance is measured from the sensor plane. So this true wideangle, true ultra-tele is also a macro lens. It focuses so close that you could accidentally bump into the subject, so be cautious.
I'm amazed that this lens uses 67mm filters, same as almost every other lens in Tamron's Sony E-mount series. Sounds like a small detail at first blush, but in fact being able to use my 67mm polarizer on multiple lenses saves me money and boosts creative opportunities (because there's no way I'd buy multiple CPL filters).
Specifications
Weather Resistant Construction
Mechanical construction is impeccable. Additionally, the Tamron 18-300mm zoom is protected by water-resistant seals at key locations. Although I know that the moisture resistance performs as advertised, I always recommend that photographers keep their gear dry at all times—regardless of brand. Moisture damage is still the second leading cause of camera malfunction, following closely on the heels of impact damage. Cameras and (especially) lenses will last for damn near ever if you don't drop them or get them wet.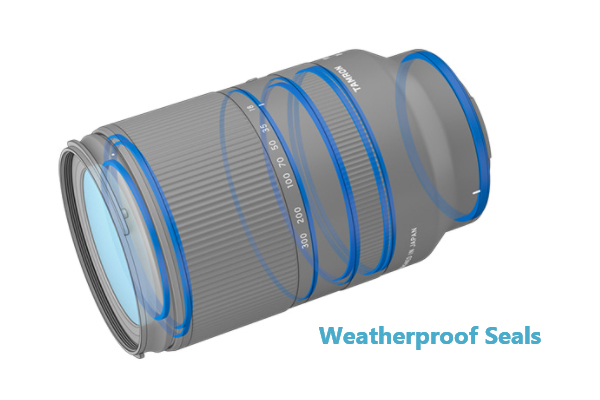 The exterior surface of the front element is coated with a protective fluorine compound that is hydrophobic and oleophobic. It's thereby protected from the damaging effects of dust, grime, moisture and fingerprints. It's also easier to clean with a light air puff. Other element surfaces are coated with Tamron's proprietary BBAR-G2 (Broad-Band Anti-Reflection Generation 2) multi-layer coating that suppresses ghosting and flare and increases light transmission.
Autofocus Mechanism Design
The Tamron 18-300mm f/3.5-6.3 Di III-A VC VXD Ultra-Zoom gets part of its name from the Tamron XVD linear motor focus mechanism. AF is accurate and precise. Focus Tracking was more than effective enough to capture the aforementioned baseball game. The AF is also very quiet. Because it directly drives a group of lens elements to focus without using gears, overall operation is exceptionally quiet. Quiet as it is, it's perfect for shooting stills as well as video (where ugly motor noise is a dealbreaker) or in silent, stealthy environments.
Image Stabilization
Without image stabilization, productively using any 450mm equivalent lens handheld is just plain hard—if not impossible. The telltale blur that's caused by camera shake is often misidentified as performance-based unsharpness. Tripods are undeniably the telephoto's best friend, but tripods are not always convenient. In steps VC.
Tamron's VC Vibration Compensation has been around long enough to make its bones. It enabled me to shoot at 450mm at shutter speeds that defy my ability, including close-up shots at 1/125 second that are perfectly sharp. VC is valuable at shorter focal lengths and a necessity for close-ups and long telephoto shots.
Pushing technological boundaries a bit, the Tamron 18-300mm zoom uses AI technology to choose the best compensation characteristics at focal lengths of 70mm or less when shooting video. I'm not aware of any other lens that does this.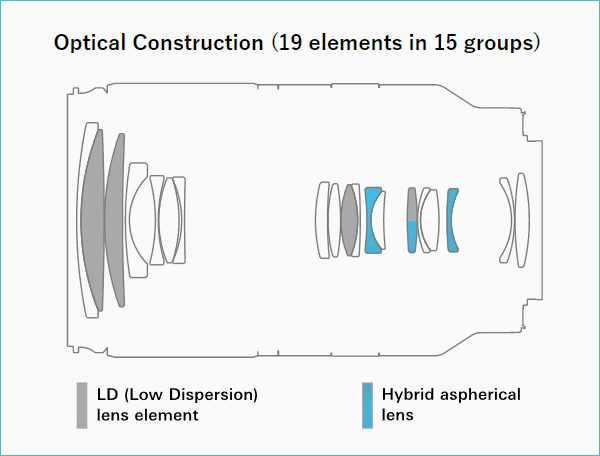 Optical Design
The optical formula consists of 19 elements in 15 groups. This includes four LD (Low Dispersion) and three hybrid aspherical lens elements.
Even with today's modern computer-based optical designs, achieving top performance at A) true wideangle, and B) very long telephoto, plus C) 1:2 Macro is a very high mountain to climb. I found the Tamron 18-300mm f/3.5-6.3 zoom sharp throughout the entire zoom range. Corner-to-corner, from wideangle to crazy-ultra-zoom 450mm, this lens delivered extremely high image quality and beautiful, soft bokeh.
Performance Summary
The Tamron 18-300mm f/3.5-6.3 zoom is an exceptionally good lens, a lens I would like to own. It delivers all the good stuff anyone could expect from a lens, things like sharpness, high-fidelity colors, effective image stabilization and excellent image quality overall.
Moreover, the 18-300mm coverage (which, again, is 27mm to 450mm in the real-world equivalency) is a dream-come-true zoom range. It's outstanding for travel, sports, birds, backyard wildlife, portraits, landscapes—you name it. If you could take only one lens to Europe or Asia, Greenland or Africa, or on any other trip of a lifetime, Tamron's 18-300 should be your top choice.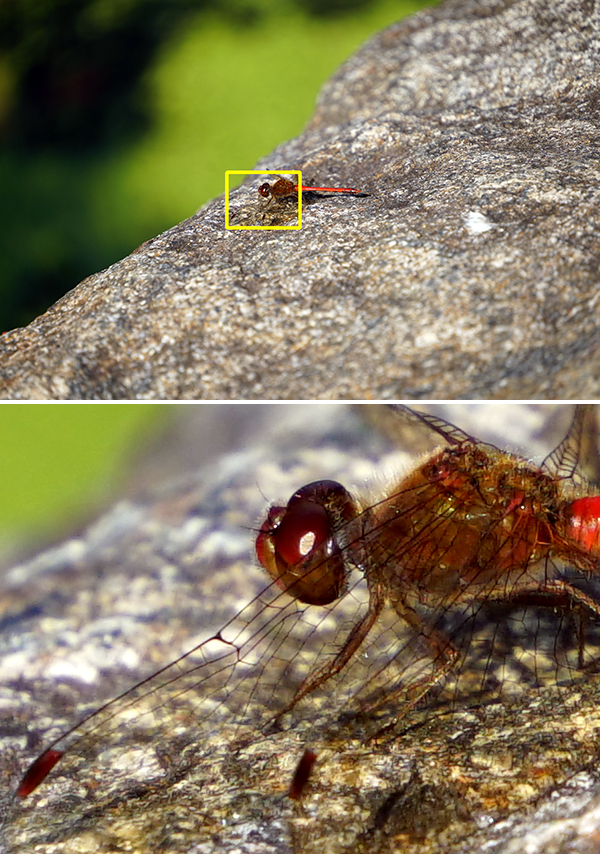 But there's more. The close-focusing capability is amazing. The Tamron 18-300mm focuses to 5.9 inches when set at the wideangle (18mm) end of the zoom. This setting yields a magnification ratio of 1:2, or half life-size. Even at 300mm tele end (and remember that it equals 450mm in film-camera terms) the minimum focusing distance is 39 inches. Being able to get so close with an ultra-telephoto zoom is an adventure that gets new creative juices flowing and allows you to experiment with bokeh in new ways.
Conclusion
If you own a Sony mirrorless camera (APS-C or full frame) or a Fujifilm X-series camera, buying a Tamron 18-300mm f/3.5-6.3 is a smart choice and one you will never regret. You could probably shoot an entire wild animal safari (and definitely a full day at the zoo) with this lens alone and never long for more gear.
The aperture (f/3.5-6.3) is not the fastest, but you have to consider the category. At 28mm indoors, f/3.5 is adequate. Sony and Fujifilm cameras deliver such great quality at high ISO settings that yesterday's ISO 100 is today's ISO 800. And at 450mm, f/6.3 is darn good.
Price and Availability
The Tamron 18-300mm f/3.5-6.3 Di III-A VC VXD Ultra-Zoom for Sony APS-C and Fujifilm X-Series lens sells for $699 (either mount). Both are available now.
—Jon Sienkiewicz
(As an Amazon Associate, Shutterbug earns from qualifying purchases linked in this story.)
FEATURED VIDEO